We're in this together
Throughout 2018, Better are partnering with Cancer Research UK to help beat cancer sooner. Cancer Research UK receives no government funding for their research and solely relies on the generosity of the general public. As part of our exciting partnership, we are providing our customers and members a number of opportunities throughout the year to help us raise vital funds for life saving research.
Did you know?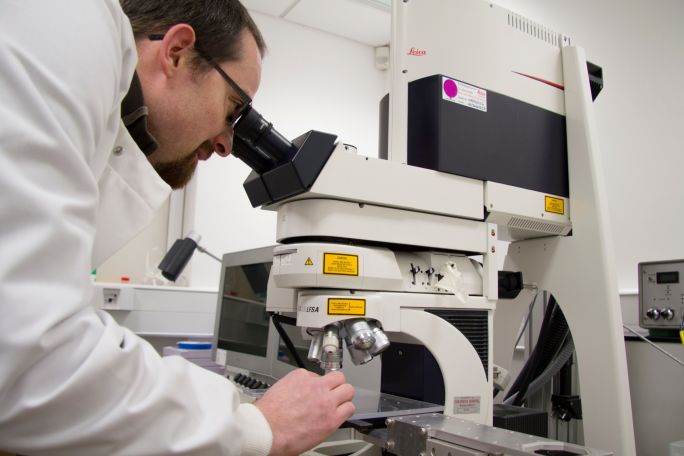 One in two people born in the UK after 1960 will be diagnosed with cancer at some point in their lives. Right now, half of the people diagnosed with cancer will survive their disease for at least 10 years. Cancer Research UK's ambition is to accelerate progress and see 3 in 4 people surviving cancer for 10 years or more by 2034. Let's beat cancer sooner!
How you can get involved?
There are so many ways you can get involved in helping us beat cancer together. Here are just a few below:
Keep your eyes peeled and get involved in lots of fundraising events and activities at your local Better leisure centre
Organise your own fundraising activity and collect funds for Cancer Research UK on behalf of Team Better. Speak to a member of staff at your local Better leisure centre or contact us at CRUK@gll.org if you're interested or have an idea. 
Make a one-off or regular donation. Click the links below to make a donation now.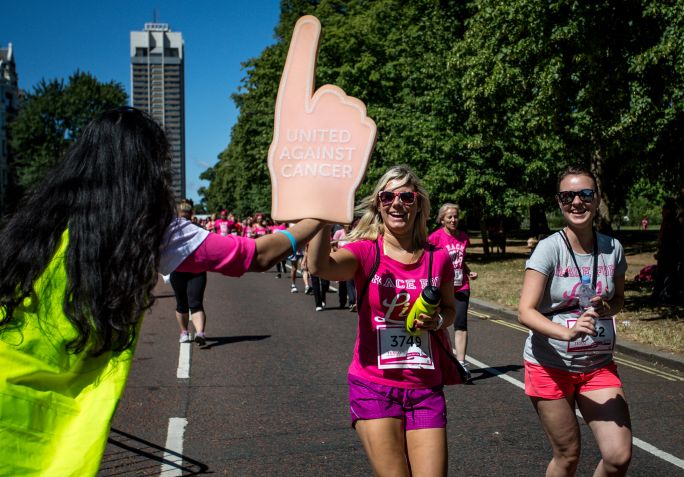 Race For Life
Run, walk or jog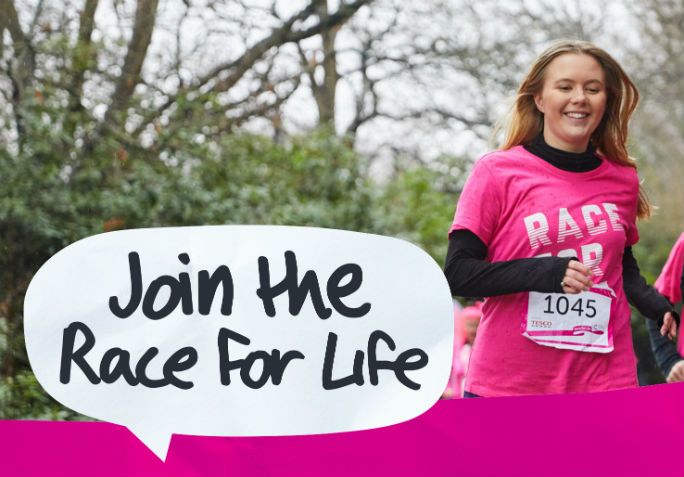 Whatever your level of fitness, everyone can do their bit by signing up for a Race For Life. With events happening this summer up and down the country, help us raise money for over 200 types of cancer. Whether you want to try your hand at a 10K, take up the challenge of a Pretty Muddy obstacle course (anyone for mud pies?), jog a 5K or get the kids involved, everyone is invited to get involved. 
Our year of fundraising
2019 Activity Calendar
There will be a wide range of activities and events occurring throughout 2019. Make sure to keep these dates in your diaries and regularly check this page to keep up-to-date with the latest news, events and announcements.
To find out more about Cancer Research UK, click here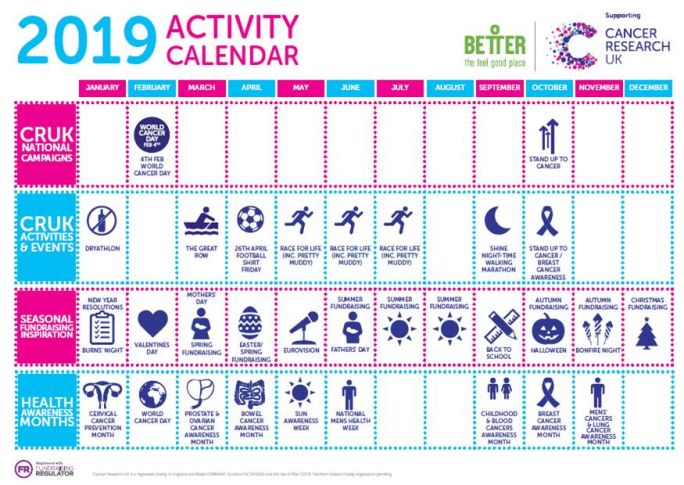 Meet GiseLLe, our CRUK mascot
Say hello to GiseLLe, our new "member of staff" and CRUK mascot, at a leisure centre near you. GiseLLe will be travelling around the country, meeting colleagues who are raising money for CRUK. 
Starting in Belfast, our cuddly friend will be flown across the North Channel heading south towards London. Keep your eye out for GiseLLe as she may be visiting your local Better leisure centre, where there will be a charity event and a warm welcome for our CRUK mascot. 
As one of the newest recruits to our team, we asked GiseLLe what she was most looking forward to about the adventure. She said:
"The cake obviously", (we think she's hoping many of the charity events for CRUK will be bake sales), "and the chance to meet the Better community throughout the UK.
I'm grateful that I have this opportunity to visit everyone. Of course, it'll be a long journey but also a fantastic adventure. I can't wait to help Better raise money for this worthy cause."
Why not follow GiseLLe's travels on Twitter @Better_UK and look out for her at a leisure centre near you.