Frenchfield sports centre, carleton
Frenchfield Sports Centre located in Penrith within the heart of Eden, provdies a range of sporting facilities to be rented out for your enjoyment. Frenchfield provides 7 full size football pitches, 2 mini football pitches and 1 rugby pitch. If you are interested in booking any of these facilities or have any questions please find contact information below.  
< Previous
Opening Times for week commencing January 27, 2020
Next >
Centre
Mon - Fri

08:30 - 21:00
Sat - Sun

07:30 - 18:00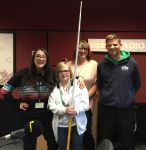 Read more
We were contacted by BBC Cumbria on behalf of Katy Taylor-Hamilton looking to borrow a javelin as she is competing this year.
Read more ›
Find us
Frenchfield sports centre, carleton
Frenchfield Sports Centre, Carleton

Frenchfield Sports Centre
Carleton
Penrith
CA11 8UU