Vivary Adventure Centre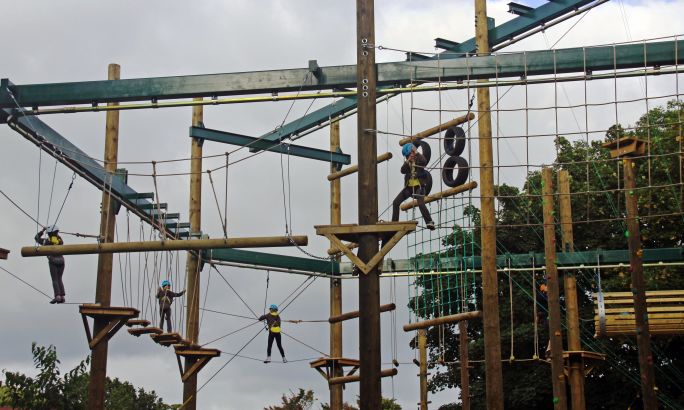 FUN, ACTIVE and DEVELOPMENTAL Outdoor Adventures
The Adventure and High Ropes centre is based at Vivary Park, Taunton.  It boasts a bespoke low and high ropes course plus some spectacular climbing and adventure activities to challenge any participant from the age of 5yrs upwards. 
We have a great team of intructors who can not only deliver fantastic 'Pay as you go' bookings but also great Team Building workshops, school Activities Days, 6 week courses all tailor made to indivdual groups.
Not only is the course designed to be Fun and Adventurous but by the very nature of its activities will help develop confidence, self esteem and team buildings and will appeal to all children / young adults and adults.
Some of the activities available at the centre: 5m Ropes Course, 9m High Ropes Course, Power Fan Descender, Orienteering, Mini Golf, Slacklining, Gladiator Challenge, Caving Ladders, Climbing Wall, Team Development and much more.
Corporate / Team Development Activities: We have over 80 ground based solving and initiative exercises to complement the High Ropes activities.  Our team development sessions utilise a variety of our ground based problem solving tasks, a combination of these will help aid communication, co-operation, trust, support, planning, self esteem and more.  Our instructors will facilitate the activities and lead a constructive ongoing review and any comments can be acted upon on the next task.
For information about the Corporate Packages that are offeres at The Vivary Centre please contact jenny.white@gll.org or the site on 01823 217117.
Current opening
The High Ropes Course will be open at weekends and during the Somerset School Holidays.
For more information about the current opening times please email vivary@gll.org or contact the site on 01823 217117.