Find a Water Workout Near Me
Water workouts
Lapping the pool is not the only way to get a workout in the water. Why not try something new with our water workouts. Combining aqua aerobics with strength and conditioning moves, a workout in the water will get your heart pumping without putting pressure on joints. Low resistance but high in impact, your revitalise muscles while being gentle on your joints. Head to a Better swimming pool near you to find out more. 
The health benefits of water workout classes
Not only are Aqua Fitness classes fun and a social way of staying active, but you'll also burn up to 300 calories an hour. Give it a try and feel all the better for it. Benefits include:
A workout for the whole body - your balance, agility and endurance will improve, making Aqua Fitness and Water Workout classes a great activity for people returning to exercise or just starting
Toning and honing your muscles - the water provides resistance so you have to work harder than you would do on dry land
Your joint mobility will improve - the water takes most of your weight so you can work out gently and intensely
No overheating - no matter how hard you push it, the water naturally cools you down
It doesn't feel much like "work" - embrace your inner child in the water in an atmosphere where you can't help but smile
Book a water workout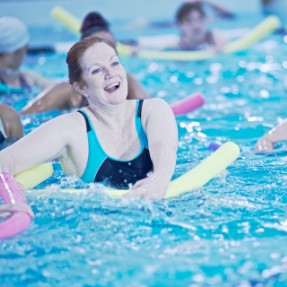 Our water workout classes
Whether you've yet to dip your toes into the world of Aqua Aerobics or a seasoned water baby looking to go deeper, our range of Water Workout classes are suitable for any level of ability and mobility.
Water Workout
Level: All abilities | Duration: 60 minutes | Calories Burned: 300/hr
Refreshing and invigorating, get all the benefits of a great workout with this low-impact Aqua Class. Build strength and stamina while going easy on your joints. You don't need to be able to swim to take part as all exercises take place in the shallow end of the swimming pool for a low-impact, all-round workout.
Book now
Deep Water Workout
Level: Confident swimmer | Duration: 60 minutes | Calories Burned: 570/hr
Get a full-body workout and build core strength with these high-intensity routines that feature minimal demand on the joints. You need to be a strong and confident swimmer as the Deep Water Workout takes place in the deep end of the pool and uses buoyancy aids.
Book now
What to bring to a Water Workout
You don't need to bring any special equipment with you to your Water Workout. Bring what you would take swimming: a swimming costume, towel and a swimming hat.  Water shoes and goggles are optional. Please come to your class with a bottle of water to keep you hydrated during the session.
You may also like