Cally Pool & Gym
Cally Pool & Gym is situated in the west of the London Borough of Islington in the heart of the community in Kings Cross. It has a 25 metre pool and large shallow pool, a small gym overlooking both pools and a sauna suite. Cally Pool & Gym offers something for everyone and there are a number of memberships that are available for those interested in using the facilities on a regular basis, including our student membership. There is also a wide range of swimming lessons available that cater for all ages and abilities.
Cally Pool & Gym - Centre
Centre
Mon

06:00 - 21:30
Tue

07:30 - 21:30
Wed

07:30 - 21:30
Thu

07:30 - 21:30
Fri

06:00 - 21:30
Sat

08:00 - 17:30
Sun

08:00 - 17:30
Adapted for wheelchairs

Disabled toilet

Poolside hoist

Ramp Access

Accessible Changing

Poolside Facilities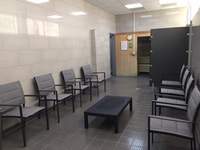 The sauna and steam room at Cally Pool and Gym has been closed from 21st March to 10th April, for refurbishment. The investment of £15,000 consisted of new tiles for the floor and walls, new shower cubicles, new benches inside the sauna, table and chairs, and improved drainage.
The look and feel of the new rooms has received postive feedback, and we would like to encourage everyone to come and have a look around. Membership fee's still apply.
Read more >
On Saturday 19th March Cally Masters gave over the last half-an-hour of our morning session to have some fun and games, and raise money for Sport Relief at the same time. Mari Williams and Sally Goble organized some great races and swimmers took part with lots of enthusiasm (and equal amounts of rule-breaking) Lisa, one of the Duty Managers helped out with the event, thank you to her.
The event raised £250 for Sports Relief.
On Sunday, they also entered two teams of three swimmers each into the Swimathon which also raised money for the same cause.
Thank you to everyone who contributed and also please visit www.callymasters.com if you are interested in joining their club.
Read more >
This was the first year GLL were partners with Sport Relief. Swimathon was linked this year with Sport Relief so we were all even more eager to make this the best Swimathon to date. This year we had 46 participants over the 2 days that completed their distances of 1.5km, 2.5km or 5km as an individual or a team. We had a lot of ambitious people this year as over half of the swimmers wanted to do the full 5km distance.
Themed Sport Relief cakes were made by the General Manager of Cally and they were all gone quickly.
Brian Hooper, one of Cally's regulars was in on both days, volunteering to lane count as well as competing himself and raising money for charity. He also helped by getting people to participate and was successful in doing so.
Least of which was Jake Harrison. This was his first Swimathon and he completed his full 5km distance in the quickest time of the weekend of 01:20:20. Well done to him and we hope to see you back next year going for an even quicker time.
Owen Sloman was also another Cally Pool regular who swam 5km raising a staggering £2000 along the way. Owen was born with nail patella syndrome and learned to swim as a child to help him exercise his knee. Owen's wife and mother came to support him, both were overjoyed by his achievement. A big congratulations to Owen as well.
Cally Masters Anaconda Swim Club and our own staff put teams in as well. A nice bit of healthy competition between them all.
We would like to thank everyone that participated this year and would love to see you all back again next year.
Read more >