Find a Better facility near you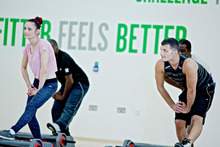 National Fitness Day on Wednesday 7th September will see a huge range of free events and taster sessions take place across the country.
Read more >
Better will host open days on Saturday 27 August at leisure centres across the UK to celebrate Team GB's achievements at the Rio 2016 Games.
Read more >
New research launched today suggests that Britain's children are becoming increasingly sedentary, however, swimming could buck this trend.
Read more >