Find a Better facility near you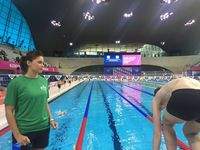 Over 50 London residents celebrated the successes of their adult learn to swim journey on Sunday 22 May at the London Aquatics Centre.
Read more >
This half term under-16s can sign up for a FREE Better Activities For Kids Card. With the card, you'll save up to 30% on non-member prices.
Read more >
Spa Experience by Better, the new brand for the spa group formerly known as Spa London, was unveiled at  Porchester Hall last night.
Read more >