Find a Better facility near you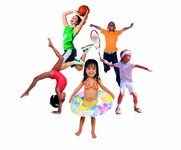 Better – the UK's largest network of public gyms and leisure centres – is helping more people get active and gear up for a summer of sport this weekend.
Read more >
Over 50 London residents celebrated the successes of their adult learn to swim journey on Sunday 22 May at the London Aquatics Centre.
Read more >
This half term under-16s can sign up for a FREE Better Activities For Kids Card. With the card, you'll save up to 30% on non-member prices.
Read more >