Children's Swimming Lessons
As the largest provider of swimming lessons in the UK, our Swim School helps over 200,00 people a week learn to love the water and keep active, by becoming capable and confident swimmers.
Whether your child is a complete beginner or you're looking to help them build their confidence in the pool, our children's swimming classes will help them develop key skills that will last a lifetime.
Find Swimming Lessons Near Me
Why Should Children Learn to Swim?
Swimming is a valuable skill for any child to learn.
It's a great form of all-round exercise as well as being a vital life skill that can help keep children safe in and around water. That's why Better offers children's swimming lessons for all ages and abilities, at affordable prices in your local Better swimming pool.
Our Swim School programmes are available at over 130 locations across the UK and are designed to be flexible, affordable and accessible for everyone. All our teachers are professional, passionate and pupil-focused, ensuring your child is in safe hands in and out of the water.
Our children's swimming lessons are a great way for your little one to get active and have fun at the same time.
Our Child and Youth Swimming Programmes
We recognise that not all children will be at the same level when it comes to swimming. That's why we have children's swimming classes for all ability levels and ages. Below is an outline of our Swim School classes and ability groups for children aged 4 – 16 years. If your child is younger, we also offer Swimbies, which are baby and infant classes for children aged 3 months and older. 
Pre-School – ages 3 to 5 years
Our Pre-School children's swimming lessons focus on developing your child's confidence in the water and introducing them to the key skills they'll need to swim on their own safely. Lessons are available with and without parents in the water.
What will they learn?
These classes will teach your child essential swimming skills such as how to enter and exit the pool safely, how to float unaided and how to co-ordinate themselves in the water. Pupils will also be taught aquatic breathing and the basics of water safety.
Book now
Foundation – aged 4 and over
Our Foundation swimming lessons are designed for school-aged kids who are beginners or completely new to swimming. These lessons will teach them how to be safe in and around water.
What will they learn?
Foundation classes consist of 3 levels which swimmers work towards to complete these lessons.  They are designed to introduce, develop and master water confidence, essential swimming skills and stroke development techniques.
By the end of this course, your child will be able to swim 10 meters unaided learning the basics of all 4 swimming strokes. 
We believe that children of any age can, and should, learn to swim. That's why we offer special Foundation classes for older beginners, starting from aged 9 as well as Foundation swimming lessons for teens.
Book now
Development – ages 5+
Development classes are a level above Foundation lessons and are for children who already have a good basis of swimming skills and who are able to swim 15m unaided. Like our Foundation classes, these cover various ability levels, ensuring each child feels comfortable.
What will they learn?
Building on what was learnt in Foundation classes, these lessons will cover more swimming essentials including developing technique across all 4 strokes, an introduction to aquatic sports and basic water survival and rescue skills.
The skills your child will learn in these classes will also contribute to them achieving their Bronze, Silver and Gold milestone awards.
Book now
Academy – children who are able to swim more than 200m
The final level of our children's swimming lessons, Academy classes will help your child develop further and work towards achieving their own personal goals in the pool.
What will they learn?
We want to encourage your children to become confident independent swimmers. So, Academy classes are a lot more focused on self-led progression and advanced safety techniques. This will include setting personal targets, junior lifesaving and personal survival techniques.
We will also work with other partner clubs to assess your child's ability throughout this course and help them progress in any talent pathway they choose e.g. Diving.
Book now
Find Swimming Lessons Near Me
Why Swim with Better?
Just some of the benefits of Better swimming lessons include:
Experienced, qualified teachers
IFSTA (International Federation of Swimming Teachers' Associations) partnership
Prices starting from as little as £3 per lesson
Digital swim certificates
Free access to Swim For All, Swim For Family and Swim fitness  sessions  with  swim lesson memberships. Subject to location and membership T&C's. 
Safety first
Your child's safety is at the forefront of all of our lessons and courses. We want to help them grow in confidence and learn how to be safe around water, whilst also having fun and developing key skills.
To make sure everyone is safe during our children's swimming lessons, there will be dedicated lessons on pool safety and rescue techniques as children progress through our programmes. 
For more information about how we teach water safety, read our Swim Safety guidelines here.
SEN and disability swimming lessons for kids
At Better, we want to make swimming accessible to the whole community and to make it as easy as possible for everyone to learn how to swim.
That's why our instructors will aim to integrate children with disabilities into our existing group lessons. Whether through special exercises or some extra attention during class, our qualified teachers will assess the needs of your child and adapt their classes accordingly.
We do offer specific SEN group children's swimming lessons for a range of ages and abilities. These include:
Foundation - SEND- Age over 4 Yrs with adult
Foundation - SEND- Age over 4 Yrs
Development - SEND (15 metres plus, 11-17)
If this is not suitable, we can offer 1-2-1 lessons to support children with disabilities and help them improve their skills. We also work with our partner charity Level Water to provide lessons for primary school-aged children with a physical or sensory disability.  Subject to availability.
Children's Swimming Lesson FAQs
How do I find the right swimming lesson for my kid?
When booking children's swimming lessons it's important to make sure your child is in the right class for their age and ability level. If you're unsure which class is best, see, the class breakdown above will help guide your choice. 
Why do pupils have to wear a swimming hat to lessons?
To improve the safety and hygiene in our swimming lessons, we ask that all children wear swimming hats. They are also used to reward and recognise an individual's achievements from one ability group to the next, with different hats available as they progress.
Why should my child learn to swim?
As well as being an important life skill and teaching water safety, swimming is one of the most healthy and fun activities your child can do. It improves their strength, stamina, flexibility and posture, keeping your child active and happy at the same time. Children's swimming lessons also act as a gateway for your little one to enjoy other recreational activities outside of classes too.
What are the teacher to pupil ratios in children's swimming lessons?
At Better, we deliver lessons with a team of swim teachers in each session. The average ratios can be found below:
Pre School class- (Adult required in water)- One swimming teacher to 12 pupils
Pre School class (Adult not required in water)- One swimming teacher to 6 pupils
Foundation classes - One swimming teacher to eight pupils within a team of teachers.
Development classes - One swimming teacher to ten pupils within a team of teachers.
Academy classes- One swimming teacher to 20 pupils within a team of teachers.
You may also like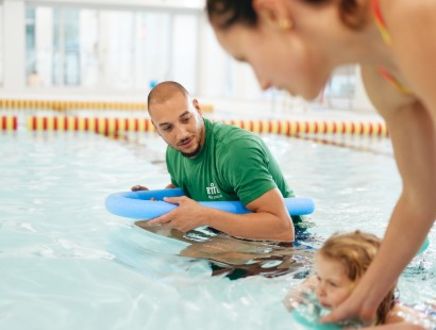 SWIMBiES are classes for children ages 3 months to 3 years, providing a fun syllabus to help your child build water confidence that lasts a lifetime.  
Discover more
Looking to start adult swimming lessons? Find out more about our variety of swimming classes for adults here at Better.
Discover more