Weight Loss with Better
Get fit, lose weight and feel good with the improved Weight Loss with Better programme.
We understand that weight loss can be difficult. That's why, through our weekly group weight loss classes, you'll find the support you need to achieve your goals, whether that be to lose weight, or become more active.
Our weight loss plan combines weight management workshops, nutritional advice and physical activity alongside behaviour change techniques taught by experts in the field. This means you can not only lose weight, but gain the knowledge, skills and confidence to maintain a healthy lifestyle.
The Better weight loss plan difference
We understand that making gradual, positive changes to your habits are more sustainable over time, therefore increasing your chances of success in the long run.
Our programme is backed by science and recognises that obesity is a complex and highly individual condition with various factors involved. For that reason, although you participate within a group, your goals and weight loss plan are tailored specifically around you.
Our weight loss programme is written by fully qualified exercise professionals, dietitians and health psychologists. The Health team are also on hand to offer further support and information during your programme, ensuring you receive the expert knowledge and guidance needed to help you make a real difference.
What's more, you'll be doing the plan alongside a group of likeminded individuals, so you'll feel the benefit of a shared journey that naturally fosters an environment of support and encouragement.
Our 12-week weight loss plan also makes it easy for you to access fantastic facilities across our leisure centres, including state-of-the-art gyms, swimming pools and exercise classes.
In completing the programme, you'll come away with the knowledge and motivation to create yourself a healthy lifestyle that you can maintain.
'88% of people that complete our plan lose weight'
Features of our 12-week weight loss plan
So how does it work? 
Our free weight loss programme can be accessed via our self-referral portal, or via referral from your GP. If you have any concerns or questions before joining, it's always best to speak to your GP who can advise on whether the programme is right for you.
Locations that offer this weight loss plan: 
The programme comprises of weekly two-hour group sessions over 12 weeks. Each session consists of an hour-long group workshop during which you'll explore your motivations, increase your nutritional knowledge and discuss techniques to make positive lifestyle changes. The second hour is a physical activity session, in which you can try a range of exercise options.
Some of the main features of our weight loss plan include:
Healthy eating workshops
Exploring the benefits of exercise and healthy eating in relation to positive mental health, and helping to reduce the risk of chronic diseases.
Supervised gym sessions
Fitness classes*
Water-based exercise*
Community activity options like group walks*
Sports-based sessions*
Home programme (including free access to online classes)
*please note, for some activities, an additional cost may apply.
Self Referral Portal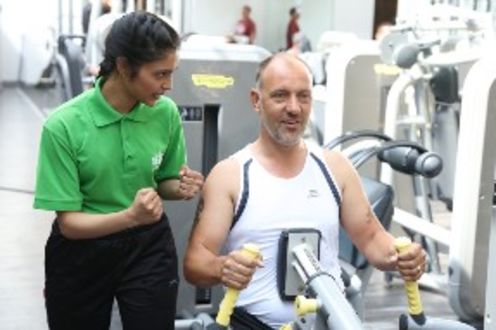 Follow up support
What's great about our programme, is that you'll receive ongoing support after your weight loss plan and group sessions come to an end.

You will receive: 
• One follow-up (either phone or face-to-face) to see how you're doing after 26 weeks of completing the programme.
• The follow-up is a chance to review progress, goals and complete a refocus plan if needed.
• Free subsidised membership for two years.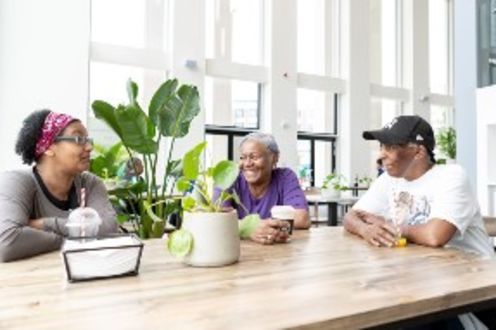 Nutritional knowledge
Unlike other diet programmes, with our weight loss plan, you'll receive advice and support tailored to your individual needs and goals, as well as advice in regards to healthy eating and meal prep.
During the course, you'll gain expert information on topics like how to increase your fruit and veg intake and how to balance the different food groups, as well as the psychology behind weight management. Our in-house dietitians will be there with you every step of the way, helping you to create long-lasting yet realistic healthy eating habits in your day-to-day life.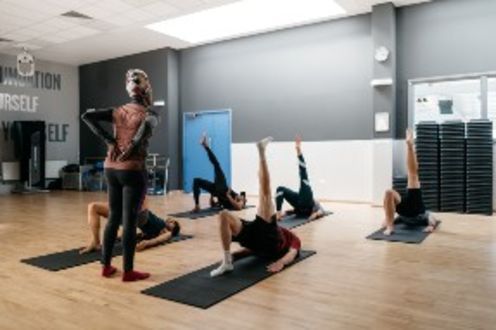 Exercise advice
Our combined diet and exercise plan is structured in a way that allows for sustained results. During the course of the weight loss programme, you can try out a number of different physical activities, including swimming, kettlebell classes, pilates and more.
Your exercise plan is bespoke to you depending on your individual goals, as well as your general health and physical capabilities. Our friendly and knowledgeable trainers will be on hand to guide and coach you throughout your weight loss journey.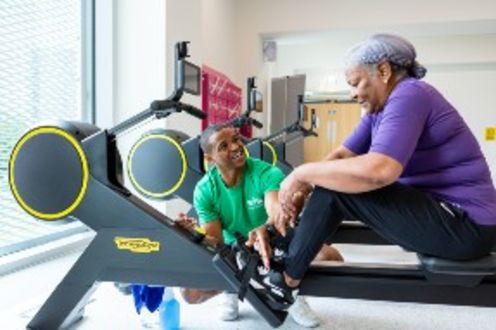 Expert support through your weight loss programme
When you sign up to the Weight Loss with Better plan, you'll have access to our team of professionals, who between them have a vast amount of experience in their individual fields.
Whether you're looking for fitness tips, nutritional advice or more general health support, our friendly and qualified team are here to support you on your weight loss journey.
Start your Better weight loss plan today
Ready to start your free weight loss programme? It's easy to join and will provide the stepping stones for a happier, healthier you.
Fill out our self-referral form to apply to a weight loss group near you now. If you have any concerns around starting an exercise programme, speak to your GP or another health professional.
Self Referral Portal
What our members are saying
Still not sure whether to sign up? Here's what our Better members are saying about our weight loss programme:
"I've lost 7 kg during the programme by increasing my weekly physical activity levels and making changes to my diet, such as having my main meal earlier during the day, increasing my fruit and vegetable intake and reducing portion sizes. I am planning to continue losing weight until I get to the shape I am looking for." – Rafik, Better member.
"One of main goals was to be motivated to come to the gym and I have achieved this plus I have reduced my cholesterol levels. I have lost weight and would like to continue to do so." – Terri, Better member.
Frequently asked questions
Weight loss with Better FAQs
What are the best ways for maintaining weight loss?
To maintain weight loss, it's best to avoid fad diets and stick to a challenging yet manageable weight loss programme which combines physical exercise with healthy eating. Setting yourself weekly or monthly goals can help keep you on track, as well as joining a fitness class where the support of a group will help to motivate you.
What is a healthy meal plan for weight loss?
A healthy meal that aids weight loss reflects a balanced diet made up of the main food groups. For each meal, you should aim to have one main source of lean protein such as fish or chicken, or a vegan option such a tofu, tempeh or lentils. You should combine this with two servings of fresh vegetables, and a carbohydrate like brown rice which is packed with fibre, vitamins and minerals. Healthy fats such as those from an avocado, olive oil or a handful of nuts are great snacks as they help your body absorb crucial vitamins, and can help fight against all sorts of diseases.
How to stick to a weight loss plan?
Following a weight loss plan is never easy, but it's even harder if your goals are unrealistic or you're trying to lose a large amount of weight in a short space of time. The trick is to set achievable and sustainable goals, gradually introducing more exercise and healthy foods into your life so that it doesn't feel like a punishment. It also helps to do exercise you genuinely enjoy, whether it be running, swimming, or a group class.
Joining a weight loss group can also be easier to follow and maintain consistency, as you'll be surrounded by others on similar journeys and can come together to share support and encouragement. As always, if you're struggling or need advice, speak to your GP.
How can I check my BMI?
Checking your BMI is easy, just use the NHS' BMI Calculator to find out yours, as it'll give you a good idea of whether you're able to join the programme. Remember, if in doubt, always speak to your GP.
Can I join the weight loss programme from anywhere?
At present, only certain Better locations offer access to our in-person weight loss programme. Check the list of leisure locations below to find out if your local centre offers this service, or speak to a friendly member of our Health team for more information.
Can I refer myself for the Better weight loss programme?
There is some eligibility criteria for our programme, such as age, weight, and ability to commit to the plan for 12-weeks. If you're unsure whether you are eligible before you apply, speak to your GP, or call our Healthwise team.
It is always best to speak to your GP if you have any questions or concerns, as they can always help offer guidance and help you decide if the plan is for you. If it is, they can then refer you to the scheme themselves.
Otherwise, you can use our self-referral portal to find a weight loss group near you and refer yourself today.