A message from Tom
After my success at the London Olympics in 2012, I wanted to share my passion for diving and sport with others. In partnership with Better we set up the Tom Daley Diving Academy offering diving lessons with an aim of building a community of aspiring divers, with no restriction on age or ability. Not only that but we also wanted to create a place where young talented divers could be spotted, developed and supported to go on and achieve the same success as I did.
So whether you have aspirations to follow in my footsteps or simply just want to learn a new sport, come along, have some fun and impress your friends by learning to dive at the Tom Daley Diving Academy.
When you're ready, I'll see you on the 10 metre platform.



THE BENEFITS OF DIVING
Diving is a fantastic sport and offers many health benefits; such as:
Physical: Improve your strength, stamina and flexibility while burning up to 200 calories an hour
Mental: Alongside a great adrenaline rush, diving helps focus the mind, driving you to learn new moves and synchronised routines. Diving's concentration boost can help in other areas of personal development; such as academic attainment and the workplace
Fun: It's a fun, enjoyable way to keep fit, make friends and do something a little different
Accessible: All you need is a swimming costume and the guidance of a Tom Daley Diving Academy coach to get you started
Our Learn to Dive Programmes
Our 'Learn to Dive' programmes have been carefully devised around the values we believe make the best divers, with the aim of taking you from a beginner all the way through to an elite level diver.
These diving course programmes are open to everyone and provide a clear progression for development and enables talented individuals the opportunity to enter into competitive club environments. 
Junior Learn to Dive
As long as your child is able to swim competently in deep water, they can learn to dive as young as 5 years old. Our kids' diving lessons are broken down into the following levels:
Foundation: Our entry level for those first time divers. Here you will learn the basics of diving from poolside
Beginner: Building on what you have learned at foundation level,
beginner will teach you new skills with the introduction of diving boards
Improver: At this level you will progress to more advanced diving techniques on higher boards
Advanced: Here you will learn to master some of the most challenging diving skills
Skills: Take the time to perfect your technique and step out of your comfort zone to make new skills
Click here to see further details of the outcomes of each course level.
Tom Daley 'Splash Down' Holiday Camps: To make sure all children have the chance to give diving a go, we have designed our 'Splash Down' Holiday Camps to teach the diving basics in a fun, safe and supportive environment.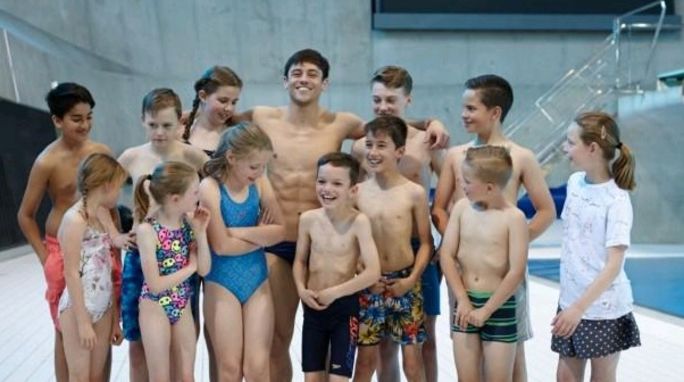 Adult Diving Lessons
You're never too old to try diving. It's fun exciting and a great way of developing core strength and flexibility. Our Adult programme is available at our Development and Academy Centres and is broken down in the following levels:
Adult Diving Beginners: If you're new to diving, then this is the perfect starting point for you
Adult Diving Improver: Progressing from beginners, you will now start to enhance your skills and progress to the higher boards
Adult Diving Advanced: Now you're starting to threaten Tom for medals! This course will help you master a full repertoire of dives
*Diving is for anyone above the age recommended in the level guides. Pupils should be competent swimmers in deep water
To find out more on our sessions, what you can expect to learn on your diving journey and tips from our TDDA official coaches, click here.
Dry Diving Courses
For Adults who want to try something different to achieve their fitness goals and hone their diving skills at the London Aquatics Centre.
These weekly sessions give divers the chance to experience what its like to train like Tom himself in our specialist dry diving gym, using a variety of equipment such as our diving foam pits and tumbling floors to help develop their diving technique.
The course will take place every Saturday, with 2 sessions run at the following times:
2:00pm - 3:00pm
3:00pm - 4:00pm


Progress Tracking
When you book a Tom Daley Diving Academy lesson or course, you can track you or your child's progress using our online progress tracking tool; Home Portal. It's easy to set up and allows you to access information and updates on the go, directly from your dive coach.
Features include:

- Record of achievement - clear and regular updates on progress, including achievements and areas for improvement
- Book and pay online - pre-plan and skip the queue, allowing you to go straight to your lesson. Dates, times and levels (subject to availability) all found online
- One account for multiple children - perfect for schools and families
- Easy access - gain quicker access into centres during lesson times via printing your Parent Barcode
Diving Courses Near Me
We currently run Tom Daley Diving programmes are a number of our Better leisure centres.  To find your nearest Tom Daley Diving Academy, click here.
Register Your Interest in the Tom Daley Diving Academy