INDOOR PLAYGROUNDS FOR KIDS
Each of our bright and friendly soft play areas across the UK are suitable for a variety of ages, from babies and toddlers to children up to 6 years old. Some centres can host children as old as 10.
With multi-layered climbing frames, colourful ball pits and elaborate mazes, our soft play areas are certain to keep babies, toddlers and kids active and entertained, whatever the weather.
You can also hire out the Soft Play area for birthday parties. Please click here to find out more.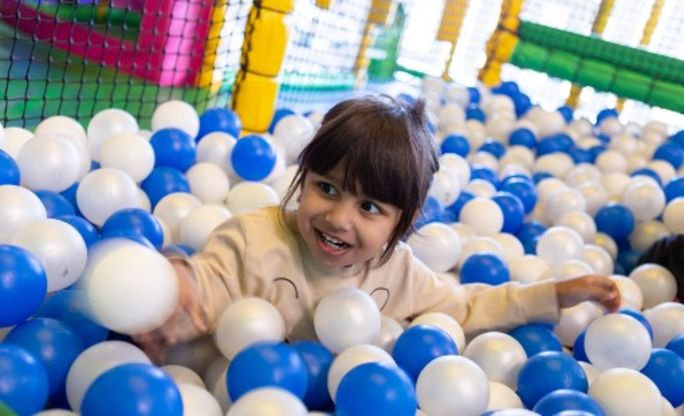 The benefits of Soft Play
Here are some of the many benefits of soft play for babies, toddlers, and children:
Develop motor skills 
Soft play helps your kids develop gross and locomotor skills such as walking, running and jumping, and you'll find something for all levels and abilities. 

Enhance decision making
As your child works their way around the course, they'll encounter multiple routes, decision-based challenges or puzzles.

Learns the value of co-operation and teamwork
Not only will your child learn social skills, but also how to work and play with other little ones.  

Encourages puzzle solving
Your child will find obstacles on the course which require using initiative. 

Grow spatial awareness
As they crawl, walk, jump and bounce around the course, they're learning about spatial awareness through illusion - i.e. reflections, light/sound and spinning/rotation.

Experience sensory stimulation
Our indoor playground will keep your babies, toddlers and younger children healthy and active plus they get to experience sound, light, touch and movement in a fun atmosphere.

Explore and discover whatever the weather 
Our soft play areas have been created to stimulate curiosity and exploration of your little ones.
What is a soft play area?
Soft play is an indoor play area or indoor playground equipped with soft materials and equipment. Our soft play offers a safe and fun environment, where babies, toddlers and children can create and develop life skills. 
Why is soft play good for toddlers?
Not only does soft play allow toddlers and pre-school kids the chance to interact with kids of a similar age, but they'll also get active while exploring the soft play gym. Our Better Play areas offer a variety of equipment, from climbing frames to ball ponds. You'll also find a specific play area for toddlers at Better Play. 
What does soft play mean?
Soft play areas or gyms are where babies, toddlers and kids can explore, create, play and get active in a safe environment of soft materials such as ball ponds, slides, play equipment and more foam-based fun.  
Is soft play safe?
Whatever the weather, soft play offers entertainment for babies, toddlers and children. All Better Play structures are built in-line with BS EN 1176-10:2018 and comply with RoSPA (The Royal Society for the Prevention of Accidents)  regulations. Serviced bi-annually, Better Play is inspected by an independent body and all Better Play inflatables have an annual PIPA inspection.  
More Indoor Activities for Kids
Trampoline Parks
Get bouncing, flipping and somersaulting at our Trampoline Parks. Perfect for everyone to burn off some energy while having fun. Suitable for children aged 4 and above.
Holiday Activities
Discover a world of fun over the holidays. Whether it's half term or the summer, bring them to Better for a range of holiday activities.
Swim School
Whatever stage of life they're at, build their confidence in the water and teach them a life skill with Better Swim School.
You may also like