Find a Swimming Pool Near Me
Why Swim?
Swimming is a great all-round exercise that everyone can enjoy. No matter your age or ability, swimming works almost every muscle in your body without putting stress on your joints, so it's perfect if you want to be more active and stay healthy.
With Better, you'll have access to pools across the UK where you'll find a range of activities on offer from swimming lessons and family fun sessions to Swim for Fitness. Whatever you'd like to try, we offer everything you need to dive in, build confidence and develop lifelong skills while having fun in the water.
To keep everyone safe, please read through our swim safely rules before your swim with Better.
Kids swim for £1
Throughout the holidays under 16s can  swim for just £1 before 10am (accompanying adults' usual admission applies). Simply sign up for participating Swim for All sessions before 10am to get this offer. Bookings are recommended to guarantee admission. 
Full terms and conditions available at better.org.uk/offer-terms.
Book your swim now
Swimming Pools Near Me
With over 140 indoor swimming pools - including the world-famous swimming pool at London Aquatics Centre - and 10 outdoor lidos and lakes, you can take the plunge at a local pool in your area.
Pool facilities include:
Training and Childrens pools
Leisure pools
Teaching pools
Lane swimming pools
9 lidos, heated and unheated 
Flumes, slides and Aqua Play
Diving pools and boards
Disability access and Poolpod lifts at many of our pools (please check)
Check facilities at your local pool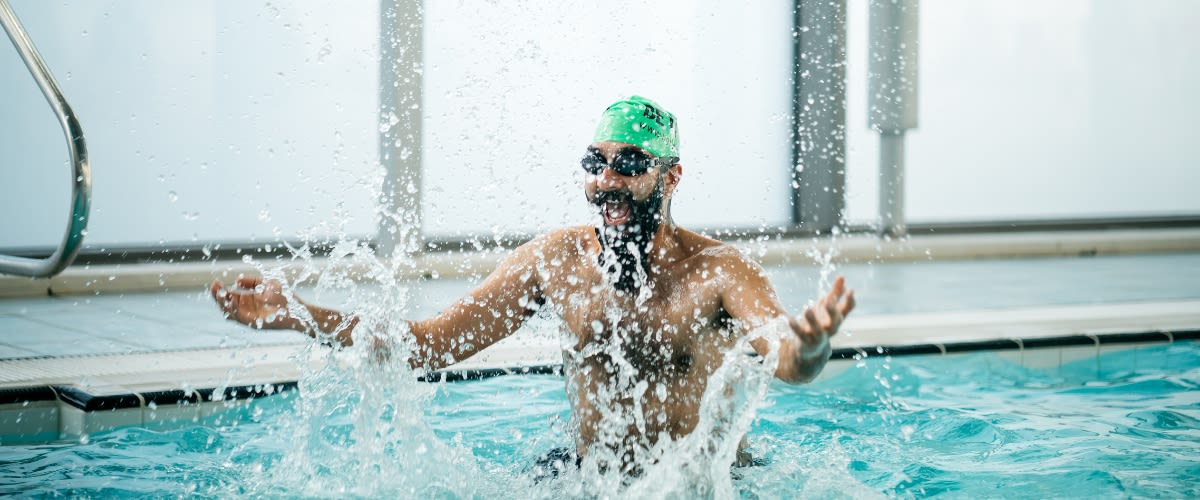 At Better, we have a variety of pools, from 25-metre pools for getting some laps in to learner pools for beginners, so you can find what you need. Some of our pools are even equipped with springboards and diving boards for those wanting to learn a new skill.  
If you have access needs, Poolpod lifts are available at many of our pools, as well as accessible changing rooms. Our friendly staff are also always on hand to help so you can feel supported throughout your swim.
Our Swimming Activities
From lane swimming to family-friendly sessions, discover our range of swimming sessions:
The Benefits Of Swimming
As well as being a fun way to spend your time, swimming has a range of benefits. Through swimming you can: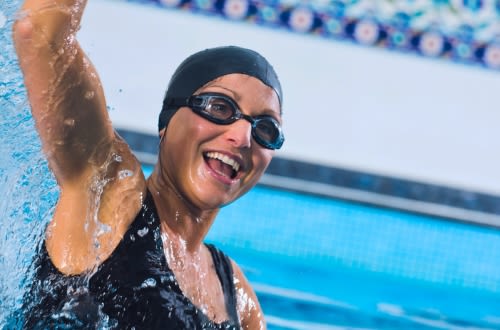 Improve your wellbeing
Swimming is a great, low-impact form of exercise that works muscles throughout your body. From improving your strength to boosting your cardiovascular health, swimming has a wide range of physical benefits. Spending time in the water can also be great for your mental health, providing some time to relax and relieve stress.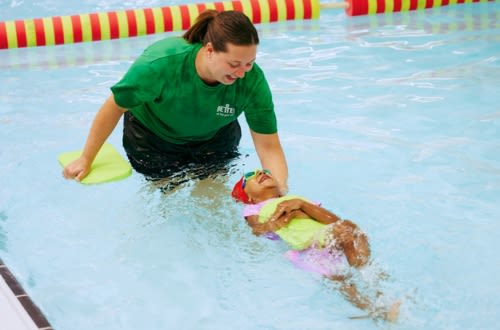 Learn from experienced instructors
All our teachers are trained professions who are passionate about helping people learn to swim in a fun, safe and encouraging environment. No matter what level you're starting at, our instructors have a range of skills and accreditations, such as STA award qualifications, so you're in safe hands.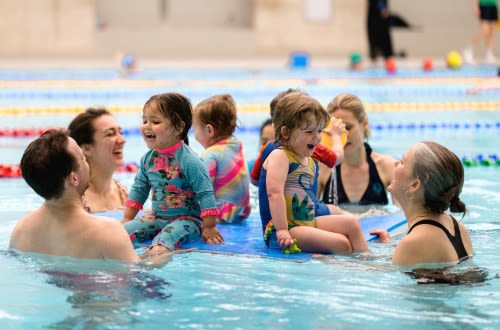 Become part of a community
Swimming at Better means you're coming to a friendly and supportive environment, full of like-minded people. As a Better member, you'll get to know people in your community as you attend lessons or simply make regular visits to your local pool.
How To Safely Make The Most Of Your Swim
We want everyone to be able to enjoy our facilities. That's why we've got some basic dos and don'ts for when you visit your local pool. Make sure to also take a look at our Swim Safety Rules so you can find out how to enjoy swimming in a safe way.
Do
Shower thoroughly with soap before entering the pool
Use the toilet facilities before your swim and remember to wash your hands thoroughly with soap
Make sure babies and toddlers are wearing tight-fitting waterproof baby trunks while swimming rather than nappies
Don't
Swim if you've eaten a meal within the last two hours
Swim if you've consumed alcohol or are under the influence of drugs
Swim if you're suffering from a cold or flu
Swim if you have suffered from food poisoning or diarrhoea in the last 14 days
What to wear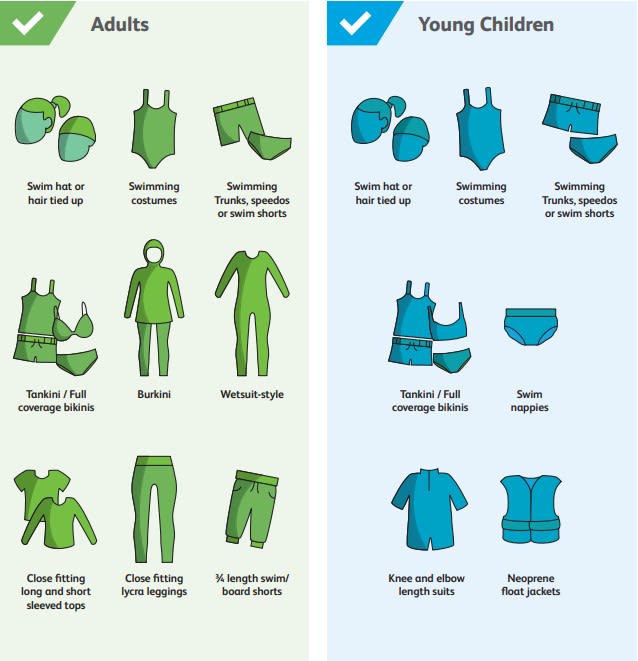 Hear From Our Swimmers
Ready to dive in? Hear how members of our community enjoy their local pool:
"I think swimming is the most important thing for my mental health because it is the one place that I feel that no one can get to me. You're in the water, who cares if the phone rings, if you get an email - you're in the water, you feel safe, you feel supported and you're focusing on one thing only, that swim. Yes, it's definitely my time." – Sarah, a Better member
Read Sarah's story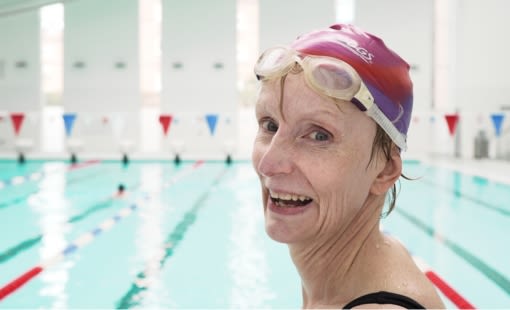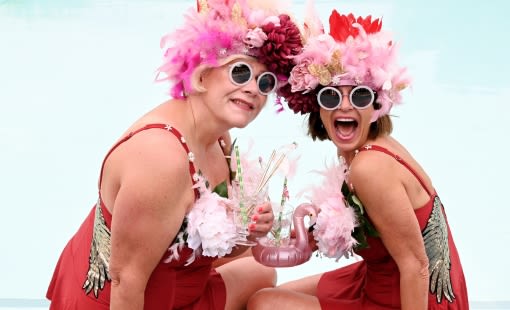 "The swimming community is very embracing and very kind. It's a sport that welcomes people of all abilities, all shapes, and sizes, it's not a fashion industry. Everybody's in a collective mindset, everyone wants to do the same thing." – Jessica and Nicola, 'The Lido Ladies'
Read the Lido Ladies' story
Read our community stories to find out more about how people make the most of Better.
Frequently Asked Questions
How do I find a place for swimming near me?
To find your nearest Better swimming pool, use our Centre Locator tool. Simply put in your postcode or a centre name and find a pool near you. With over 100 pools across the UK, you're sure to find a centre in your local area.
What other facilities are at local pools near me?
From cafes to saunas, we offer a range of facilities at our pools. Facilities will vary so please check with your local centre to find out what's available.
Are Better swimming pools accessible?
Many of our pools have Poolpod lifts and accessible changing rooms so everyone can enjoy swimming. Our teachers are trained to deliver lessons for people with disabilities and our centre staff are also always on hand to help if you have access needs.
Our Inclusive UK membership – which includes access to our pools - also provides access for carers and personal assistants so you have the support you need.

Please check with your local centre to find out about what accessibility features are in place and how our staff can help.
Have we answered your question? Take a look at our Help Centre for more information.
You may also like