The Power of Blue Spaces: Mental and Physical Benefits Revealed
In recent years, experts have recognized spending time around bodies of water, known as blue spaces, as a therapeutic practice for both physical and mental well-being. Having access to such spaces is vitally important to millions across the country, with many turning to blue spaces such as their local swimming pool, or the nearest natural body of water, to help feel relaxed and soothed from the stresses of everyday life. 
Our latest research dives deeper into the wide variety of benefits people in the UK gain from spending time around blue spaces and explores the potentially damaging implications of access being denied or restricted due to circumstances out of their control, such as the rising cost of living, or lack of investment in their local facilities.
Blue Spaces and mental health
As part of our study, we spoke to 2,000 people across the UK about their experiences of blue spaces and their impact, highlighting why they are so vital to people. We found that 39% of the country suffer from anxiety or depression.The younger population have the worst levels across all age groups, with well over half (55%) troubled by such feelings. Indeed, the World Health Organisation revealed how there has been a 25% increase in the prevalence of anxiety and depression since the pandemic. Therefore, remedies to counter this are important in our communities. 
According to our research, almost 1 in 2 (48%) said that spending time in blue spaces directly improves their mental health, and 29% said they found swimming did the same. Overall, 89% of people said swimming pools and other blue spaces had highly positive impacts on their life, with 55% saying it improves their mood, 39% saying it calms their anxiety, 27% saying it improves their sleep, and more than 1 in 10 even saying that it has helped fix relationship issues and personal life problems.
We asked what made people feel most calm and happy, and 1 in 10 said it was when they were at a swimming pool or lido. Meanwhile, walking by a canal, river or the sea was the second most popular choice (32%) only behind spending time with friends and family (37%). In fact, spending time in or around blue spaces ranked ahead of exploring a wood or forest (25%), reading a book (22%), and watching a new series on Netflix (16%). 
So while we can see the mental and physical benefits of swimming and blue spaces, and how they can improve our lives in various different ways, what's stopping people from spending more time around them?
Barriers to Blue Space
We've seen the impact blue spaces and water activities can have on us, and as a result, it's not surprising that more and more people want to spend more time in these environments. A quarter of the country wished they lived closer to blue spaces, and 30% wanted to spend more time around them. Almost half of the country also said they'd even moved house to be closer, and 70% would search for a new home that was near either a blue or green space. 
However, there is an overriding sentiment that not enough is being done to protect these spaces. 85% of the UK believes more should be done to protect both blue and green spaces and 76% want more accessible blue spaces available, such as their local swimming pools. Indeed, 38% say swimming pools need greater support and investment, especially in the current economic climate. 
A recent report from Swim England announced that 2,000 swimming pools could be lost forever by the end of the decade unless the Government and local authorities 'act now' to replace or refurbish aging facilities. This is clearly also a worry for the population of swimmers, with 1 in 5 from our survey saying local pool shutdowns and cutbacks have prevented them from swimming at their local facility. 
Financial strains have also caused problems, with 37% saying the cost of living is stopping them from swimming more, and rising costs are particularly a struggle for families. 41% of the country agree that swimming is an important part of family life, and 48% say that swimming pools and lessons are important for children's development and health in general. If children aren't able to go swimming from an early age due to a lack of facility support or rising costs, it is a worry that many children could miss out on these vital learning experiences.
The local swimming squeeze
Cardiff was revealed to be the region struggling the most, with 91% of respondents feeling there was a barrier for why they can't swim more, such as the cost of living, time commitments, general confidence, or pool shutdowns in their area. Indeed, 28% of those in Cardiff said that local pools shutting down or reducing operations were a major problem for them - the highest percentage in the country.
Over 43% of people in Nottingham cited the rising cost of living as a reason for being unable to swim more, which was the highest in the UK followed by those in Norwich (40.7%) and Cardiff (40.3%). 
When it came to demanding greater support and investment for swimming pools, Edinburgh (50%), Sheffield (48%) and Glasgow (47%) were the biggest advocates, with 40% of Edinburgh locals also stating pools are a particularly important part of their community. 
As we've seen, blue spaces and swimming pools provide an array of benefits to the country and its local communities. Access to these amenities can enhance physical and mental health, promote social cohesion, and boost the economy. However, many in the UK fear not enough is being done to support these crucial pillars and the results of our survey highlight how vital it is for accessibility to be prioritised in the creation and maintenance of blue spaces and swimming pools. The benefits are evident, so with more access to pools and other blue spaces, we can create healthier and happier communities - and a nation of strong swimmers - for generations to come.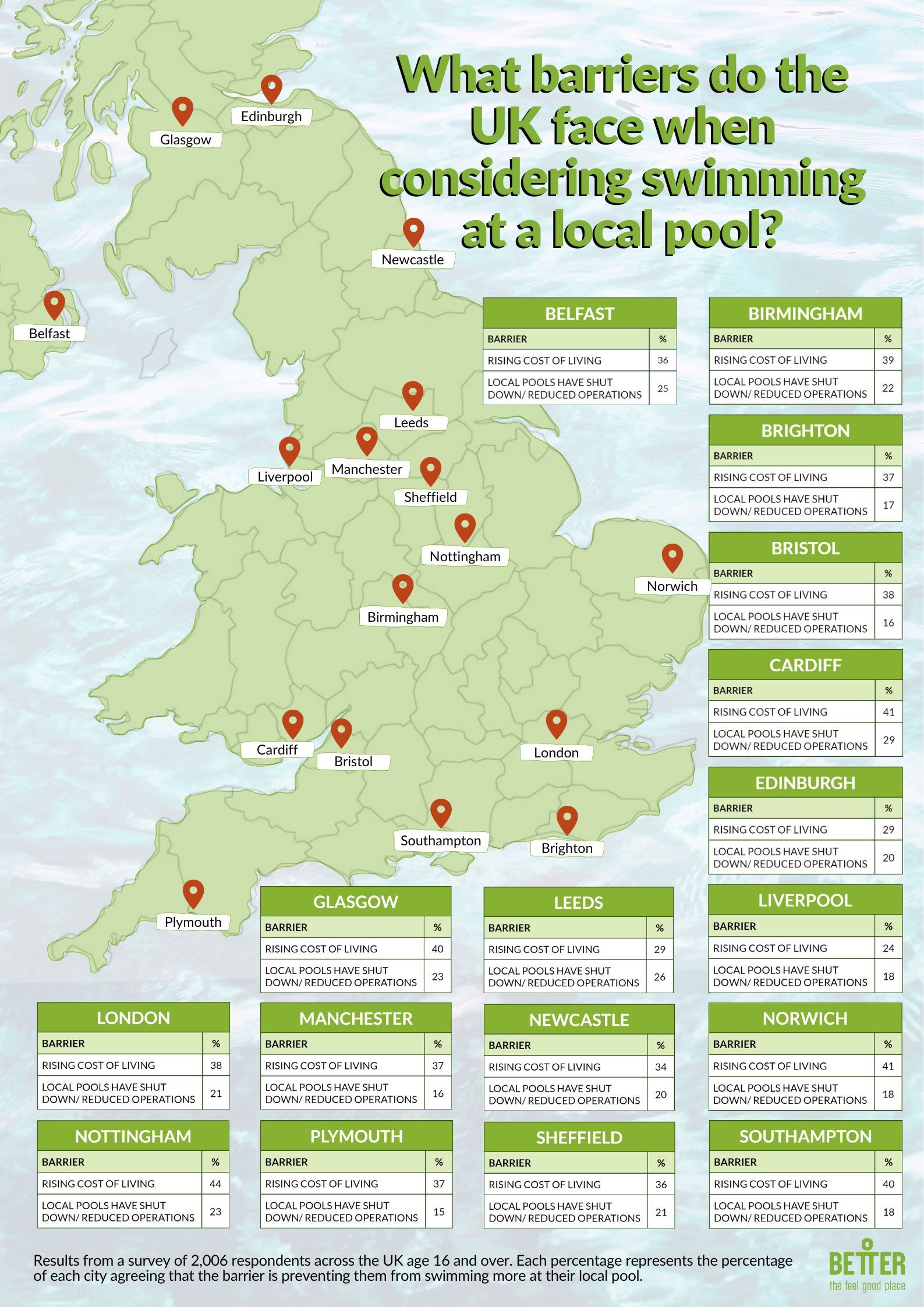 You may also like