Find a climbing wall near me
Local climbing walls
If you're looking for something to get to grips with, why not try indoor climbing? Fun, exciting and bound to get your adrenaline pumping, you'll find a range of sessions and courses for all abilities at Better. Whether you're just getting started or an experienced climber, we offer indoor climbing walls in a number of our leisure centres across the UK. So come along and experience different types of climbing: bouldering, top-rope climbing and lead climbing. (Facilities may vary depending on climbing walls.)
What to bring to climbing
For climbing all you'll need to bring with you is lightweight flexible clothing as all safety gear will be provided along with a fully qualified instructor to keep you safe and to make sure you're having a good time. We also encourage you to bring a water bottle with you in order to stay hydtrated as climbing can be hard work but a lot of fun too! 
What are the benefits of climbing
Climbing is a challenging activity that offers many benefits including:
Reduces stress - the action of reaching, climbing and leaping create a sense of exhilaration or a 'natural' high, releasing endorphins and reducing your stress levels
Builds mental strength - climbing tests your problem-solving skills and your hand-eye coordination as you try a new route to the top
You get an all-over body workout - build strength, stamina and muscles as you move across and up the wall
Improves flexibility - you need to stretch and be agile to move across the wall, rock climbing builds on these skills
Conquer fears - reach new heights and build self-confidence as you scale the wall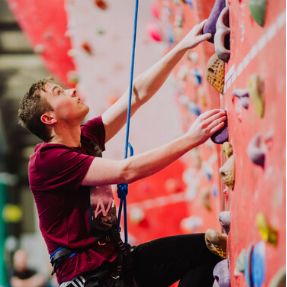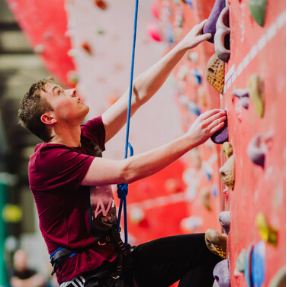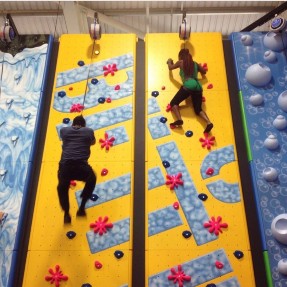 Clip'n'Climb
Alongside climbing walls, you'll also find clip'n'climb experiences which an exciting, fun adventure in a safe, supervised environment. Suitable from ages 4 and up, whatever your experience.
Bring the kids, bring the parents, bring your trainers (no climbing shoes allowed!) and bring it on.
All sessions include a quick induction so you're ready to scale the heights. And each 7.5m climbing panel has auto belay (think of it as an automatic safety rope) to take up the slack as you climb then lower you gently and securely to the floor.
This is currently available at Waltham Forest and Sutcliffe Park. Book your session below. 
Book a clip'n'climb session
You may also like