Local indoor climbing walls
If you're looking for a new, fun and exciting activity to get to grips with, why not try indoor climbing? Whether you're a novice or a climbing pro, visiting an indoor climbing centre is a great way to move your body and get your adrenaline pumping.
We have a wide variety of inclusive climbing activities across our UK leisure centres to suit all ages and experiences. Practise your grip strength with challenging bouldering sessions or master the wall on exhilarating lead climbs - the choice is yours.
As an added bonus, since Better is a part of a not-for-profit organisation, all the proceeds from your activity fees are reinvested right back into your local community, helping us on our mission to make fitness accessible to everyone.
Book an indoor climbing session
Indoor Climbing activities at Better
We have a variety of climbing activities to enjoy at GLL, no matter if it's your first time on the wall, or you're an experienced climber. Whether you'd like to practice your skills at your own leisure, or develop your abilities with the help of a trained instructor, there's something for everyone to take part in.
For those looking to make regular use of our climbing wall facilities, our Pay As You Go Membership allows you to access your local Better facilities at a discounted rate. For just one annual payment, you can benefit from 30% off a whole range of activities, including gyms, swimming pools and fitness classes, with no monthly contract or additional fees. 
Where to find an indoor climbing wall near you
We offer indoor climbing facilities to enjoy all across the UK, from . If you're wondering "where can I find an indoor climbing wall near me?", there's no need to worry. Just enter your postcode to find your nearest Better centre that offers climbing activities and get in touch.
Find a climbing wall near me
The Benefits of Indoor Climbing
From the exhilarating feeling of scaling the top of a wall to the rewarding experience of mastering a new position, indoor climbing is a challenging activity that offers plenty to enjoy. The benefits of staying active on a climbing wall near you include: 
Reducing stress - using nothing but your body to reach, climb and leap activates your muscles, releasing endorphins and naturally reducing your stress levels.
Building mental strength - putting your problem-solving skills and your hand-eye coordination to the test, climbing offers more benefits than just physical.
A full-body workout - climbing requires you to use every part of your body to reach the top, building your strength, stamina and coordination.
Improved flexibility - when you stretch to reach challenging handholds, you're improving flexibility across your entire body.
Grow your confidence- with the help of our trained instructors, climbing helps you to reach new heights and develop your confidence.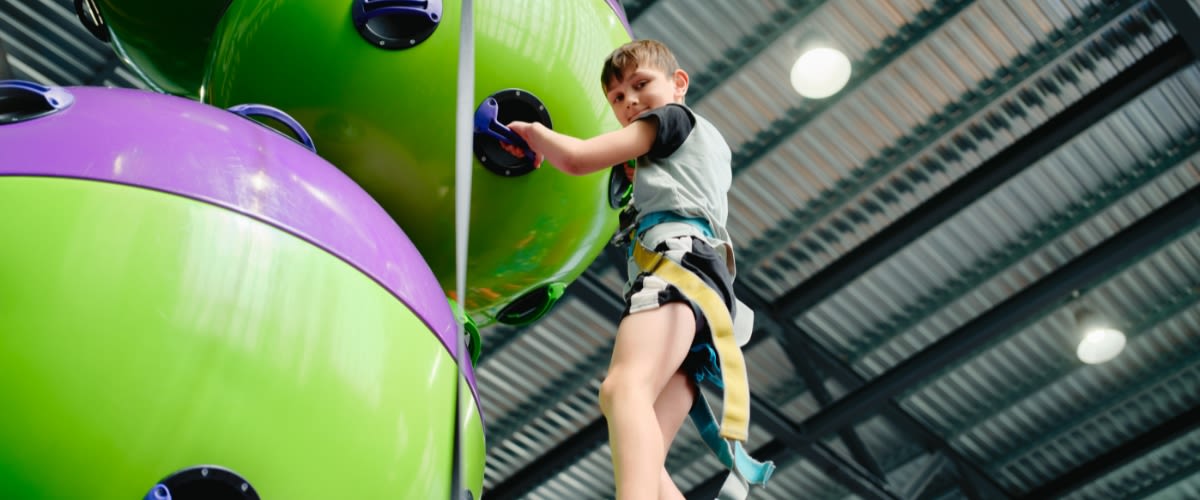 Frequently Asked Questions
Is climbing a good workout?
Climbing is a great way to keep fit and build your strength as you make full use of your body to scale new heights. Each type of activity tests you in different ways, providing a challenging, yet rewarding way to have fun and stay in shape.
What do I need to bring along to an indoor climbing session?
All you'll need to bring along is lightweight, flexible clothing and a bottle of water to stay hydrated. We provide all necessary safety equipment, along with a fully qualified instructor to keep you safe and ensure you're having a great time on the wall.
Is indoor climbing fun for beginners?
Indoor climbing or bouldering is a great activity to enjoy whether you're a beginner or an experienced climber. We tailor our wall climbing sessions to be accessible and fun for everyone. Our trained instructors help you to develop your skills and can provide the support and advice you need to grow your confidence on the wall.
How safe is indoor climbing?
While indoor climbing can carry risk, it is generally a safe and enjoyable experience as long as safety precautions are followed. Our trained staff are always on hand during climbing sessions, with your wellbeing being their top priority.
Can children take part in indoor climbing?
Indoor climbing is a great activity for children to take part in. That's why we offer our Clip 'N' Climb sessions, where children aged 4 and up can safely have fun on the climbing wall, with our trained instructors on hand to provide support and guidance.
You may also like