Ice Skating at Better
Get your skates on and take to the ice with an Ice Skating session at Better.
Ice Skating is a great workout for your mind and body. Our public ice skating rinks are the perfect place to have fun with friends and family while enjoying the health benefits of skating, such as improved balance, flexibility and muscle tone.
At Better, our sessions are suitable for all ages and skill levels, whether you are a superstar in training or a beginner just starting out. Never skated before? We also offer Ice Skating lessons, ideal for kids and adults alike to help you improve your technique and grow your confidence on the ice. 
Plus, since Better is part of a not-for-profit organisation, anything you pay gets reinvested directly into our rinks and centres, helping everyone make the most of our facilities.
Book an Ice Skating session
Find an Ice Skating Rink Near Me
At Better, we want everybody to enjoy an active lifestyle. That's why we offer high-quality, accessible ice skating facilities that everyone can enjoy.
Whether you're looking for indoor ice skating near me or want to find a venue for your kid's birthday party, take a look at our ice rinks to see which is right for you:
What to Expect at an Ice Skating Session
A Better Ice Skating session is all about having a good time and unwinding on the ice as you move your body. Whether you're catching up with friends or working on your technique, everyone is welcome at our public sessions.
Who is skating for?
Our Ice Skating sessions are for everyone and spending some time at the rink can have a range of benefits for people of all ages. Skating will help you improve your balance and coordination, meet new friends and manage stress as you unwind.
What should I bring to the rink?
To prepare for your visit, the best equipment you can bring with you is warm clothes, a padded jacket, trousers and gloves of course. This will help you stay warm and also break your fall if you do take a tumble on the ice. Skate hire is available for all sessions from child size 7 to an adult size 15. And for little ones who may need extra support, we have fun penguin skating aids to help to build independence and confidence.
Our Skating Sessions
Alongside our public sessions, we offer a range of specialist ice skating sessions for every level and ability: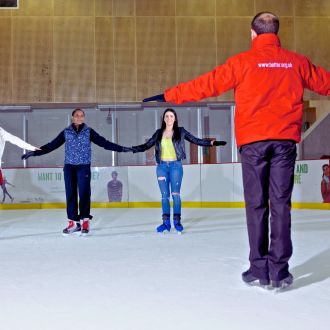 Suitable for ages 3+ to adult.
Whether you're a beginner or more experienced skater, our Learn to Skate lessons will help you develop your skills on the ice through our nationally recognised British Ice Skating (BIS) programme.
Lessons are taught by our team of friendly and highly-qualified ice coaches and cover the fundamentals of skating. For little ones, we also run Skate Tots, especially designed for children 3-5 years.
Book now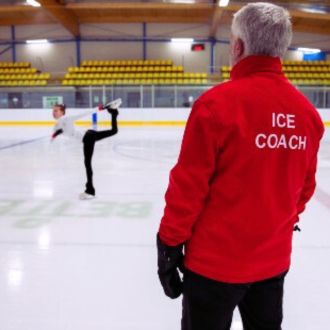 Suitable for ages 5+ to adult (dependant on skating ability, private coaching only).
Providing a space to train and hone your technique, our Patch sessions are designed for more experienced skaters who are receiving private coaching with one of our professionals or those above BIS skating level 5. We also offer 1-on-1 training with our resident coaches, each with a range of specialties and qualifications.
Find an ice rink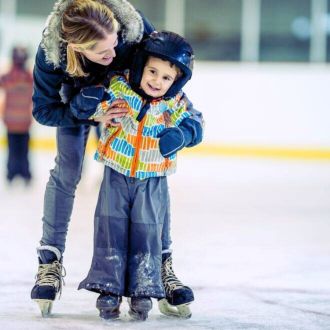 Suitable for ages 3+ to adult.
Running at the Link Centre (Swindon), these sessions provide a space for those with learning and/or physical disabilities to enjoy some time on the ice. With supportive and trained staff on hand to support, every can experience the joy of skating.
Find out more
Get involved
Get the most out of your local Better rinks by signing up for a membership today. We have a range of Ice Skating memberships so you can find an option that works for you. From Better Ice memberships which include all the perks of our monthly Better Health membership, plus access to Better Ice Patch for more experienced skaters, there's something for everyone.
Find a membership
Looking for a flexible option that still has all the benefits? Our Pay as you Go membership lets you to try your local facilities before committing to monthly payments.
Try Pay as You Go
Frequently Asked Questions
Are ice rinks safe?
From making sure you have the right sized skates to helping you work on falling safely, our staff are on hand to make sure everyone can have a fun and safe time on the ice.
How old do you need to be to go on an ice rink?
Our public sessions and skating lessons are suitable for children aged 3 years and older. Under 8s must be accompanied by skating adult unless a confident, proficient skater.
Still got questions? Take a look at our FAQs page or get in touch to find out more.
You may also like