Find a Tennis Court Near Me
Ace summer and play with a pay as you go membership
Take advantage of the summer months and win game, set, and match with a pay as you go membership. For a small, one off annual membership fee, you'll receive discounts on tennis court hire, swimming, gym use and a bunch of other activities. So you come and go, make savings and play tennis without commitment at your local Better leisure centre. 
Discover pay and play memberships
Play Tennis with Better
Tennis is a great way to have fun, meet new friends, train and get fit and healthy, whatever your age, level or ability. Whether you're a complete beginner or a regular player, you'll find indoor and outdoor facilities so you can take part in the great game all year round. 
As the largest public provider of tennis lessons and courses, we offer expert guidance from our coaches who are licensed and registered to the Lawn Tennis Association (LTA). We are also partners with the LTA, Tennis Foundation and local Tennis Leagues, which means we're committed to opening tennis up to offering everyone access to tennis across our parks, tennis and leisure facilities.
Tennis courts and facilities
You'll find a variety of tennis courts available at Better across the country. With 11 indoor tennis centres, 4 outdoor hubs and over 240 courts in the UK, you can step on to one of our Better tennis courts wherever you are. All our tennis centres and park court sites are fully registered with the LTA , so whatever your age or ability, step on court with Better.
Our tennis facilities have a range of surfaces to play on including:
Indoor hard courts
Indoor dome clay courts
Outdoor clay courts
floodlit hard courts
Tennis Activities
Play Tennis
Fun, accessible and affordable, you can hire one of our courts from as little as £5 per hour, and a lot of our facilities are pay as you go if you don't fancy a membership. Or why not join in whenever you like in our organised sessions? These include Match Play, Holiday camps and social play. Take up the challenge in one of the many Tennis Leagues or internal tournaments. Or if your focus is more on getting fit while having fun, you can try our Cardio Tennis class.
Find sessions & courts
Learn Tennis
From beginner to improver, find lessons suitable for every age, including tots. Our tennis lessons for juniors build your child's confidence, develop agility and coordination in a fun environment. If you're new to tennis or want to hone your skills, try our adult tennis lessons. Not only will you become a stronger player on the court, but you may also make friends for life.
Find out more
Train Tennis
For those junior tennis players wanting to take tennis more seriously, we offer invitational tennis programmes. These programmes run alongside the traditional school terms and suit players playing twice a week or playing competitive tennis. If your child falls into this category or you would like more information please contact your nearest tennis venue directly.
Find out more
Tennis Lessons and Courses
Our Learn Programme for children - Played on smaller courts and with softer balls, our Learn programme is the perfect introduction for children aged 4 to 9. We also have parent and child tennis lessons for kids aged 2 to 4. We also have courses for juniors aged 10 to 16. These are played on full tennis courts and with faster balls and are more challenging for older children.  More serious competitive players should get in touch directly about our Train programme.
Book Now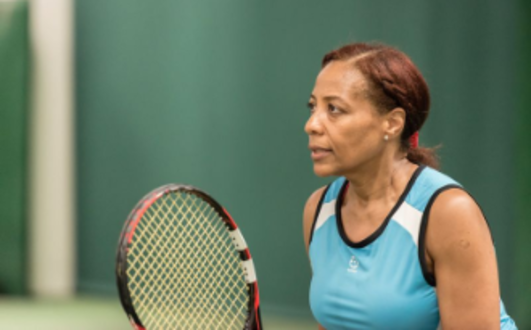 Our Learn programme also caters for Adults, whether you're a completely new player and wanting your first taste of tennis or looking to hone your skills, our Learn programme will help you build confidence and improve your game on the court. More serious competitive players should get in touch directly about our Train programme.
Book now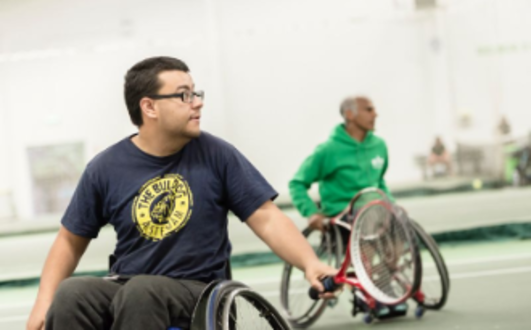 At Better, we pride ourselves on making tennis open to all and have a number of specialist courses and drop-in sessions that cater for over 50s, female only, wheelchair tennis, visually impaired and learning difficulty sessions. Contact your nearest tennis centre for more information.
Find out more
You may also like