Local Basketball Lessons
Why not let your child try something new? Slam dunk and enjoy hang time by trying basketball lessons - open to children between the ages of 5 - 11. Our basketball programme is designed with the aid of the London School of Basketball to make sure it is of the highest quality and most importantly it's fun for all children regardless of ability. 
What are the benefits of basketball
Basketball is one of the most popular team sports in the world. Here are some of the benefits:
Fun activity - basketball is a fast game, keeping your child on their toes and constantly moving
New friends - your child will meet other children, make friends and build up camaraderie within her team
Develop hand-eye coordination - in addition to this basketball has the added benefit of being able to develop a child's hand-eye coordination skills 
Develops self-discipline - weekly sessions and training help improve focus and concentration 
Book now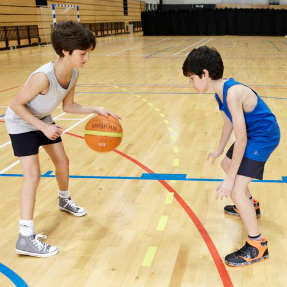 What to bring to a basketball lesson
Basketball is a sport that requires a quick turn of pace, so you'll need to wear lightweight clothes that you can move freely in and give you that competitive edge. We also recommend bringing a water bottle with you to keep hydrated.
You may also like