Better Health UK
Why Choose a Better Health UK Membership?
Whether you're new to fitness or are getting back into exercise, it can be difficult to stick to a workout routine or keep up with a healthy lifestyle. A Better Health UK monthly membership can help you stay motivated by giving you the freedom to work out across the UK.
With a Better Health UK membership, you can enjoy multi gyms access across England, Cardiff and Belfast. You'll also get access to swimming pools and fitness classes at over 200 Better centres, without any extra costs. There's no contract and you can pay monthly by direct debit or annually for added flexibility.
This UK-wide gym, swim and fitness classes membership is ideal for anyone who works or travels across the UK on a regular basis - with so many centres to choose from, you'll be able to keep up with your fitness routine wherever your travels take you.
Join Better now
Benefits of our Multiple Gym Membership
Better Health UK is a gym and fitness membership that's valid across multiple gyms, pools and leisure centres across the UK so you can workout wherever you want. But that's not all.
As a Better Health UK* member, you'll benefit from the following:
Inclusive access to over 200 Better gyms across our gym network offering cardio, resistance, functional, weight and stretch zones
Inclusive access to Better swimming pools including Olympic-sized pools and lidos across the UK
Inclusive access to the full fitness class programme at any Better centre
Inclusive access to our Health Suites, including saunas, steam rooms and Jacuzzis at Better centres UK-wide (where available)**
Inclusive access to our Swim Doctor adult swimming lesson programme
Inclusive squash, badminton and table tennis court booking within your home area (where available - one court booking per member per day).***
Inclusive access to Better at Home, our online library of over 1,500 on-demand fitness classes and workouts
7-day priority advanced booking online or via the Better UK app
Up to 30% off other activities and services
* A Better Health UK membership includes access to Better facilities across England, Belfast and Cardiff, excluding leisure centres and facilities located in Camden.
** Better Health UK does not include access to Better's Spa Experience facilities.
*** Better Health UK does not include Tennis Court bookings or racquet sports at any centres in Islington and Queen Elizabeth Olympic Park. You can book courts online or in your local centre but the fee is excluded of your membership.
Sign up for Better Health UK
What our members say
Don't just take our word for it. Hear from some of our members about how they use their UK-wide multi gym, pool and leisure centre access with Better:
"Working out is not only my way to look after my health and body. It is also my happy place where I can relax and socialise with like-minded people. It's a great stress relief that brings back the balance in daily life." – Magda, a Better Member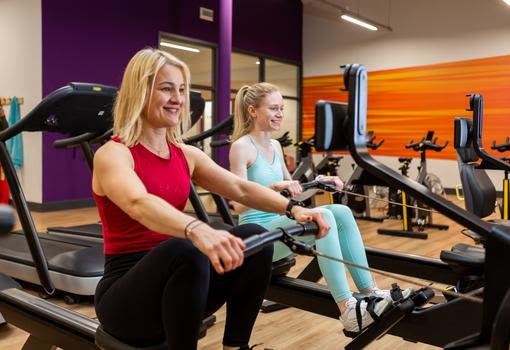 "I train anything between three to five times a week - weights, cardio, jogging and swimming. Exercise is everything to me, it makes me feel good, it keeps me sane, it also keeps me fit. Being active gives me a lot more energy and my mindset is much more positive." - Belinda, a Better member
Hear Belinda's story
Get More Out of Your Membership
Did you know you can get even more out of your Better Health UK membership?
Choose our Better Health UK plus Spa for inclusive access to our Spa Experience facilities alongside your gym, swim and leisure centre membership.
Alternatively, pick our Better Health UK plus Ice to enjoy all the benefits of a Better Health UK membership plus inclusive access to Better's ice rinks in locations like Swindon and Cambridge.
Related memberships
Enjoy off-peak gym, swimming pool and fitness class access at a discounted monthly price with a Better Health Saver membership.
Find out more
If you're a student, you can get access to Better gyms, pools and leisure centres across the UK for a reduced price.
Find out more
You may also like