Why Choose a Better Health UK Plus Ice membership?
Better Health UK Plus Ice lets you enjoy the best of Better leisure centres with an ice skating membership in one package.
Whether you're a complete beginner or have been skating for years, the Better Health UK + Ice Skating membership combines a love of skating with flexible fitness. You'll receive access to over 200 Better gyms, pools, and classes, along with any of our 5 ice rinks UK-wide.
Ice skating has so many benefits - from improved strength and endurance to better balance and coordination. Above all, it's a great way to have fun and make new friends. Plus, when it's included with your leisure centre membership, it couldn't be easier to get started.
Join now
Membership Benefits
Here are just some of the perks included with a Better Health UK Plus Ice membership:
*Facility access subject to availability, please refer to home centre and individual location page for facility listings. See our terms and conditions for exclusions.
Find your local centre
Hear from our members
Don't just take our word for it. Hear from some of our members about how they use their Better Health UK + Ice membership:
"I love having two types of membership in one, it makes my life so much easier. It's great having access to my leisure centre facilities but also being able to visit my local ice rink whenever I want. It's been a great incentive for getting me back into ice skating again." – A Better Member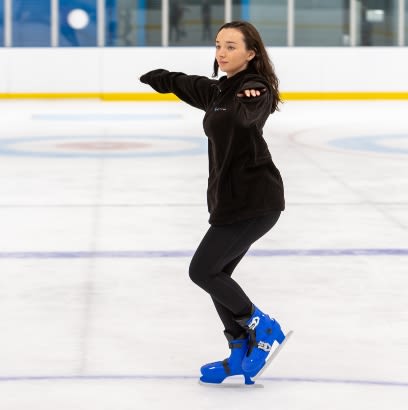 FAQs
Are ice skating lessons included in this membership?
A Better Health UK + Ice Skating membership includes access to ice rinks and free skate hire as standard. 
However, private or group lessons need to be purchased separately. Our fully qualified coaches offer courses based on the nationally recognised NISA* structure, designed to support adults and kids of any level.

Find out more about ice skating lessons and courses today.
Are there age restrictions to this membership?
The Better Health UK Plus Ice membership is available to everyone over the age of 16.
Can I join even if I'm a beginner?
Yes, absolutely! Better ice skating memberships are suitable for any level of skill or fitness. If you need additional support, you can always sign up to lessons run by our highly qualified coaches.
If you're nervous about hitting the ice with limited experience, check out some of our top tips for getting started with ice skating.
Related memberships
Get your skates on and spend some time on the ice with our dedicated Ice Skating membership. Enjoy unlimited access to your chosen Better ice rink during public skating sessions, free skate hire and advanced booking options.
Find out more
Make the most of your local Better facilities, including our ice rinks, with a Better Health Plus Ice membership. Whether you're looking for local fitness classes, swimming sessions or skating sessions, bring it to Better.
Find out more
You may also like