Find a Swimming Pool Near Me
Swim Safely Rules
Please comply with the following rules:
Under 8's and non swimmers under 16 must be accompanied by a competent adult swimmer.
No more than two under 8's or non swimmers under 16 to each  competent adult swimmer.
The competent adult swimmer must actively supervise under 8's and non swimmers under 16.
Under 8's and all non swimmers must remain in shallow water
We strongly recommend under 8's and all non swimmers use armbands and/or an appropriate buoyancy aid.
Advice to adult non swimmers
It is recommended that non swimmers over the age of 16 are accompanied in the water by a competent adult swimmer
How to love the water safely
When it comes to life skills, swimming appears high on the list. At Better, we want everyone to enjoy this fun and fulfiling activity. From keeping you active to relaxing the body and mind, you'll reap the many benefits from this fun and social activity. But before you begin to take the plunge, it's important to learn basic water skills that will help you swim safely at a swimming pool, the beach or outdoor swimming facility. Here's how you can help everyone swim in a safe and welcoming environment:
Look after non-swimmers
Please adhere to the ratio of two non-swimmers or under 8s to every competent adult swimmer. A competent adult swimmer must actively supervise under 8s and non-swimmers under 16 at all times. 
Can't swim?
Under 8 or can't swim? Please adhere to shallow water and have a competent adult swimmer with you at all times. Armbands and/or appropriate buoyancy aids are strongly recommended for all under 8's and non-swimmers
Listen to the lifeguards
Please listen to our qualified lifeguards. They're experienced, trained and here to ensure everyone has a fun but safe time.
Swim healthy
If you're not sure you're fit enough to swim, please consult your doctor. It's very important if you have any health problems to talk to your doctor before swimming and inform staff of any special requirements you may have.
Tummy troubles
Please do not swim if you have had an upset stomach within the last two weeks
Wait after eating
Avoid swimming within two hours of eating or if you are under the influence of alcohol, medication or anything else
What not to do
For your safety, running, bombing, back-diving, petting, fighting or using face masks and snorkels are not permitted
Check before you jump
Always check the water is clear if you intend to jump in the pool. Don't push others in for a joke - this is very unsafe
Look out for signs
Diving is allowed in designated areas only – please look out for the signs
Wear appropriate clothing
All swimmers must wear clean swimwear – cut-off jeans and other improvised costumes are not allowed. Please follow our 'what to wear' guide below on appropriate swimwear or speak to a member of staff for advice.
Remember to shower
Please remember to shower before and after you swim
Keep your distance
Spectators can watch from the designated gallery/viewing area, not from the poolside
What to wear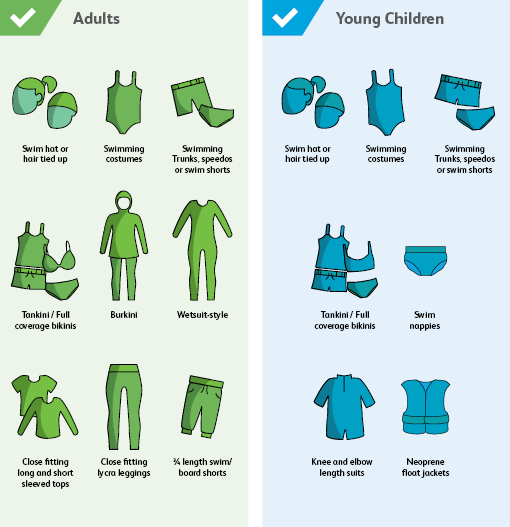 You may also like
You're never too old to build confidence in the water. Find out more about what our swim school has to offer. 
Find out more
Every year, we support Drowning Prevention Week to raise awareness about the importance of water safety and having fun safely in the water. 
Find out more