Swimming with a Disability
At Better, we believe that swimming is for everyone, no matter what your support and access needs are.  
From 1:1 lessons for those who need extra help to group sessions for more confident swimmers, we offer a range of options and classes for those swimming with a disability.
Why get water confident with Better?
We want to make swimming accessible, fun, and easy for everyone. That's why we've developed specialised lessons for those swimming with a disability.  
Our instructors have gone through dedicated training, meaning they can deliver inclusive classes for people with a range of disabilities and impairments.
Most of our leisure centres are also wheelchair accessible with poolside mobility aids, allowing those with physical disabilities to participate. Please check which accessibility measures are in place at your local leisure centre.
What skills can I learn?
Our lessons are designed to help those swimming with a disability develop valuable skills and gain confidence in the water. Our trained instructors have developed lessons suitable for both adults and children with disabilities to ensure swimming can be enjoyable for everyone.
Our expert teachers will lead classes that help individuals:
Gain a sense of water awareness
Improve their swimming skills
Increase their enjoyment in the water
Socialise with others
There are also opportunities for more confident swimmers to hone their skills in a safe and inclusive environment and prepare for competitive swimming events.
Who are disability swimming lessons for?
Our disability swimming lessons are designed to make staying active easy and fun for people who are registered as disabled.
Many of our classes are suitable for adults and children with:
Learning disabilities
Physical disabilities and mobility impairments
Visual and hearing impairments
Long-term illnesses and health conditions
If your disability means you need a carer or personal assistant to accompany you, our Inclusive UK Membership will provide them with free entry to our facilities when you attend a swimming lesson at a Better leisure centre.
"As a person with a mobility impairment, I have always struggled to find accessible exercise or any physical activity that I really enjoyed… Then I joined the Better gym and I went from hating any physical activity to going to the gym several times a week!" – A Better Member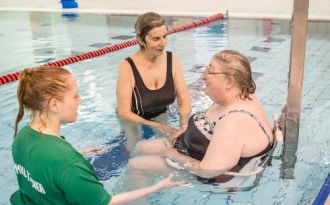 Swimming Lessons for disabled adults and children
We have a range of programmes and classes available for both disabled adults and children to increase comfort and confidence in the water. To find out which classes are on offer near you, please check your local Better leisure centre.
Classes include: 
Foundation - SEND- Age over 4 years
Foundation - SEND- Age over 4 years with adult
Development - SEND (15 metres plus, under 16 yrs)
1:1 lessons
Swimming is a great sport for everyone, but it can be unenjoyable and even unsafe for those with disabilities to learn in large, mainstream groups. We offer dedicated 1:1 sessions for children and adults with disabilities so they can swim in a safe space. In these lessons, specially trained instructors will help individuals learn the basics and practice their techniques with lots of support.
Bookable lessons include: 
Junior Level Water individual lesson
Junior Foundation Disability Private Swim lesson
Junior Development Disability private swim lesson
Adult Disability Private Swimming Lessons
Level Water
These small group lessons are for primary school children swimming with a disability. Working with our partner charity, Level Water, we provide free swimming lessons for children aged 4-11 years with physical and sensory disabilities. We also offer funded 1:1 sessions for those who need extra support. These funded classes are currently not available for those with learning, social or behavioural disabilities.
Learn about Level Water
Find a Swimming Pool Near You
Teachers and Equipment
We know that swimming with a disability can be challenging for many. Our lessons and classes are led by teachers trained in helping those with a disability and take place in accessible leisure centres to make swimming easier for everyone.
Our experienced teachers not only guide individuals on how to improve their swimming ability and get confident in the water, but also create a safe and supportive environment. Participants will be able to practice swimming in a friendly space and support each other throughout, adding a social aspect to the activity.
We have also made sure that many of our pools and lessons are as convenient to use as possible, with accessible changing rooms and toilets, as well as Pool Pods. 
Our staff will also look after Guide Dogs and keep mobility aids safe during your session.
Frequently asked questions
How much do disabled swim lessons cost?
You can book a Better swimming lesson from £3 (the price will vary depending on location). If your child is between ages 4 and 11 years, they may also be eligible for funded disability swimming lessons through our partnership with Level Water. Check your local Better leisure centre for more pricing information.
Why is swimming good for people with a disability?
Swimming is a great activity for everyone's mental and physical health. Not only does spending time in the water help disabled swimmers stay active, but group swimming lessons can also provide a huge social benefit.
You may also like
Our Inclusive membership gives people who are registered as disabled access to our local gyms, swimming pools and fitness classes.
Find out more
Sarah has multiple sclerosis and swims regularly at Kensington Leisure Centre. Read more about how swimming helps Sarah stay healthy and active.
Read more