Move more, lose weight and feel good with the improved Weight Loss with Better programme.
We understand that weight loss can be difficult. That's why, through our weekly group weight loss classes, you'll find the support you need to achieve your goals, whether that be to lose weight, or become more active.
Our weight loss plan combines weight management workshops, nutritional advice and physical activity alongside behaviour change techniques taught by experts in the field. This means you can not only lose weight, but gain the knowledge, skills and confidence to maintain a healthy lifestyle.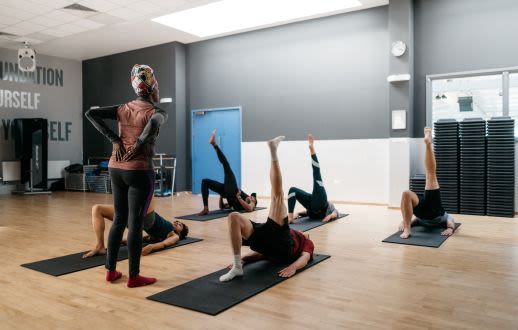 We want as many individuals as possible to receive valuable and trustworthy weight loss advice. All our services and programmes are inclusive, yet your safety is our biggest priority. That's why we've created inclusion criteria for our weight loss programme to care for you and our team. You can start the 12-week weight loss plan if you are:
Adult aged 18+
Body Mass Index of 30-40 (27.5-40) / Black, Asian and other minority ethnic groups)
There are some people who might not be able to start the programme due to health reasons, such as pregnant or breastfeeding individuals. If you're unsure whether you can begin or not, get in touch with our team to help with your questions. 
Sign up today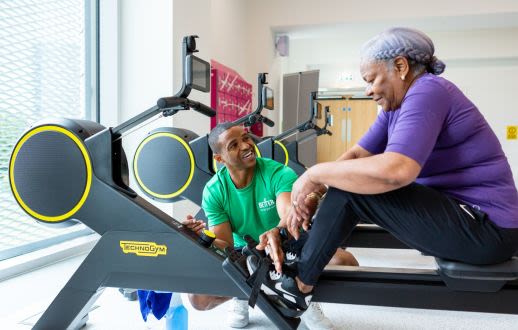 Your 12-week weight loss plan is included in our subsidised Healthwise membership. What's more, you can also use our fantastic facilities, including state-of-the-art gyms, swimming pools and exercise classes for up to 2 years. We're here to help turn your positive changes into habits. All of this for only £20 a month or £4 pay and play.
Sign up today
How does our 12-week weight loss plan work?
Our weight loss programme can be accessed via our self-referral portal below, or via referral from your GP. If you have any concerns or questions before joining, it's always best to speak to your GP who can advise on whether the programme is right for you.
The programme comprises of weekly one hour group sessions over 12 weeks. Each session consists of an hour-long group workshop during which you'll explore your motivations, increase your nutritional knowledge and discuss techniques to make positive lifestyle changes.
There are lots of physical activity sessions across the week, in which you can try a range of exercise options. 
Some of the main features of our weight loss plan include:
Healthy eating workshops
Exploring the benefits of exercise and healthy eating in relation to positive mental health, and helping to reduce the risk of chronic diseases.
Supervised gym sessions
Fitness classes*
Water-based exercise*
Community activity options like group walks*
Sports-based sessions*
Home programme (including free access to online classes)
*please note, for some activities, an additional cost may apply.

For more information and our frequently asked questions click here or get started below.
Start your Better weight loss plan today
What Better members are saying
Still not sure whether to sign up? Here's what our Better members are saying about our weight loss programme:
"I've lost 7 kg during the programme by increasing my weekly physical activity levels and making changes to my diet, such as having my main meal earlier during the day, increasing my fruit and vegetable intake and reducing portion sizes. I am planning to continue losing weight until I get to the shape I am looking for." – Rafik, Better member.
"The small group format is really good for supporting each other and answering people's questions. I feel like I'm making better decisions about what I buy and eat now." – Daniel, Better member.
"One of main goals was to be motivated to come to the gym and I have achieved this plus I have reduced my cholesterol levels. I have lost weight and would like to continue to do so." – Terri, Better member.
It is always best to speak to your GP if you have any questions or concerns, as they can always help offer guidance and help you decide if the plan is for you. If it is, they can then refer you to the scheme themselves.
Learn more