Fit & Active Barnet Carers Pass
As part of the Fit & Active Barnet (FAB) vision to create a more active and healthy borough, the FAB Carers Pass gives looked after children, care leavers, carers and foster carers access to sport and physical activity opportunities.
To qualify for a free FAB Carers Pass you will need to be:

• A Barnet resident
• Living close enough to visit a Barnet Leisure Centre
• Visiting Barnet regularly (for example, to see family)
• Be a registered carer with Barnet Council or Barnet Carers Centre
• Be a registered Foster Carer with Barnet Council
• Be a registered looked after child or care leaver with Barnet Council
FIT & ACTIVE BARNET (FAB) CARD
The Fit and Active Barnet (FAB) Card is a FREE annual membership available to Barnet residents, giving access to a range of benefits across all five of the Barnet Leisure Centres and beyond. To sign up online to your FREE FAB Card follow the steps below, alternatively you can visit one of the five Barnet Leisure Centres across the borough.
FAB Card Registration:
1. Select the FAB Card category that applies to you beneath your local leisure centre. Please note that once registered, your FAB Card can be used across all Barnet Leisure Centres and in community based activities where accepted (see below for more info)
Category

Age

Eligibility Criteria

FAB Adult

Over 16

Barnet Resident

FAB Junior

0-15

FAB Adult Concession*

Over 16

Barnet Resident receiving one of the following: Income Support, Housing Benefit, Council Tax Benefit, Working Tax Credit, Severe Disablement Allowance, Senior Citizens (60+ years) or Full Time Students Living or Studying in Barnet.

FAB Junior Concession*

0-15
* FAB Card concession memberships offer additional discounts at off-peak times (Mon-Fri 9:00-17:00 and all weekend)
2. Once you have selected your FAB Card category you will then be directed to complete your registration (please note that as Better administer the FAB Card you will be directed to their webpage)
3. During online registration you must provide a unique email address per membership. If you are registering on behalf of a junior without their own email address, you can contact Better's customer service team who will be able to process the registration without this
4. Once you have completed your FAB Card registration you will shortly receive an email confirming your membership number. This will also contain other useful information in relation to your FAB Card
5. Once you receive your membership number you can visit any Better Leisure Centre in Barnet to collect a printed card. We also recommend you download the Better App to your smart phone which will assist you in accessing the Better Leisure Centres in addition to a number of other benefits such as centre information, class bookings, fitness tracking, and much more.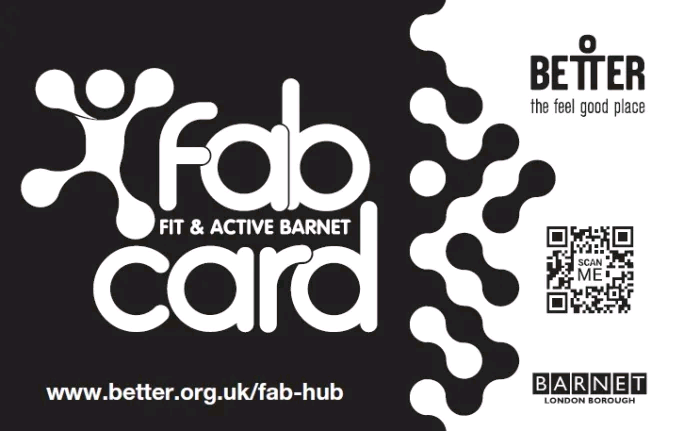 Memberships
FAQ'S
What will your FAB Carers Pass get you?
Free swimming at Barnet Copthall, Finchley Lido and Church Farm Leisure Centres and concessionary discounts on a wide range of other activities.
How do I get a FAB Carers Pass?
If you are interested in activating a FAB Carers Pass you will need to:
Carers- Report to reception staff at one of the listed Barnet Leisure Centres 9am–5pm, Monday–Friday.  
Looked after children, foster carers, care leavers- Email us your full name and date of birth.
Rules for the scheme
You must be 9 years old and over to access a leisure centre without an adult
You are expected to follow the same rules as all other leisure centre users
Your FAB Carers Pass is only for you and not for anyone else
You must present your membership card when requested by centre staff
Children in care placed outside the borough are still entitled to a pass; discounts/entitlements may vary at Better centres outside Barnet.
*Your pass will be reviewed annually.
To find out more about opportunities and activities available, pop into your local Barnet leisure centre or visit one of our Barnet leisure centre webpages.