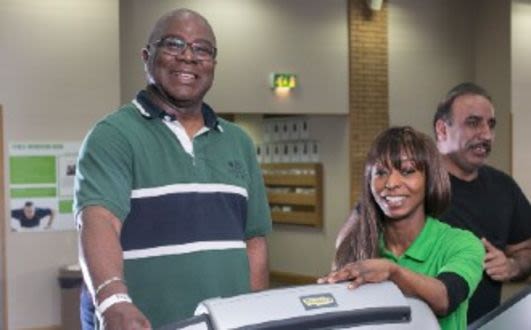 If you'd like a bit more support and need some extra guidance about getting into fitness, try our Give It A Go programme. For six weeks we'll be by your side supporting you in a range of activities. Following an assessment we'll be able to direct you to a range of activity options and you'll be able to give it a go.
At the end of six weeks, we'll have helped you to feel more confident around your activity choices and be able to work out what's best for you in the busyness of life.
Sign up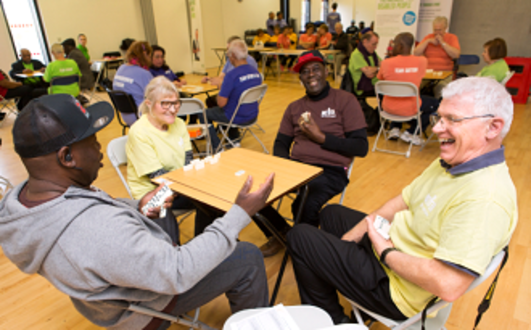 Are you interested in volunteering your time to support others and reap personal benefits such as meeting new people and gaining new skills and experiences?
Better are looking for enthusiastic people who are willing and able to spare their time to support others attending community sessions; helping them to have the best experience possible. This could include: helping deliver activities, befriending a participant which would enable them to stay or become active and reduce social isolation. 
Find out more
Barnet Accessibility Guide
Our full accessible programme is available to download below.  
Do you have any exciting ideas that could improve your community?
Upload your project idea to Spacehive for the chance to get a pledge of up to £5,000. Potential project creators are encouraged to contact the GLL Community Foundation for advice or have a project they would like our help with.
Street TT
No longer will Table Tennis tables in Barnet's Parks and Open Spaces sit lonely waiting for someone to play.
On Monday 26 July, StreetTT was launched in Barnet and provides a free and fun way to play Table Tennis in Barnet. By downloading the free forever StreetTT app at streettt.com or on Google Play, you will be connected in to the fastest growing Table Tennis community, enabling you to arrange matches with local players, log your scores and compete with players across the world!
Weekly activation sessions will take place on Table Tennis tables at Sunny Hill Park (Mondays from 6pm), Montrose Playing Fields (Wednesdays from 6pm) and Kara Way (Saturdays, 2pm – 4pm).
If you regard yourself as a player to be defeated, the StreetTT Tournament may be right up your street. This is a London wide tournament with the Barnet qualifying event taking place at 6pm on Friday 6 August at Montrose Playing Fields.
For more information visit www.StreetTT.com
Please note that StreetTT is an initiative aimed at adults aged 18 and over.
All Barnet residents are invited to use Table Tennis tables located in Barnet parks and open spaces for free – click here to find your local table.
About Crowdfunding
Crowdfunding raises small amounts of money from a large number of people, to help fund a project.
The GLL Community Foundation runs in Barnet and helps local projects with funding, facilities and support that encourage people to be active, to learn and to play together. Projects could include organising a sports tournament or improving a community library, to creating a new sports league or revamping a children's playground.
Offers up to £5,000 worth of cash and in kind support are available to community projects in Barnet, in partnership with Spacehive.
Mill Hill East Community Garden project was recently successful in its bid to transform some empty and unloved space into a vibrant and creative community garden, for local people to connect with nature and with each other. Work is currently underway with volunteers and members of the local community creating the garden area.