Have your say! Take part in our library annual user survey...

- More info »
New Eltham Library
New Eltham Library is located in New Eltham in the Royal Borough of Greenwich. This modern facility offers free internet, email plus a range of software including self learning IT packages along with a wide range of titles for children and adults. Libraries are places for everyone to use and enjoy. They're our community centres, information hubs, space to learn or think and make ourselves feel better. 
Disabled toilet

Accessible changing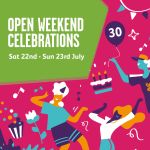 Read more
30 Years of GLL
10-12PM Cake and cuppa
10 3pm Sports themes wreath and celebration Party Hats Age 2 years upwards 
Read more ›
Celebrate Women's acheivement, raise awareness agaisnt bias and take action for equality.
Read more ›
An article published on BBC news website in December 2018
Read more ›
find us
New Eltham Library
New Eltham Library

Southwood Road
New Eltham
London
SE9 3QT
By bus

160 162 233 314 321 B13
By train, tube & tram

New Eltham