Bromley Historic Collections
Bromley Historic Collections is the collective name for Bromley Borough's archive, local studies and museum service. The archive and local studies collections are accessible at Bromley Central Library. Permanent exhibitions on the first and second floors of the Central Library showcase the museum collection. 
Opening times for week commencing June 27, 2022
Next > >
Library
Mon - Fri

09:30 - 19:00
Sat

09:30 - 17:00
Sun

Closed
From Monday 10th January we have reverted to our normal hours. Archive productions continue to be on Mondays, Thursdays and Saturdays 10.30 to 12 and 2 to 4. Thank you for your support, staff and customer safety is paramount at this time.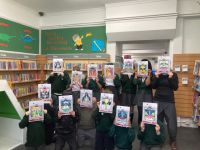 Read more
Portrait Making Workshops in all Bromley Libraries to Celebrate the Platinum Jubilee
Read more ›
Our interative puppet show was enjoyed by all.
Read more ›
Check out the local activities and reading groups available at your local library in Bromley
Read more ›
find us
Bromley Historic Collections
Bromley Historic Collections

2nd Floor, Bromley Central Library, High St,
Bromley
BR1 1EX