Penge Library
Penge library provides a collection of popular fiction and non-fiction for adults, teenagers and children including material from basic and popular up to GCSE level. Penge Library is a safe place. If you feel vulnerable or unsafe, please come inside and speak to a member of the team who will be happy to assist and look after you until help arrives.
Opening times for week commencing June 27, 2022
Next > >
Penge Library
Mon

09:30 - 19:00
Tue - Fri

09:30 - 17:30
Sat

09:30 - 17:00
Sun

Closed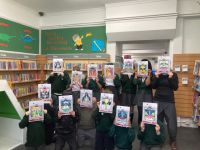 Read more
Portrait Making Workshops in all Bromley Libraries to Celebrate the Platinum Jubilee
Read more ›
Our interative puppet show was enjoyed by all.
Read more ›
Song writing and music production for young people with support from industry experts
Read more ›
Penge Library

46 Green Lane
Penge
Greater London
SE20 7JX
By bus

75, 194, 197, 227, 358, 356