FITNESS CLASSES AT DONYNGS
Let's Be Strong
Les Mills: BODYPUMP™
For anyone looking to get lean and toned. Using light to moderate weights with lots of repetition, BODYPUMP gives you a total body workout.
Core Stability
Strengthening your core and improving your posture.
Total Body Conditioning
Once you start, you won't ever want to stop. These intense, exciting classes combine cardio and conditioning for a full on, high-energy workout.
Let's Focus
Pilates
Pilates Centre yourself. Our Pilates classes come in all shapes and sizes, but they all focus on concentration and muscle control, for a highly effective workout.

Yoga
Loosen up and let go. Our mix of Yoga classes feature a range of exercises from energetic, full-body workouts to relaxing, more traditional poses.
Les Mills: BODYBALANCE™
During BODYBALANCE you'll bend and stretch through a series of simple yoga moves and embrace elements of Tai Chi and Pilates.
Let's Work It
Group Cycle
Pedal your way fit in a group cycling class. Work at your own pace as you cycle along with the group in one of our themed classes to uplifting music, or focus on achieving your goals in one of our discipline based classes.

Les Mills: BODYCOMBAT™
BODYCOMBAT™ is a high-energy, martial arts-inspired workout that is totally non-contact. Punch and kick your way to fitness. No experience needed.

Les Mills: BODYATTACK™
A high-energy fitness class with moves that cater for total beginners to total addicts. We combine athletic movements like running, lunging and jumping with strength exercises such as push-ups and squats.
Let's Move
Aerobics
Get fit the fun way. You'll perform a range of cardio moves, taking each at your own pace, all guided by our friendly, motivational instructors.

Water Workout
Refresh yourself! These invigorating, effective, but low-impact workouts in the water are easy on your joints.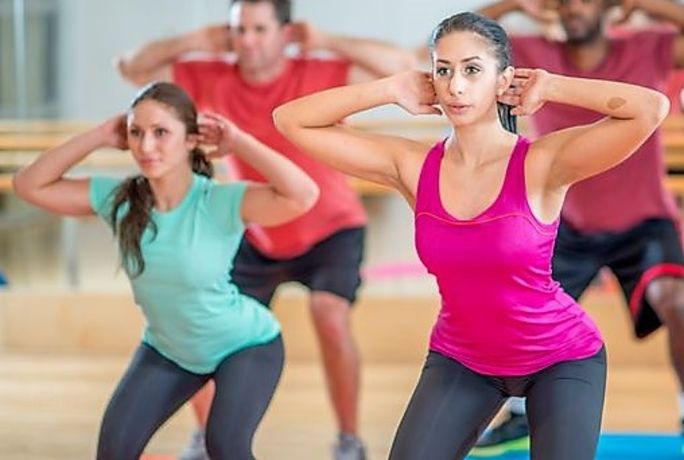 Let's Target
Strength & Conditioning
Get stronger and sculpt. These sessions are designed to help you get fitter, stronger and leaner using a series of exercises using equipment and your own bodyweight. Best for building strength and conditioning the body.

Functional
Increase your strength and balance. The exercises in this session are designed to help you train and prepare your body for daily tasks by simulating common movements and muscles you use everyday at home, work or during sports. Best for overall strength, co-ordination and balance. 

Cardio
Burn calories and feel great. A series of cardio exercises will get you burning serious calories, and feeling fitter and more energised.