HEALTHWISE
HEALTHWISE: PHYSICAL ACTIVITY REFERRAL SCHEME (PARS)
The Healthwise 12 week Physical Activity Referral Scheme introduces individuals to the benefits of physical activity in order to help reduce risk factors for chronic disease and manage existing medical conditions.
This scheme is currently delivered across Reigate & Banstead at Donyngs Leisure Centre, Horley Leisure Centre and Tadworth Leisure & Community Centres.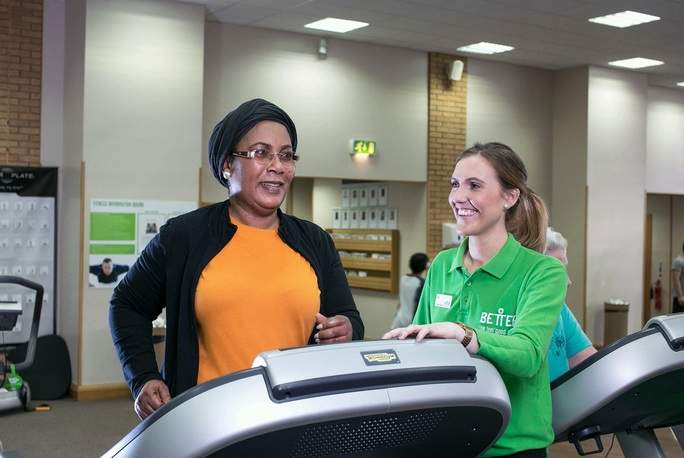 Who Is PARS For?
The programme is available for Reigate & Banstead residents/ patients.
It is designed to assist people who are currently inactive with medical conditions or other specialist requirements that may be a barrier to accessing mainstream activity in Leisure Centres.
Referrals are made for a variety of health conditions, with common reasons for referral being:
High blood pressure
Diabetes
Obesity
Asthma
Circulatory/Respiratory diseases
Depression and anxiety
What activities are available?
PARS provides members with a wide range of classes and exercise options to suit all abilities. A qualified GP Referral Instructor can help select suitable classes tailored to an individual's medical conditions and needs. A physical activity programme may include some of the following:
Gym based sessions
Group exercise options
Water-based exercise
How can the Better Health Team support?
The Better Health Team can:
Assess and monitor progress, providing suitable physical activity for your condition
Motivate and encourage you during your activity programme to achieve your goals
Advise you on how to exercise safely and with confidence
Provide assistance to exercise independently
Provide support and answer your questions
What Membership Options are Available?
The Healthy Living Membership provides access to the Gym, Pool and Classes for a monthly or annual fee, obtainable for previously sedentary individuals who have a medical condition(s).
You can choose from the following options: pay-as-you-go, monthly direct debit or upfront annual payments. Current prices are available on request.
How to apply
If you are interested in PARS, please speak to your GP or Practice Nurse who will authorise your request. Once they have provided you with a completed referral form, please telephone or e-mail the Programme Co-ordinator to arrange your first appointment at either Donyngs, Horley or Tadworth Leisure Centre.