About Us
The  Sports Development Team works with numerous partners across the Royal Borough of Greenwich. Our aim is to support and engage within community venues, leisure and outdoor spaces to help improve your health and wellbeing through activities, fun and socialising.
The Royal Borough of Greenwich has developed a physical activity and sports strategy, called Greenwich Get Active (2019-2023). Greenwich Get Active began an exciting four-year journey where working collaboratively with partners sits at the heart of addressing inactivity. There is also a detailed action plan that underpins the strategy, both documents can be downloaded here.
If you have any questions regarding the strategy or action plan then please contact Royal Greenwich via email.
Community activities
Looking for opportunities to get active? If the answer is yes, then see our range of activities around the Royal Borough of Greenwich.
Can't find what you're looking for? Other activities can be found on the Greenwich Get Active website.
GLL works in partnership with Royal Borough of Greenwich to provide a community sport programme. We are keen to develop our programme further, so please get in touch via email if you would like further information.
Funded Disability Family Splash
For children and young adults with disabilities and their families to enjoy a 'fun swim' session with floats and other equipment. All children must be accompanied in the water and adhere to swim safety rules. *All families are to contact RBGSportDevelopment@GLL.ORG first to fill out a family registration form. Sessions are capped at 15 people, a max of 2 adults and 2 children per booking.
Email
Monday
| | | | | |
| --- | --- | --- | --- | --- |
| Functional Fitness | Monday | 9.30am | 10.30am | Butts Park, Butts Wood, 21 Bentham Road, London, SE28 8EG |
Chair Based Exercise

Monday

11.00am

12.00pm

Middlepark CC, 50 Middle Park Avenue, 
London, SE9 5SD
| | | | | |
| --- | --- | --- | --- | --- |
| Table Tennis | Monday | 4.30pm | 6.30pm | Waterfront leisure Centre, Woolwich High St, Woolwich, London SE18 6DL |
| | | | | |
| --- | --- | --- | --- | --- |
| Couch 2 5K + | Monday | 7.00pm | 8.00pm | Sutcliffe Park Sports Centre, Eltham Rd, London SE9 5LW |
| Pay & Play Netball | Monday | 7.30pm | 8.30pm | Kidbrooke Sports MUGA, Kidbrooke Village, London , SE3 9EX |
Tuesday
Functional Fitness

Tuesday

9.30am

10.30am

Butts Park, Butts Wood, 21 Bentham Road, 
London, SE28 8EG
Boxing

Tuesday

7.00pm

9.00pm

Woolwich Common Community Centre,
Leslie Smith Square, Woolwich, London, SE18 4DW
Wednesday
| | | | | |
| --- | --- | --- | --- | --- |
| Functional Fitness | Wednesday | 9.30am | 10.30am | Sporting Club Thamesmead, Bayliss Avenue, London SE28 8NJ |
Thursday
| | | | | |
| --- | --- | --- | --- | --- |
|  Back to Netball | Thursday | 9.30am | 10.30am | Kidbrooke Sports MUGA, Kidbrooke Village, London, SE3 9EX |
| | | | | |
| --- | --- | --- | --- | --- |
| Functional Fitness | Thursday | 9.30am | 10.30am | Sporting Club Thamesmead, Bayliss Avenue, London SE28 8NJ |
Chair Based Exercise

Thursday

11.00am

12.00pm

Middlepark CC, 50 Middle Park Avenue,
London, SE9 5SD
Friday
| | | | | |
| --- | --- | --- | --- | --- |
| Functional Fitness | Friday | 9.00am | 10.30pm | Sporting Club Thamesmead, Bayliss Avenue, London SE28 8NJ |
| | | | | |
| --- | --- | --- | --- | --- |
| Table Tennis | Friday | 4.00pm | 6.00pm | The Plumstead Centre, 232 Plumstead High St, London SE18 1JL |
Sporting opportunities for all
Greenwich Virtual Marathon
This April Greenwich Better Sports Development is launching its very first Virtual Marathon.  April is the month thousands of people across the nation get ready to take part in the London Marathon, so, this April we're challenging residents across Greenwich to, run, walk or wheel themselves the length of a Marathon (26.2 miles). Covering at least one mile a day, this event is designed get the whole family involved, taking advantage of the fantastic open spaces in the Royal Borough of Greenwich.  
How it works
Register by 31st March by completing our online registration form linked below 
Complete your daily physical activity and record your distances and times
Submit your distances and times at the end of the month
All participants will receive a certificate and the top 3 in each age category will be awarded medals.
Register now
London Youth Games
London Youth Games is Europe's largest junior sports competition, with all London boroughs competing across 30 different sports. Registration for the 2020 London Youth Games are now open, however due to government guidelines on COVID-19, all competitions and trials have been postponed.
If you would like to find out more about London Youth Games opportunities within Royal Greenwich, without committing to anything, please contact us using the email us buttons on this page.
Register now
Football
Male: 12-14yrs
Female: 12-15yrs
Volunteering, Training & Employment Opportunities
Volunteering is one of the most rewarding things to do and we are always looking for volunteers to support our work in Royal Greenwich. If you've got the time and are passionate about sport and physical activity, then we'd love to hear from you. Please contact us by using the email us buttons on this page.
Benefits of volunteering
Gain confidence and build a sense of achievement by trying something new
Make a difference and witness the positive effect your volunteering has on individuals and the community
Meet people and make new friends
Learn new skills, gain qualifications and have an overall invaluable experience
Take on a challenge and work outside your comfort zone
Annual volunteering opportunities
London Youth Games: September - July*
Mini Marathon: April*
Sportathon: June*

*Subject to interview and applicable DBS checks.
Contact us to volunteer
Your stories
Below are motivational stories from members of 'Better Sports Development in RBG' who have benefitted from our projects, and would like to share the positive impact it has made in their lives.
You can share your motivational story with us via email. You could also receive a small incentive as a thank-you for sharing your experiences and achievements.
Knocking down barriers to get Woolwich fitter
GLL, Woolwich Community Centre and Champions for change are knocking down barriers for residents to be more fit and active through their new boxing project.
Aimed at people of all ages and abilities, the boxing project is a weekly session that teaches beginner and intermediate boxers. All sessions are free and sees over 40 people attend every week and an incredible 3900 visits since it started February 2019.
One new mother said, "boxing sessions were the first sessions I attended after I had my baby in June 2019. Before becoming pregnant, I was exercising a minimum of 6 days per week and often twice a day. These sessions gave me my confidence back".
GLL funded the boxing gloves, mats, dumbbells and punching bags to get the project off the ground. 
Funding was secured for one-year support with assistance from the Woolwich Common Community Centre Management and Sport Development Team, providing a foundation for the Woolwich Common Community to build upon. An agreement of £10,000 was given to cover the cost of the boxing coaches and other tailored sports courses.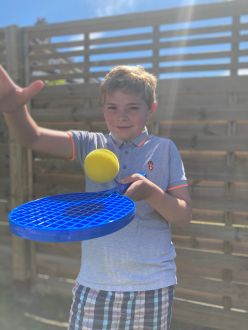 Families have fun over the summer holidays on the Time 2B Active programme
Families from all over Greenwich enjoyed multiport sessions over the summer holidays to get them active during 6 week break. Sessions were set up in Thamesmead, Woolwich & Kidbrooke and were facilitated by coaches with a huge array of multi-sports equipment.
Over the summer the Sports Development Team engaged over 1693 residents in Greenwich. Families had the chance to play to play cricket, rounder's and even football whilst remaining in their social bubbles.
Parent:" they loved the multisport sessions so much that they told their friends to attend"
Free sports packs were also available; containing equipment such as tennis rackets, balls, skipping ropes and a Frisbee to use in their garden or at the local park during lockdown. Over 230 sports packs were distributed and families shared videos and pictures of them using it.
GLL Community Foundation
The GLL Community Foundation helps local projects with funding, facilities and support that encourage people to be active, to learn and to play together.
Projects could include organising a sporting tournament, improving a community library, creating a new sports league or revamping a children's playground.
In partnership with Spacehive, the GLL Community Foundation offers up to £5,000 worth of cash and in-kind support to community projects in Greenwich. So, if you have any exciting ideas that could improve your community, upload your project idea to Spacehive today.
Get involved
If you'd like to get involved with your community and reap the health and well-being benefits, or for further information, simply email us your contact details by using the button below and a member of our team will get back to you.
Contact us