New Reading Leisure
Reading Borough Council's aspiration is to provide Reading with the first-class leisure facilities a town of our size and status deserves. Working with partners, the aim is to enhance Reading's reputation as a centre for sport, leisure, culture and events and to contribute to making it an even more attractive place to live, work and invest.
RBC are investing over £40 million in modern new leisure facilities – including a new flagship leisure centre and two brand new swimming pools – delivered in partnership with Greenwich Leisure Ltd (GLL).
Work begins at Palmer Park on Monday 2 August. This will be phase 1 of the Palmer Park construction and will complete by the end of September. The initial focus will be on creating the new overflow carpark / coach drop off, then moving on to removing the single-story front entrance. In phase 2, major work will begin on the construction of the new swimming pool, changes to the existing entrance and the creation of the new café and information hub space.
The new community pool and facilities will open to the public in late 2022.
Work is anticipated to start at the Rivermead site on 30 August after the Reading Festival, with the new leisure facilities in place by spring 2023.
Reading will benefit from:
A modern new-build leisure centre at Rivermead, offering:
A 25m 8-lane competition pool and 300 spectator seats
A combined teaching and diving pool with moveable floor
Splash Pad
A 6-court sports hall with 250 spectator seats
A 120-station gym with 3 studios
A café/ info hub and soft play
At Palmer Park, in addition to the refurbishment of the existing stadium building, there will be:
a modern new 25m 6-lane community pool
a 100 station gym with 3 studios
a junior activity zone/soft play facility with party rooms
a new café and information hub
By introducing a 6-lane pool at Palmer Park we will deliver the best possible facilities for Reading and the local community.
By taking the 6-lane option we can combine the benefits of a sizable pool, velodrome and athletics stadium all in one location. This would deliver a relatively unique facility in the region and put Reading firmly on the map as a top sports destination.
Reading's two other leisure centres will also benefit from improvements: Meadway Sport Centre in west Reading will have a new multi-purpose studio and improved gym, and at South Reading Leisure Centre there will be new health and fitness equipment and gym space.
Taking action on the climate emergency is a top priority for the Council. The new centres will be constructed to BREEAM Excellent environmental standards and with renewables wherever possible.  Measures to reduce carbon emissions and improve environmental efficiency will hopefully make Reading's leisure facilities some of the most environmentally friendly in the UK.
Alongside the development of new facilities, there will be a drive to improve health and wellbeing across Reading, aiming for a 40% increase in participation levels, with targeted activities to help reduce health inequalities, including discounts for young, older, and disabled people; weight management courses, cardiac and cancer rehabilitation, fall prevention interventions and dementia-friendly training for staff.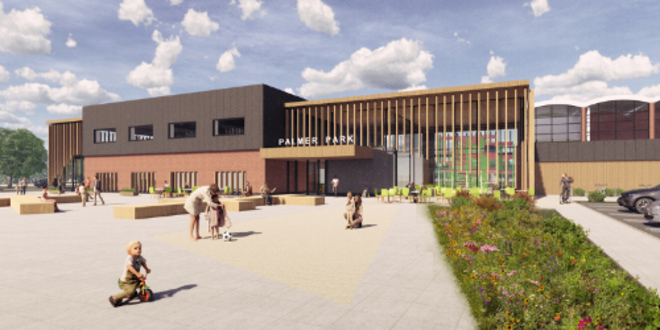 Work is underway on your new 25m, 6 lane community pool at Palmer Park.
Find out more
See the latest updates on the new-build Rivermead leisure centre.
Find out more