If you're 55 and over, and live in London or the surrounding area, then you're invited to represent your local area at this years' Better Club Games on Friday, September 13th 2019 and Thursday, September 19th 2019.
Showcase your talents and battle it out in a number of activities, including walking football, walking netball, badminton, short tennis, table tennis, darts, short mat bowls, timed cycle, timed swim and dominoes. 
Now in its 14th year, the Club Games has gone from strength to strength. We're expecting over 200 people to take part in this year's Walking Football and Walking Netball events at Ferndale Sports Centre, Brixton. Why not join them on 13th September or participate in the main event on 19th September, hosted at the Copper Box Arena and London Aquatics Centre, Queen Elizabeth Olympic Park, London. It's here that over 700 competitors from the capital and beyond compete to bring the Club Games trophy home.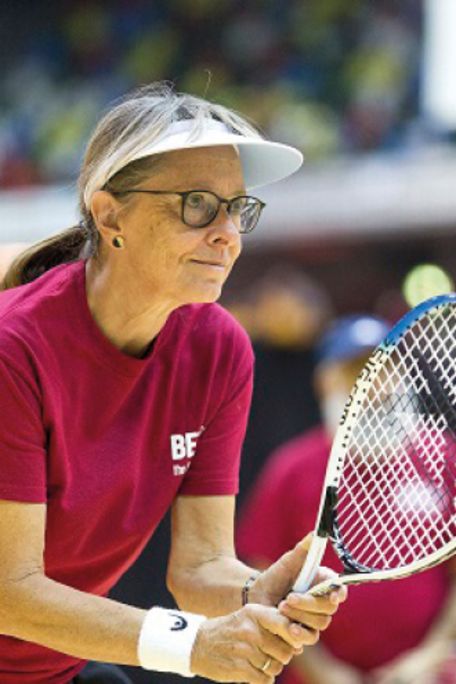 Re-live the action at last year's Club Games
It's all about team spirit
Whether you're a keen swimmer or a dab hand at dominoes, the Club Games is for everybody over 55, regardless of ability. You get the opportunity to represent your locality, compete in your favourite sport, enjoy the team spirit and meet new friends. What's more, you'll be competing in the same venues where the Olympic and Paralympic athletes won medals at London 2012. Now, how's that for an atmosphere. 
Spectators are also welcome to support their local team at the main event. With refreshments on arrival, music and entertainment plus a prize raffle where all proceeds go to our charity partner Cancer Research UK, the Club Games promises to be a great day out.
Join in
If you'd like to participate* in or spectate at this year's Club Games, pop into your local leisure centre and speak with a member of staff, or drop us a line.
*Entry to the Club Games is available for members in the following boroughs:
Barnet, Cambridge, Camden, Croydon, Crystal Palace, Ealing, Epsom & Ewell, Hackney, Hammersmith and Fulham, Hillingdon, Islington, Kensington & Chelsea, Lambeth, Merton, the Queen Elizabeth Olympic Park, Reigate & Banstead, the Royal Borough of Greenwich, Rugby, Sutton, Tower Hamlets and Waltham Forest. 
Get involved
What you need to know?
How much does it cost?
To take part in an event at the Club Games, you must pay £3.50 to your Club Games Coordinator prior to the games.
The entry fee for spectators is £2.
On the day
Registration starts from 9am at the Copper Box Arena and the presentation ceremony for the winners should come to a close around 4:30pm.
Once your event is over you're welcome to leave if you have organised your own transport. Coaches will depart at 4:30 pm but you can always stay for the games closing ceremony.
Please note: the timed swim will be held at the London Aquatics Centre at 12:30. There will be a free shuttle bus for competitors and spectators to the London Aquatics Centre, which will leave the Copper Box Arena at 11:15 am and 11:45 am.
Do I have to provide my own equipment?
In the majority of cases, please bring your own equipment. We will provide balls, shuttlecocks and dominoes.
Will there be lunch/refreshments?
Please help yourself to complimentary tea, coffee and biscuits on arrival. To keep your energy levels up throughout the day, please bring your own lunch or refreshments will be available to purchase at the Copper Box Arena.
Can I keep my t-shirt?
Of course, to remind you of the amazing day you've had. All teams will be given a coloured t-shirt representing their team to wear on the day. 
If I win do I get a trophy?
Winners of individual sports will all receive a team trophy, and the overall winning team gets to take home the winning plate for a year. 
Any other questions?
Your local Club Games Coordinator will be happy to help with any information before, during or after the games.
Finding the venue
The Copper Box Arena in the Queen Elizabeth Olympic Park is an iconic venue, perfect for hosting the 10th Club Games. Follow this link if you require directions to the venue.
What's on
The sports and activities available include:
Badminton
Darts
Dominoes
Short mat bowls
Short tennis
Table tennis
Timed swim
Timed bike ride
There will also be stalls to browse throughout the day, prizes to be won through our Club Games raffle. 
You may also like