Safer, Better, Stronger
Your safety is of the utmost importance to us. And while we're so excited to welcome you back to our leisure centres, to make sure your visit is as safe as possible, we've put new hygiene measures in place at our gyms, pools and fitness classes in line with coronavirus regulations. Your cooperation, along with the safety measures and all the efforts from our staff, will help keep our leisure centres safer, better and stronger than ever.
The below video details the safety procedures we've put in place, what you can do to prepare for your visit, and what to expect while you're there.
Before you arrive at a Better leisure centre, you'll need to:
Book a timeslot via the Better UK app.
Arrive on time. If you arrive early, you'll need to queue outside and if you arrive late, you won't be allowed access to the leisure centre.
Be changed into your activity clothes and shower at home if possible, as we're limiting access to showers and changing rooms.
Bring your own water bottle, towel and hand sanitiser, if possible.
Wear a face covering when entering and leaving the building and transitioning to and from activities. You are not required to wear a face mask whilst taking part in an activity.
Our staff will be doing everything they can to keep our leisure centres clean, but there are some measures that we're asking you to help with, too – these are outlined below.
How are we keeping you safe against coronavirus in our leisure centres?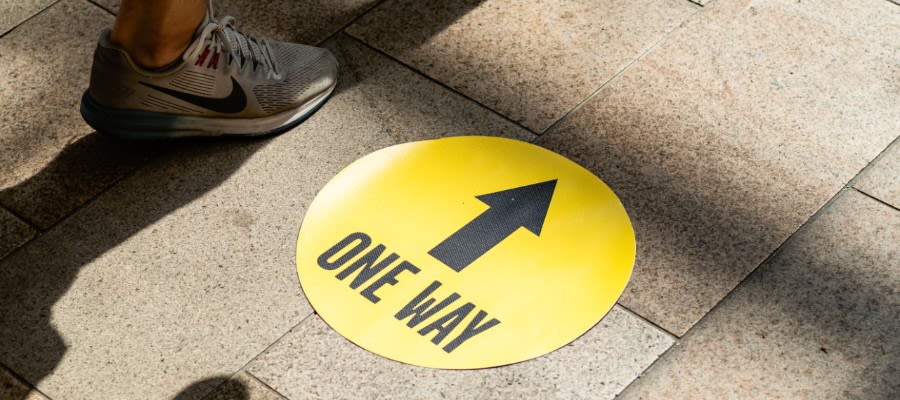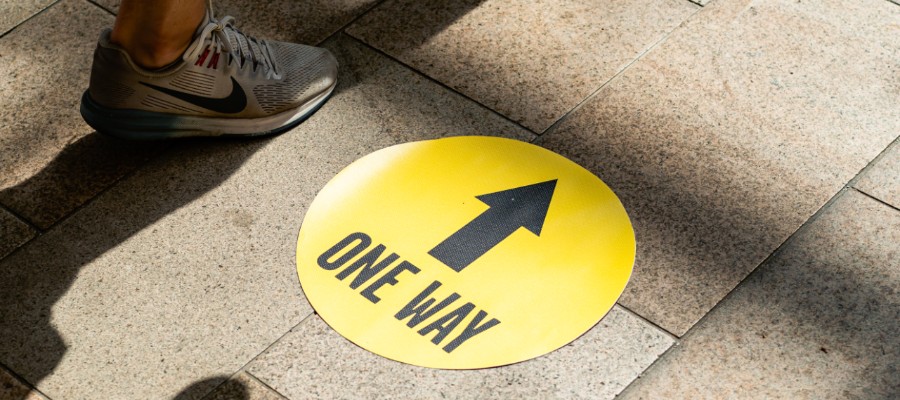 Upon entering the leisure centre, you'll notice a hand washing or hand sanitisation station, which you should use.
Around the leisure centres there will be:
A one-way system that you should follow at all times.
Coronavirus safety signs and floor stickers instructing you to keep to a safe distance. We're running at reduced capacity, so you'll always be able to maintain a physical distance from other visitors.
Sanitisation stations that you should use in between activities and using any equipment.
Our staff have also undertaken increased training modules on COVID-19 prevention and have been instructed to use cleaning kits as often as possible.
For any gym, swim or fitness class session that you book, you'll be given a one-hour time slot to ensure that everyone has a chance to visit our facilities. This time slot includes entering the building, conducting your activity and leaving the building.
What safety measures against coronavirus will there be at the gym?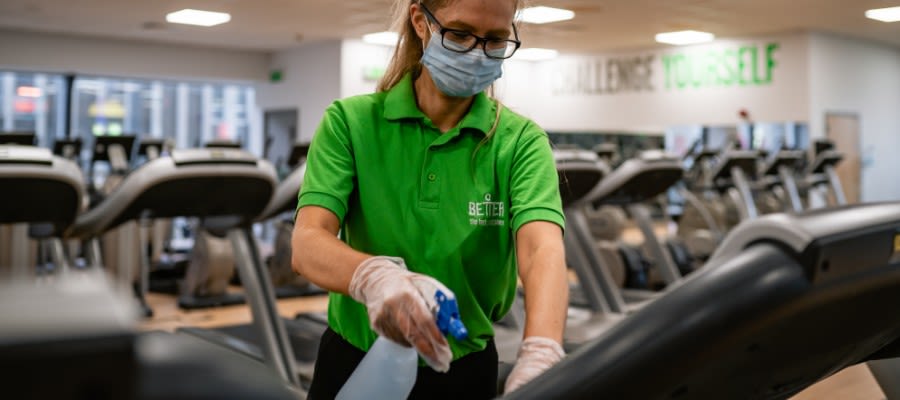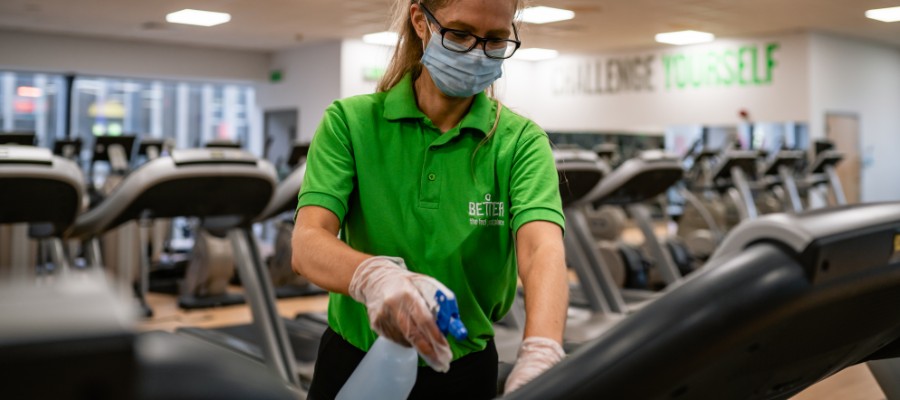 Because of COVID-19, our gym cleaning standards across our leisure centres have increased.
Staff will be cleaning the gym, equipment and spaces with disinfectant regularly throughout the day and giving the gym a deep clean every night.
When you attend the gym, we ask that you:
Use the gym cleaning stations that have hand sanitiser, medical-grade disinfectant and sanitising gym wipes regularly.
Wipe down machines, weights or mats before and after use with the cleaning materials provided.
Attend your session alone to conduct solo gym workouts. This means you won't be able to use any equipment that requires a spotter.
What safety measures will there be at the swimming pool?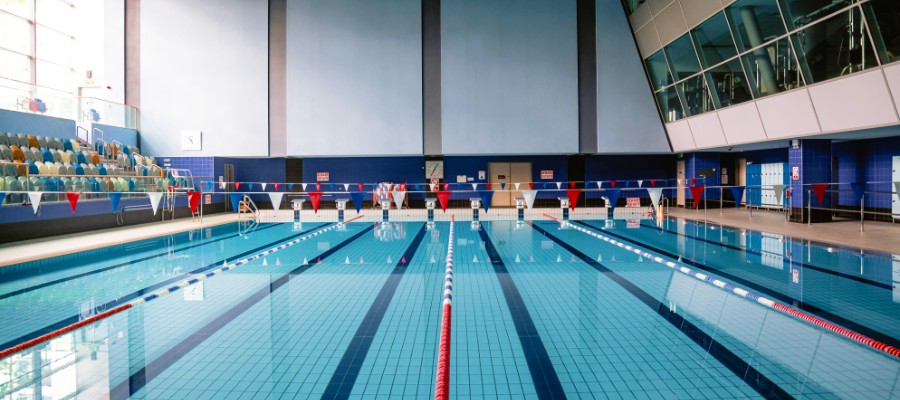 As changing rooms and showers will be limited, we're asking everyone who attends a swim session to come 'pool ready' with their swimming gear on under their clothes and having showered at home.
Due to coronavirus, swimming pools will have:
No more than 10 swimmers in each lane of a 25-metre pool.
Double-width lanes so you can keep to a safe distance.
Chlorine disinfectant in the water management systems, which complies with the government's regulations and is proven to disinfect pathogens, including viruses such as COVID-19.
When using the pool, please show caution when overtaking and maintain social distancing.
What safety measures will there be for fitness classes?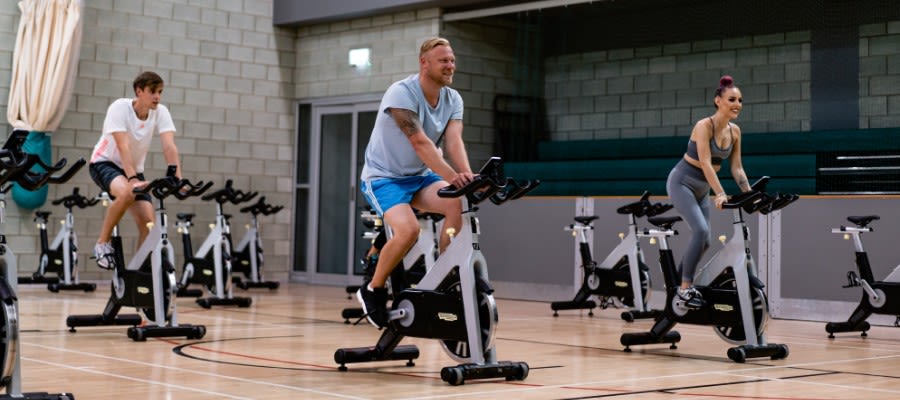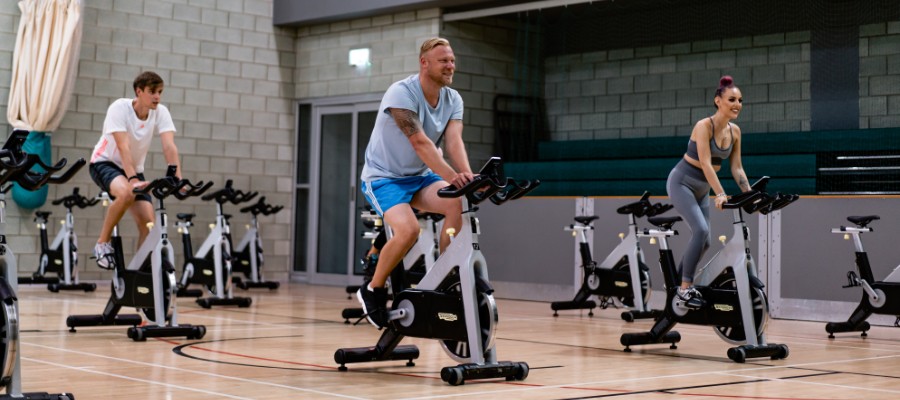 A hygiene station will be at the entrance of all fitness class studios. Please sanitise your hands as you enter.
Fitness classes will have:
Capped attendance, so class-goers can keep to a safe distance at all times.
No member interaction or shared equipment.
Time dedicated to sanitising your hands and wiping down any equipment both before and after use with the cleaning products provided.
The possibility to be taken outside, weather permitting and where enough outdoor space is available. The specific location of your class is on your booking.
Exercise mats for classes such as yoga or Pilates will be provided but please ensure you clean them before and after use with the sanitiser and paper towel provided. You can also bring your own mat with you.
Discover more of what you can do at our leisure centres here, including recommended workouts, how long you should swim for within your one-hour time slot and, if you're not ready to attend a leisure centre just yet, some at-home workouts.
To book a fitness class, gym or swimming session, download the Better UK app. If you're new to Better, you can book a day pass, or you can start a membership here.