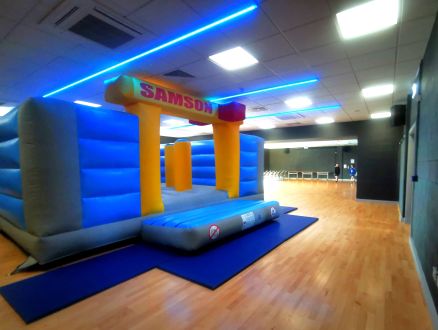 Birthday Party Packages
Celebrate your child's birthday at Avoniel and give them a day to remember!
Our Goliath Birthday party package includes 90mins access to our large studio space with a bouncy castle, as well as an outdoor covered football pitch, all for £99.
There is a kitchenette facility for making hot drinks and heating food, and adjoining toilet access for young party guests.
Free parking and WiFi access is also included.
Availability
Birthday party packages start at just £99 for an hour and a half booking. The room will be set up and ready for your booking start time and we will do all the cleaning up afterwards.  Available booking times are as follows;
Friday
4.30pm-6pm
Saturday
10am-11.30am & 2.30pm-4pm
Sunday
9.30am-11am, 12pm-1.30pm & 2.30pm-4pm 
Add ons
Add an outdoor football inflatable to your party to add some football magic to the day.  Try the shoot for goal challenge or practice your goalkeeping skills on this new piece of kit.
If you are looking for a more technical challenge why not try out our Teqball table.  Follow the YouTube link to see what it's all about;
Additional prices
Outdoor football inflatable - £20
Teqball - £20
Additional pitch hire (1hr junior rate) - £27.80
External hire services
Please inform us if you wish to hire any external services as part of your birthday party as we require evidence of Public Liabilty Insurance to ensure the safety and welfare of users whilst in our building.
Booking conditions
Please take the time to read through our Booking Condtions.
Booking forms must be completed in full at Avoniel reception.
Birthday party bookings are not accepted via email or telephone.
Full payment is required to secure your booking.
Leaving a deposit and provisional bookings are not available as an option.
No signage, banners or balloons to be taped, stuck or attached to the studio walls as it removes the paint and causes damage.
No personal electrical equipment to be used i.e. no cooking equipment or electric toys or scooters.
Party poppers, confetti or balloons with confetti are not allowed.  This is to accommodate cleaning and resetting of the room to ensure it is ready on time for the next birthday party.
No ball sports to be played indoors.  There is a separate covered five a side football pitch provided as part of our birthday party package.
Full Terms & Conditions are available at time of booking. 
Alternative party ideas
Let your imaginiation run wild!
Speak to us if you have another idea about the look and feel of your birthday party. 
We offer room hire which is suitable for entertainers or disco nights and pitch hire for football parties, coaching or friendly matches.