Fitness Classes
Our fitness class timetable will offer something for everyone. Whether you want to burn some serious calories in our brand-new group cycle experience, take a body pump class or fancy a more relaxing workout in our yoga classes; our full list of classes will cater to your every need.
Book a class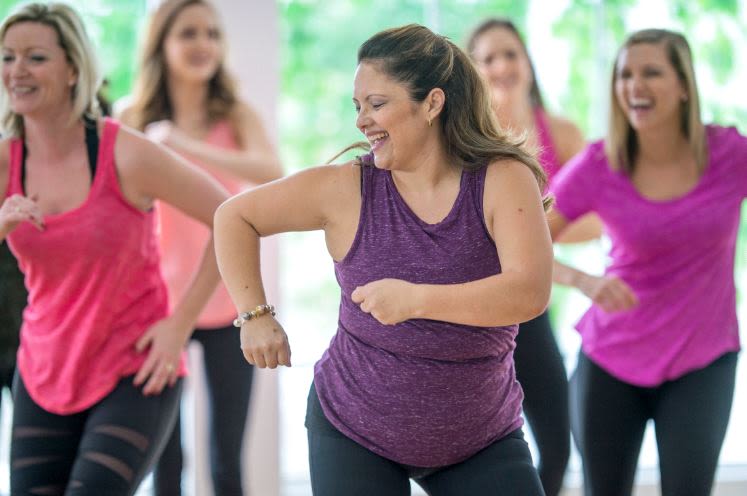 Strength and Conditioning
Choose from loads of great, motivational group activities that'll help you strengthen and condition your whole body:
Power Pump
Let's get pumped. This challenging workout features a range of weight-based exercises, set to upbeat music that's sure to keep you motivated.
Core Stability 
Get better strength and posture with our Core Stability fitness class. This low-impact class uses a range of innovative equipment and your own body weight to develop a stronger core.
Stamina
Do you want a stronger and more sculpted body? Our Stamina fitness classes are designed to help you get fitter, stronger and leaner.
Circuits
Our Circuit classes offer an intense workout with better results! Focusing on high-energy interval training this class is designed to push you to your limits and improve your strength, stamina and endurance.
Cardio
Get your heart pumping and increase your energy levels, as we move together in these fast-paced, high-energy classes:
Group Cycle 
Ready to sweat? Our Group cycle classes will ensure you burn some serious calories in a lively, atmospheric, motivating environment.
Boxfit
A class that really packs a punch! Our Boxfit class uses a mixture of boxing techniques to get your heart pumping, leaving you feeling fitter, stronger and fighting fit.
Combat
Combat is a high-energy, martial arts-inspired workout that is totally non-contact. Punch and kick your way to fitness. No experience needed. Learn moves from a variety of martial arts. Release stress, have a blast and feel like a champ.
Water Workout
Refresh yourself!  These invigorating, effective, but low-impact workouts in the water are easy on your joints. Choose from one of our themed or discipline-based classes.
Mind and Body
Feel better inside and glow on the outside. Build your strength and flexibility in our lower impact classes:
Pilates
Our Pilates class is great for lengthening and strengthening your core whilst in a calm and relaxing studio environment.
Yoga
Our Yoga classes focus on energetic and traditional yoga poses helping you to relax the mind and improve your strength and wellbeing.
Functional Fitness
During Functional Fitness you'll bend and stretch through a series of simple yoga moves and embrace elements of Tai Chi and Pilates. Breathing control is a part of all the exercises, and instructors will always provide options for those just getting started. You'll strengthen your entire body and leave the class feeling calm and centred.
Dance
Dance fitness classes allow you to get fit and feel great. These fun, energising group activities are guaranteed to put a smile on your face:
Dance Fitness
Are you in the mood to boogie? Our Dance Aerobics class will keep you motivated with fresh choreography and exercise moves every week.