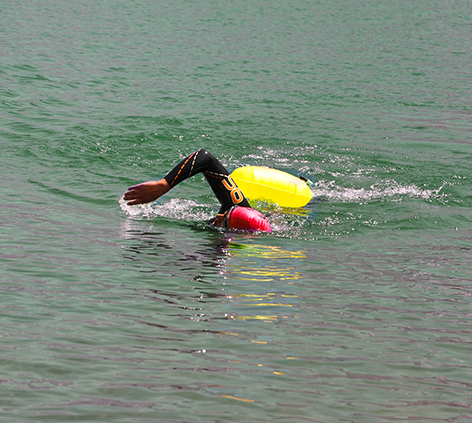 Open Water Swimming
Stanborough Park is the perfect training venue for open water swimming.
Our  spring / summer sessions are run on our 400m course.
To train at Stanborough Park you should be a competent swimmer and must only swim during one of the set swimming sessions.
Lake swimming is not permitted outside of our Open Water Swimming sessions.
Please see Swim England for official advice for open water swimmers.
Cost: £7.50 per session, bookable via the BETTER UK App up to 5 days in advance.
Cold Water "Dip"
Cold water, winter swimming in the South lake. New improved short course. This session is for those who are feeling brave and want to feel invigorated with a cold dip. Warm showers and free hot drinks available. Tow floats provided. Please bring a brightly coloured swim hat, or wooly hat.
Not recommended for complete beginners 
Free parking for swimmers, please speak to your instructor on arrival
Saturday 16th December - 09.00 to 10.00
Saturday 13th January - 09.00 to 10.00
(available to book up to 5 days in advance)
Regular Swims
BOOK VIA THE BETTER APP
Frequently Asked Questions
Is safety cover provided?
On water safety cover is provided, by our qualified team, during every swim session at Stanborough.
How long is the swim course
Do I need to wear a swimming hat?
You must wear a brightly coloured swimming hat; we have some to purchase at check in if required.
Do I need to wear a wetsuit?
Wetsuits are not compulsory but are advisable is colder temperatures. If you choose to wear a wetsuit you will need to supply your own, suitable for swimming.
Do I need to use a tow float?
You are required to use a tow float if you are swimming without a wetsuit;or if you are aged 14 to 17. You may use your own or you are welcome to borrow one of ours at no extra cost.
Is there anywhere to change and leave my belongings?
Our changing rooms and showers are available to use. A non-secure bag drop area will be available outside, so if you are planning to bring belongings, consider a waterproof bag to store your essentials and avoid bringing any valuable items.
Can Children take part in Open Water Swimming at Stanborough?
Yes, but they need to be minimum of 14 years old. Children 14-17 years old must be accompanied by an adult from the same household, swim with a tow float and wear a green swim hat. 
Do the sessions still go ahead when it rains?
Yes, sessions still go ahead during the rain - you are going to get wet anyway! Sessions will only be cancelled in cases of dangerous environmental conditions (i.e. lightning storms, serious fog) where swimmers are less visible to our safety team.
Parking
We operate a camera parking system; Parking is free for Our Open Water Swimmers, you must register your vehicle with our staff on arival for your swim session.
If you are registered with Hozah automatic payments, please contact us at stanborough@gll.org at least 48 hours before your visit so that we can apply your discount.
Please note we are unable to refund Hozah auatomatic payments