A MESSAGE FROM TOM
After my success at the London Olympics in 2012, I wanted to share my passion for diving and sport with others. In partnership with Better we set up the Tom Daley Diving Academy offering diving lessons with an aim of building a community of aspiring divers, with no restriction on age or ability. Not only that but we also wanted to create a place where young talented divers could be spotted, developed and supported to go on and achieve the same success as I did.
So whether you have aspirations to follow in my footsteps or simply just want to learn a new sport, come along, have some fun and impress your friends by learning to dive at the Tom Daley Diving Academy.
When you're ready, I'll see you on the 10 metre platform. 
THE BENEFITS OF DIVING
Diving is a fantastic sport and offers many health benefits; such as:
Physical: Improve your strength, stamina and flexibility while burning up to 200 calories an hour
Mental: Alongside a great adrenaline rush, diving helps focus the mind, driving you to learn new moves and synchronised routines. Diving's concentration boost can help in other areas of personal development; such as academic attainment and the workplace
Fun: It's a fun, enjoyable way to keep fit, make friends and do something a little different
Accessible: All you need is a swimming costume and the guidance of a Tom Daley Diving Academy coach to get you started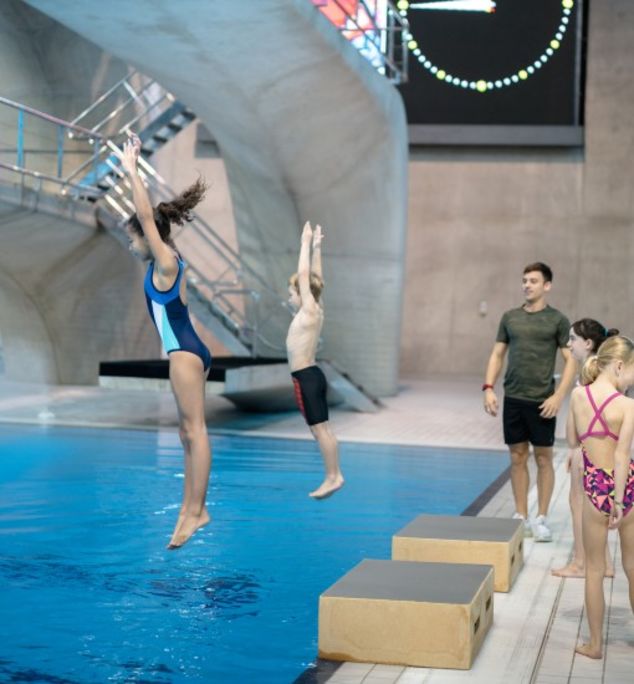 Our Learn to Dive Programmes
Our 'Learn to Dive' programmes have been carefully devised around the values we believe make the best divers, with the aim of taking you from a beginner all the way through to an elite level diver.
These diving course programmes are open to everyone and provide a clear progression for development and enable talented individuals the opportunity to enter into competitive club environments. 
Junior Diving Lessons
As long as your child is able to swim competently in deep water, they can learn to dive as young as 5 years old. See below for an overview of our kids' diving lesson programme or click here for more details of the outcomes of each course level.
Foundation
Our entry level lessons are for first-time divers. Here you will learn the basics of diving from poolside.
Beginner
Building on what you have learned at foundation level, beginner will teach you new skills with the introduction of diving boards.
Improver
At this level, you will progress to more advanced diving techniques on higher boards.
Advanced
Here you will learn to master some of the most challenging diving skills.
Skills
Take the time to perfect your technique and step out of your comfort zone to make new skills.
Adult diving lessons
You're never too old to try diving. It's fun exciting and a great way of developing core strength and flexibility. Our Adult programme is available at our Development and Academy Centres and is broken down in the following levels:
Adult Diving Beginners: If you're new to diving, then this is the perfect starting point for you
Adult Diving Improver: Progressing from beginners, you will now start to enhance your skills and progress to the higher boards
Adult Diving Advanced: Now you're starting to threaten Tom for medals! This course will help you master a full repertoire of dives
*Diving is for anyone above the age recommended in the level guides. Pupils should be competent swimmers in deep water.
BOOK AND PAY ONLINE
Pre-plan and skip the queue so you can get straight to your lesson using our online portal. Find dates, times and levels (subject to availability) and learn to dive today. Our online portal benefits include:
One account for multiple children - perfect for schools and families
Record of achievement - clear and regular updates on progress, including achievements and areas for improvement
Easy access - gain quicker access into centres during lesson times via printing your Parent Barcode
Tom Daley 'Splash Down' Holiday Camps
To make sure all children have the chance to give diving a go, we have designed our 'Splash Down' Holiday Camps which teach the diving basics in a fun, safe and supportive environment.
Our diving holiday camps will be available again in 2023.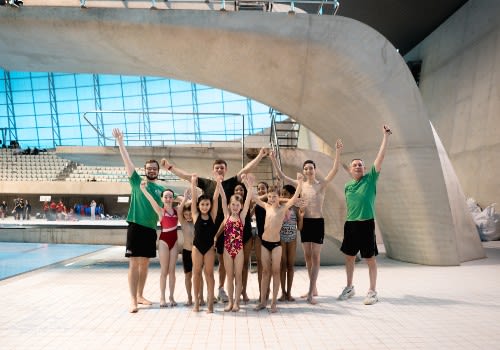 Frequently asked questions
What lessons are offered as part of the Tom Daley Diving Academy at the London Aquatic Centre?
We offer lessons for children aged 5 and over, up to adults aged 65+ with both group and private 1-2-1 / 2-2-1 lessons available. 
Junior group lessons are Foundation, Beginners and Improvers at 30 minutes per week, as well as Advanced classes at 45 minutes per week. We in addition also have a skills class at 30 minutes per week.

Adult group lessons are all 45 minutes in duration and we have three pool based stages available, Beginner, Improver and Advanced with Diving Dryland Classes also available. 

1-2-1 and 2-2-1 lessons are arranged on an ad hoc basis depending on coaching and pool availability. 

On Fridays we also run an 'Adult Stunt Diving' class, this class is booked via taster and assessment and is only for those intending to undertake their British Stunt Register Diving assessments.

Group lesson run on a 50 week per year timetable, with a two week break taken over the Christmas period in December/January, this is accounted for in the pricing structure. 
When do lessons take place?
Group lessons take place on weekday evenings from 4:15/4:30pm to 8:15/8:30pm depending on the day. Weekend lessons are available on Sunday between 9am and 2pm. 

1-2-1 and 2-2-1 lessons are arranged on an ad hoc basis depending on coaching and pool availability. 
Who are lessons for and how are they split?
Junior lessons are for those aged between 5 and 15 years of age, with Adult lessons for divers aged 16 years plus. 

All divers must be able to swim 25m unaided and be able to jump into the deep water becoming fully submerged and climb out unaided. 

New divers will be required to complete a swim test with a lifeguard before taking part in their lessons.

We advise all those interested in starting diving to arrange and attend free taster session, before signing up for classes. 

Free tasters session are used to check a potential divers swimming and diving ability. We strongly recommend all new divers to start in Foundation for Juniors and Beginner for Adults, however, those with prior diving, gymnastic or dance experience may be able to be assessed via a taster to enter an Improver class.
How much do diving lessons cost?
30 minute Junior Group Lessons: £30 per month
45 minute Junior Group Lessons: £35 per month
Adult Pool Group Lessons: £40 per month
Adult Dry Diving Group Lessons: £50 per month
Adult Stunt Diving Group Lesson: £50 per month
1-2-1 Lessons: £30 per 30 minutes or £120 for 5 x 30 minute lessons,  2-2-1 Lessons: £52 per 30 minutes
Concessionary rates are available on Junior group lessons only, please enquire for further details re eligibility.
How are lessons assessed and how long will a diver spend in each stage?
Group lessons are assessed on an ongoing basis, with coaches encouraged to assess the skills focused on each week as they are taught. Assessment only sessions should take place every six to eight weeks with coaches assessing all learned criteria during this session.
How can I join the Tom Daley Diving Academy at the London Aquatic Centre?
If you would like to join our programme, sign up online to join our Junior Foundation or Adult Beginner stages. 
Taster sessions are used to check a potential divers swimming and diving ability. All new divers start in Foundation level for Juniors and Beginner level for Adults, however, those with prior diving, gymnastic or dance experience may be fast tracked via a taster to enter an Improver class. Those who wish to apply for a free taster, please email the team today. 
You may also like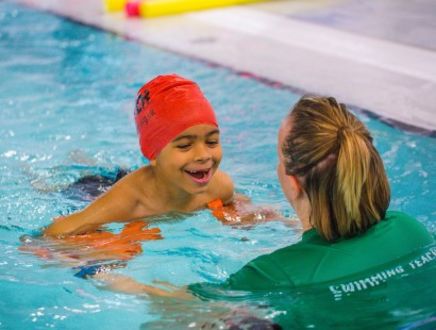 We help over 200,00 people a week learn to swim. So whatever your age or abilitiy, we can teach you how to love the water. 
Find out more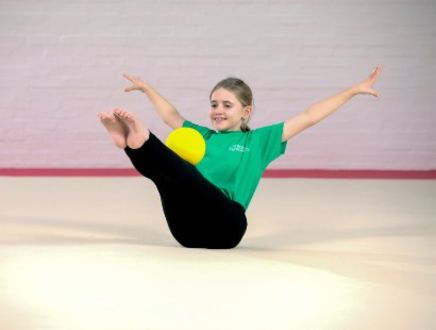 Gymnastics lessons provide a great opportunity for children to try a new sport, make friends and learn new skills.
Find out more