Alderwood Children's Centre
Alderwood Children's Centre is located in Avery Hill in the Royal Borough of Greenwich. Our modern facility can be found next to Alderwood Pimary School and offers a central point for access of health, education and family support services for families with children aged 0-5 years in the form of drop-in sessions, appointments, groups, training courses and childcare.
Follow our Children's Centres Facebook and Instagram pages for regular updates, information and fun.
To register with Royal Greenwich Children's Centres and access a variety of services for families with children under 5 years old, please download and complete our registration form below and bring along to your nearest Children's Centre.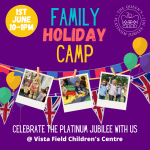 Read more
Celebrate the Platinum Jubilee with South Greenwich Children's Centres
Read more ›
Saturday Stay & Play sessions return to South Greenwich Children's Centres
Read more ›
We're back again for another Family Holiday Camp, join us this Wednesday 13th April for more fun activities
Read more ›
find us
Alderwood Children's Centre
Alderwood Children's Centre

Rainham Close
Avery Hill
London
SE9 2JH