The light and modern gym offers state-of-the-art Technogym equipment across dedicated cardio, strength and training zones. 
RESISTANCE MACHINES AND FREE WEIGHTS
Our resistance machines are designed to develop and grow each part of your body and muscles. We have a full range of resistance equipment including:
Shoulder press
Leg press
Chest press
Lat pull down
Smith machine
Cable pulley
Dual adjustable pulley
Adjustable benches
Plus more resistance equipment
Our free weights include dumb bells up to 40kg, and plates starting from 1.25kg-20kg. The gym is also host to 3 Olympic bars at 20kg each.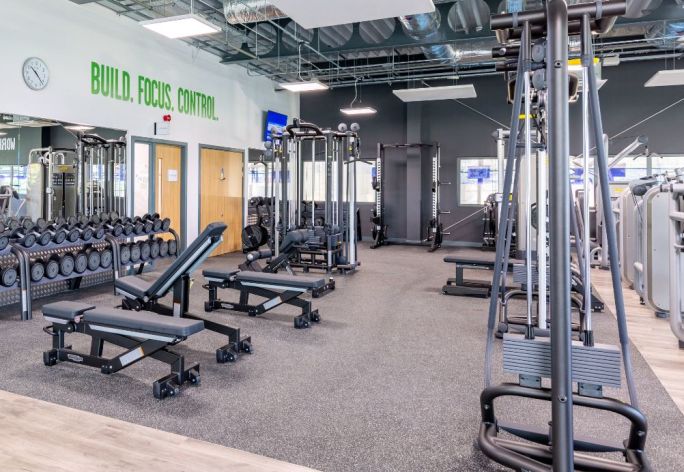 CARDIO EQUIPMENT
Our advanced equipment can let you achieve incredible results for your cardiovascular fitness. With over 40 machines you can exercise in the best possible way, with 90% of our cardio machines letting you create your own workout plan for you to follow
Our Cardio equipment includes:
Treadmill
Crosstrainer
Upright Bike
Seated bike
Rowers
Steppers
Excite climb
FUNCTIONAL FRAME
The functional training zone contains equipment that hones in on the core muscles of your lower back and abdomen to improve everyday movement. A selection of the equipment available includes:
Escape Octagon Functional Training Frame
Escape TRX training equipment
Punch bag
Kettlebells
Medicine balls
Dip bar
Rope pull
Core bags
Full set of Plyometric jump boxes
Plus more equipment to help aid your training.