Park Tennis Project - refurbishment works underway to improve Croydon's public tennis courts

- More info »
Croydon Parks & Pitches
Croydon contains parks, commons and green spaces all of which have a wide variety of sporting facilities for you to enjoy.  In partnership with Croydon Council, BETTER operate a booking system for 33 tennis courts across 14 parks in the borough. The majority are free to use but do require a booking to secure your slot. The tennis courts at Ashburton Park, Addiscombe Park and Biggin Wood do have a small booking fee in line with recent improvement works to the facilities.  For more details about each of the park based tennis courts in Croydon managed by BETTER, including details on how to book, please visit the FACILITIES page above.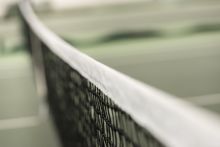 Read more
32 tennis courts across Croydon are set to be refurbished giving residents access to top quality facilities.
Read more ›
Join us for an exciting open weekend of 90's themed activities at your local Croydon leisure centre
Read more ›
Eighty-four talented young people from Croydon have received awards from the GLL Sports Foundation (GSF), to help them along their sporting journey.
Read more ›
find us
Croydon Parks & Pitches
Croydon Parks & Pitches

Croydon
London