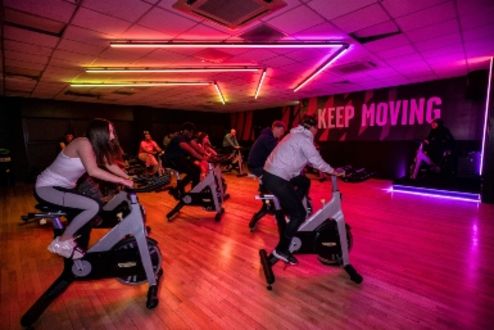 Studio 1
Studio 1 is a dedicated 'Black Out' studio, perfect for an immersive and exciting group cycle class when you need to burn some energy, but also ideal for a yoga and pilates class when you're ready to unwind. The studio is home to over 25 Technogym group cycle bikes with a dedicated fitness instructor podium for class members to have a perfect view no matter the bike. Matts, yoga blocks and Ballet Barre equipment are also available. The room has an interactive lighting system that reacts to the beat of the music and is the perfect extra piece of motivation for your workout.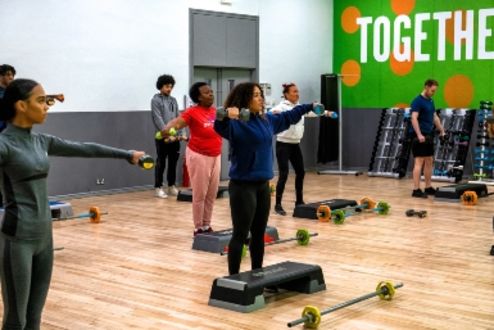 Studio 2
Studio 2 is a large, spacious studio perfect for all of our cardio and aerobic classes including body conditioning, power pump, step aerobics and core conditioning. The room is equipped with various dumbbells, weighted bars, steps and matts to help challenge you not matter what your fitness level.
Functional Fitness Gym
The Functional Fitness gym is our brand new, bespoke workout area packed with equipment perfect for your next HIIT (High Intensity Interval Training) or functional workout. The workout space includes ski ergs, battle ropes, power bikes, rowing machines, kettlebells, Gripr's, weighted tyres, core bags and slam balls. Interactive lighting and up beat music will keep you motivated throughout the most intense training sessions. With over 20 classes taking place in this space throughout the week the area is perfect for beginners, or individuals looking to ramp up the intensity of their workouts.