Resistance area
Our resistance area has a full range of state-of the art Technogym equipment to help you improve your strength. Each machine is fully adjustable to ensure each user is comfortable when using it.
Some of the machines we have are:
Leg Extension
Leg Curl
Hip Abductor
Hip Adductor
Pectoral Fly
Shoulder Press
Chest Press
Strength area
The strength area has been kitted out with Technogym strength dumbbells from 4kg all the way to 32kg and is filled with Olympic bars, plates and a deadlift platform.
Other machines in this area include:
Standing arm curl
Smith machine
Deadlift platform
Multiple benches
Squat rack
Dual assisted pulley machine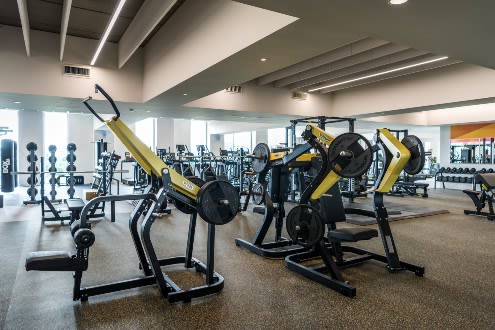 Cardio area
The Cardio area has been fitted with top of the range Technogym equipment and includes some of the brand-new Technogym Excite Live cardio machines such as:
Treadmills
Rowers
Cross Trainers
Bikes
Climber
Functional area
The functional training zone contains equipment that works all muscles of the body giving you an all round functional training experience. A selection of the equipment available includes:
Punchbags
Kettlebells
Medicine Balls
Plyometric boxes
Dip bar
Battle Rope
Some of the equipment comes with interactive capabilities meaning you can walk through a rainforest or along the streets of New Zealand from your screen. You can automatically connect your Apple or Samsung watch and the activity will be saved onto your device not to mention the WIFI to give you access to social media and Netflix. These added extras will make exercise more enjoyable and time fly by.