FITNESS CLASSES
Staying motivated can always be a challenge, but with a wide variety of fitness classes available at Swiss Cottage Leisure Centre, you'll find the perfect way to keep active.
Whether you want to burn some serious calories with group cycle, take a body pump class or fancy a more relaxing workout in our yoga classes; our full list of classes will cater to your every need.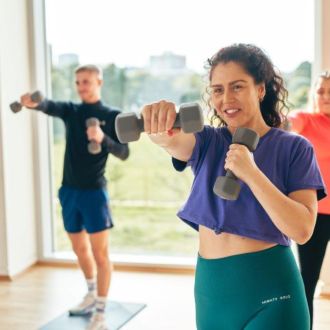 STRENGTH AND CONDITIONING
Build a better and stronger you with our range of strength and conditioning classes. Choose from many great motivational group activities at Swiss Cottage that'll help you strengthen your body.
Core Conditioning - Get better strength and posture. This low-impact class uses a range of innovative equipment and your own body weight to develop a stronger core. Approx calories burned per hour: 420
Body Conditioning - Once you start, you won't ever want to stop. These intense, exciting classes combine cardio and conditioning for a full on, high-energy workout. Approx calories burned per hour: 420
Power Pump - Get ready to feel powerful and strong after this class. Power Pump uses studio weight plates and bars to focus on resistance training in the lighter-weight range with higher reps. This will increase stamina and give you a pump that you won't forget! Approx calories burned per hour: 450
Legs, Bums and Tums - Sculpt and tone your lower body with our Legs, Bums & Tums class. This session is focused specifically on those stubborn areas that can be hard to target, and is designed to help you improve their shape and definition. With a focus on the legs, bums, and tummy, you'll be able to target these areas for maximum results. Approx calories burned per hour 420
Circuits - If you're looking for a class that's intense and guaranteed to get you results. Our Instructors will put you through your paces, with high-energy interval training, designed to push you that little bit further and encourage a bit of healthy competition.
CARDIO
Get your heart pumping and increase your energy levels, as we move together in these fast-paced, high-energy classes. Featured classes include:
Boxfit - Combine boxing moves with invigorating aerobic exercise to get a great all-over workout in a safe, non-competitive environment. Boxfit classes deliver a one-two punch of intense physical activity and a motivating environment to train your way to fighting fitness. Approx calories burned per hour: 550
Step Aerobics - Step it up and get in great shape. A motivational class using a platform and fast music for a high intensity workout. It's so much fun, you'll forget you're working out! Approx calories burned per hour: 650
Group Cycle - Group cycling is an exciting yet rigorous form of endurance training, ideal for improving lower-body strength and kicking your cardiovascular fitness up a gear. Whether you're at home in the saddle or a stranger to stationary bike workouts, our indoor cycling classes feature the intensity and encouragement to help you reach your fitness goals. Approx calories burned per hour: 560
Fitness Rebounding - This class incorporates low impact movements using a small trampoline making you workout harder whilst having fun at the same time.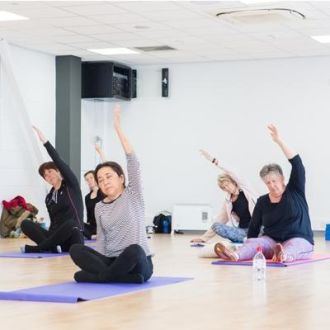 MIND & BODY
Find inner peace and physical balance with our Mind and Body classes. Whether you're looking to stretch and relax or simply want to escape the daily stress of life, these classes will provide you with the peace of mind and body you need.
Pilates - Gently train your physique and improve core strength in a calming, low-intensity atmosphere. Pilates exercises focus on concentration and muscle control, transitioning smoothly between one another to build a revived and resilient you. Approx calories burned per hour: 165
Yoga - Embrace the flow of natural body movements to develop strength, flexibility and a peaceful state of mind. From energetic routines to slow, serene sequences, Yoga classes balance movement and meditation to help you feel Better inside and out. Approx calories burned per hour: 280