BASKETBALL AT THE NATIONAL BASKETBALL PERFORMANCE CENTRE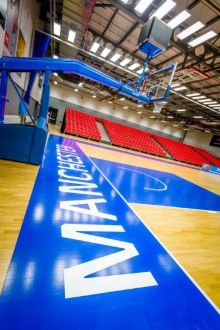 The National Basketball Performance Centre (NBPC) is part of Belle Vue Sports Village.
- It features a purpose-built hall with 3 courts developed to FIBA standards for international competition and a multi-sports hall with a further 2 basketball courts.
- The NBPC show court, which has basketball lines only, also features FIBA scoreboards, 24 second cubes, red LED fitted backboards and Olympic standard portable baskets.

To book a court at the National Basketball Performance Centre, please call 0161 231 0754 or book online below.
BOOK A COURT
Come down to our Learn to Play basketball sessions at the National Basketball Performance Centre and learn the fundamentals of basketball in a great social environment. No matter what ability, get yourself involved with this great sport which is radpidly growing in Manchester.
- £17.50 a month direct debit.
- Every Friday 4:30pm - 6pm.
- Includes access to two shoots and hoops sessions per week and one pay and play session. *selected days only
- ages 8 - 13
BOOK NOW