Climbing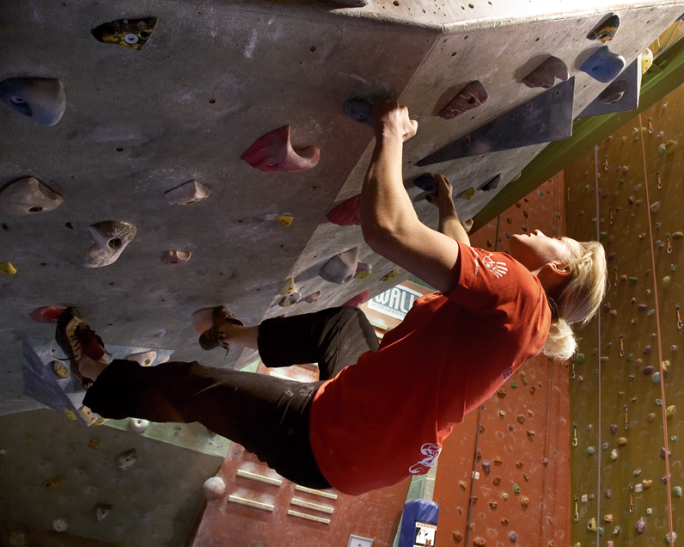 At Energise climbing wall we run a range of courses for all ages and abilities.  We recommend wearing comfy sports clothing, have hair tied back and no jewellery to be worn. To book you can pop in and pay at reception or contact reception on 01904 403900. For more information please email Climbing.York@GLL.ORG
Sessions Available
Climb-ability
30 minute taster session Saturday 2:30pm-3pm
1 hour taster / 1 hr refresher session
Kids clubs
Adult beginners course
Lead climbing course
Private course/tuition
Group bookings
Parties
Climb-ability
Climb-ability is a drop-in session for people with disabilities or learning difficulties who wish to participate in climbing. The session includes equipment hire and 2 climbing instructors. Whether its specialist equipment or just professional guidance we make sure climbing is a sport that can include everyone.
Adult Session - 2nd Tuesday of every month 10:00am – 12:00pm
Junior Session - 4th Tuesday of every month 16:00pm – 17:30pm
Taster/ Refresher Sessions
30 minute taster session Saturday 2:30pm-3pm
1 Hour taster session can be for individuals or groups. During the session you will have an introduction to climbing, a great experience with the main goal to get you climbing and see whether booking onto a course is right for you.
1 Hour refresher session for individuals or groups. During this session we will cover safety aspects of being an independent climber, familiarise yourself with the equipment if you've had a break from climbing or just go over what you already know to making sure what you're doing is correct and safe.
Kids club
For ages 7-17years Energise runs the National Indoor Climbing Award Schemes (NICAS) on Saturdays.
9am-10.30am                     NICAS Level 1                                    Age 7-11 Beginners
11am-12.30pm                  NICAS Level 2                                    Age 7-11 Intermediate
1pm-2.30pm                      NICAS Level 3 & 4                            Age 7-11 Advanced
3pm-4.30pm                      NICAS Level 1 - 4                              Age 11-17 Beginners - Advanced
Suitability for Saturday time slots can also depend on size and experience of climbers.
To purchase a NICAS book and register to the NICAS scheme speak to your climbing instructor or order one at reception.
Adult Beginners Course
Our adult beginner course consists of 4 x 2hr sessions. All instructed sessions include free equipment hire but feel free to bring anything along that you have. 
During your sessions you will learn how to climb safely, attached yourself to a rope using a safety knot, have a better understanding of climbing equipment and be taught how to belay for another climber. By the end of your 4 weeks our goal is for you to become an independent climber. If your instructor is happy with your level of competency, they will register you as a climber at our facilities allowing you to come and climb as you please.
Lead Climbing Course
Our lead climbing course consists of 3 x 1.5hr sessions. All instructed sessions include free equipment hire but feel free to bring anything along that you have.
 We run lead climbing courses on demand. Please email Climbing.York@GLL.ORG to show interest and we will book a course when the correct numbers arise.
Private Tuition / Group Bookings / Parties
If you would like to book private tuition or for us to run a private course we're more than happy to do so. Our private couple's course is aimed at beginners who will continue to climb together after becoming independent climbers. With the right numbers we can run any course without advertising to the public.
For one off group bookings and parties contact Climbing.York@GLL.ORG for availability and prices.
Frequently Asked Questions
Q1.         At what age can children enter the climbing wall?
A1.         Age 7+ for regular lessons.  Age 5+ for parties,  taster sessions or with a climbing competent adult.
Q2.         What age can someone enter the climbing wall unattended?
A2.         18+ provided they have registered as a competent climber (passing a competency check)
Q3.         What happens if I fail a belay/ competency test?
A3.         You don't gain entry to the climbing wall unless accompanied by a registered climber and must be signed in as a guest. Guest climbers can only belay under direct supervision (tailing the dead rope)
We recommend booking a refresher session for a slight failure.
We recommend booking onto an adult beginners course to learn what's required in becoming an independent climber.
Q4.         What size harness do I need?
A4.         Our harnesses for hire and for instructed sessions are one size fits all.
Smaller chest harnesses and disability harnesses can be requested but only given out by a trained individual.