HEALTHY RECIPES TO COOK WITH CHILDREN
Cooking with kids ignites their curiosity for food, teaches them some valuable skills and helps them feel more confident in the kitchen. The more nutritional recipes they learn how to make at a young age, the more likely they'll grow up cooking and eating a healthy diet for themselves.
From helping out with small jobs such as washing fruit and veg, adding seasoning and mashing when they're young to measuring and mixing as they get older, there are plenty of jobs for little ones to get involved with and so many easy, healthy meals that you can make together.
While they might not always be able to help with everything when you're cooking, you can still talk them through the cooking process and why you're doing it to help them understand and learn for the future. For instance, 'we're going to add herbs to the sauce to give it a nicer flavour' or 'we're going to stir the pasta while it cooks so that it doesn't stick together'.
In this article, we'll share some healthy, child-friendly recipes for breakfast, lunch and dinner. All the meals are super versatile, so you can chop and change the ingredients depending on your family's tastes.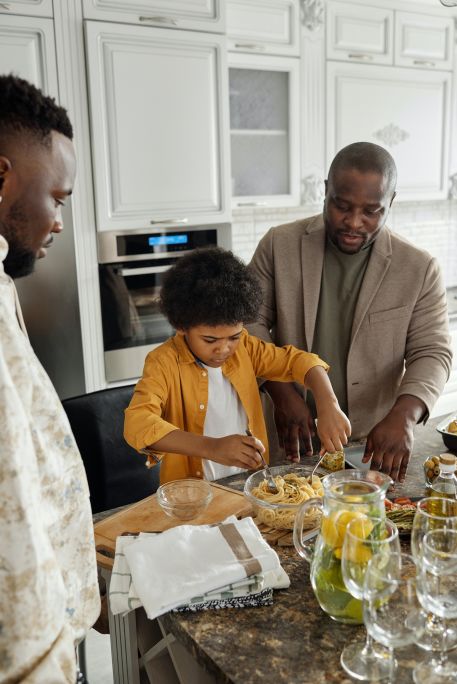 Healthy breakfast ideas for kids
Mornings with kids are a usually a manic rush. But making breakfast together when you've got time or making it a special affair on the weekends will instil how important this meal is and how fun the choice of foods can be for your children.
From pancakes to porridge, eggs to granola, there are so many breakfast recipes you can make together, with plenty of jobs to do for the little ones.
For a quick and easy breakfast recipe for kids, try pancakes. Young children can help to measure out the ingredients and mix the batter, while older children can practice their pancake-flipping skills.
You can make pancakes healthy by slipping in wholemeal flour instead of regular, adding some oats or seeds into the batter and topping with fresh fruit. Our pancake recipe is sugar-free, and you can also make it dairy-free by swapping cows' milk for a plant-based alternative like oat milk.
Healthy pancake recipe
Time:
10 mins preparation
10 mins cooking
Makes 12 pancakes
Ingredients
150g self-raising flour
150g wholemeal or wholegrain flour
2 eggs
250ml skimmed milk or alternative, such as soy, almond or oat milk
1 tsp of baking powder (optional)
1 tsp vanilla extract (optional)
Toppings: fruit and spread of your choice. We'd recommend bananas and peanut butter or a mix of raspberries, strawberries and blackberries with maple syrup!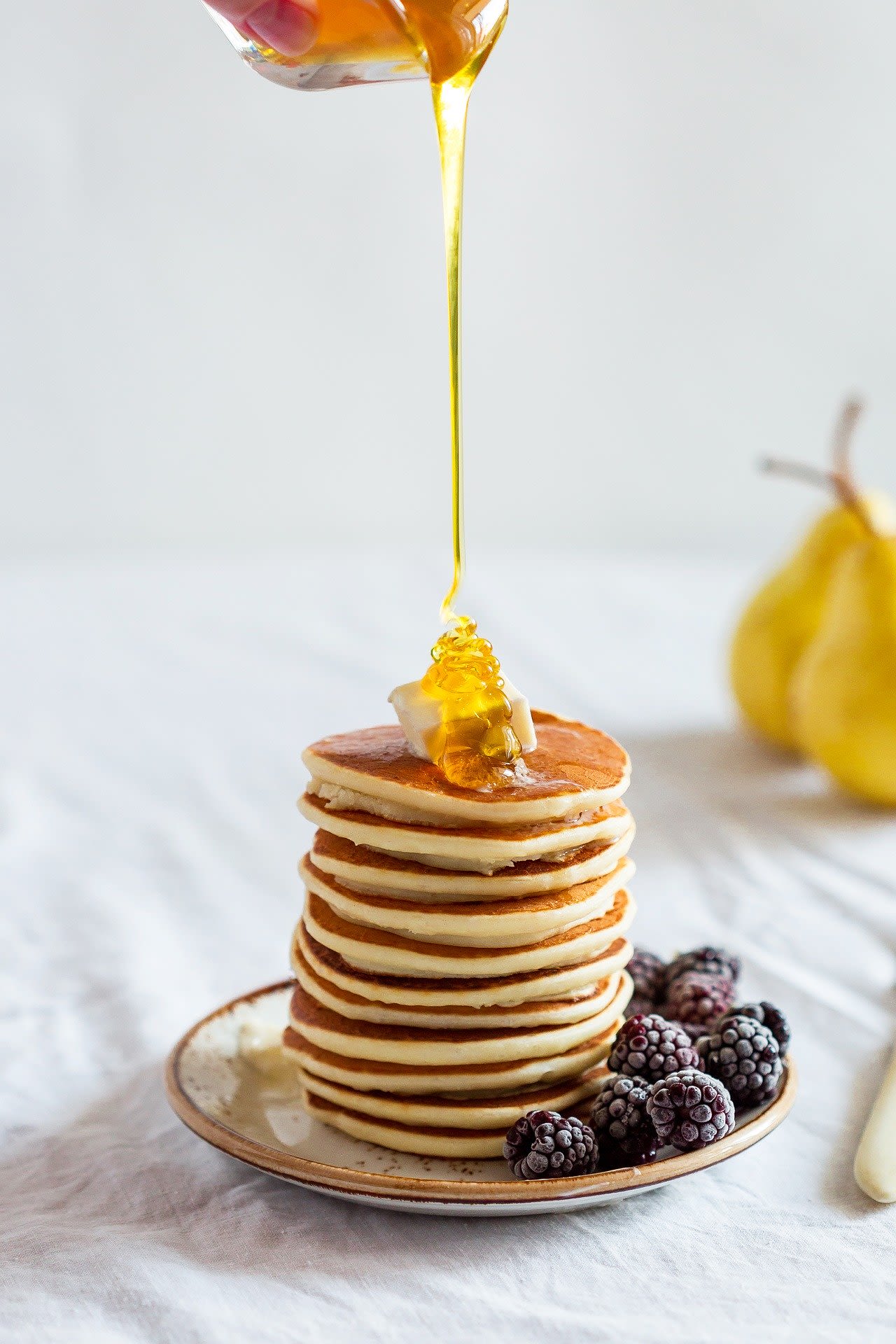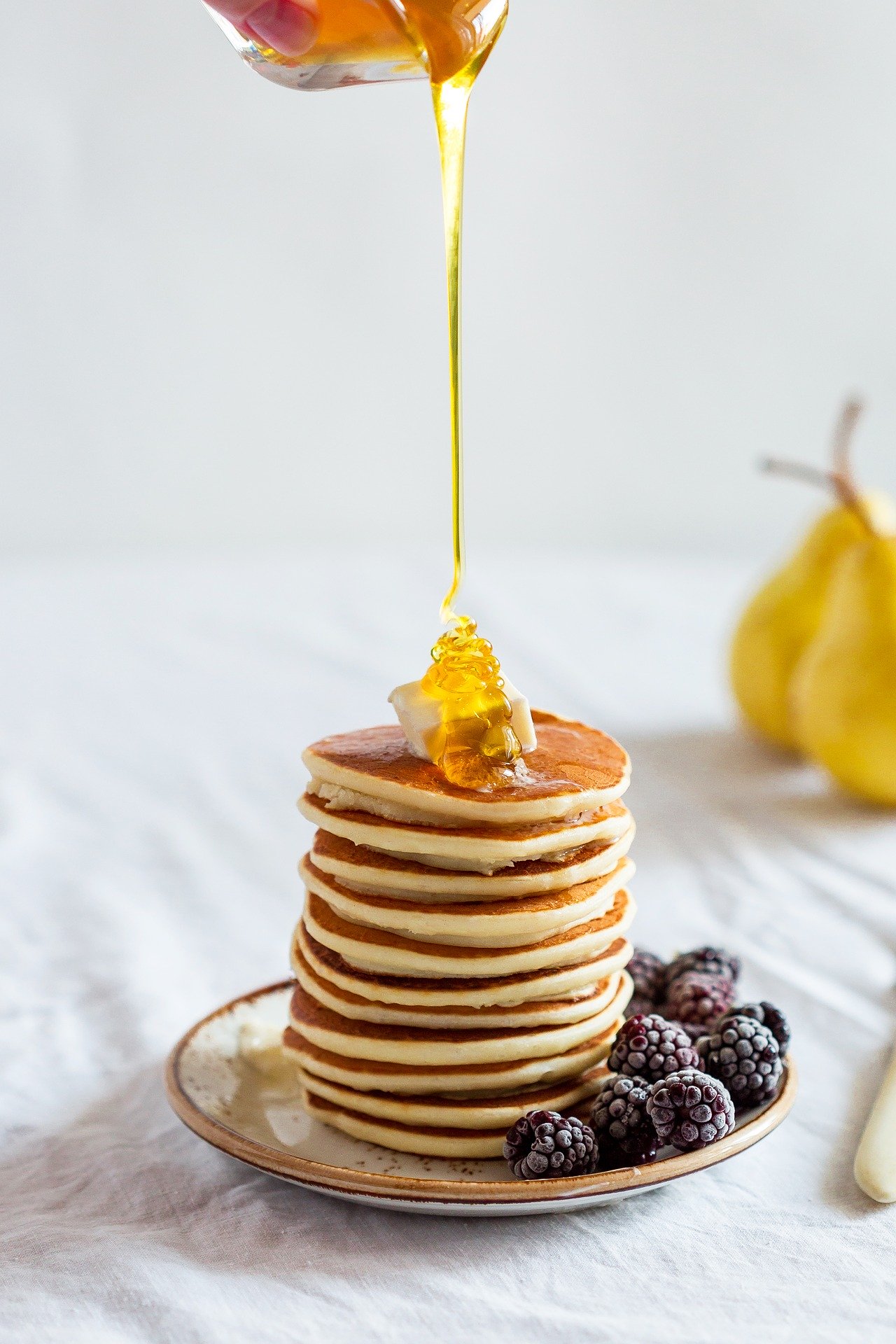 Method
Sieve the flour into a bowl
Add the baking powder (if using)
Create a well in the centre and add the eggs, milk and vanilla extract (if using)
Whisk to create a smooth batter
Add a small amount of butter or oil to a frying pan
Pour in the batter until you have created the size you want
Cook for one minute on one side then flip to cook for one minute on the other side
Stack on a plate, add the toppings and voila!
Healthy lunch ideas for kids
A lot of easy recipes for kids are catered to lunchtime, including pasta salad, pittas and wraps. All it takes is cooking or toasting the base, choosing the fillings and assembling!
Homemade houmous and crudités such as carrots, bell peppers and cucumber are also great healthy snacks for kids to go alongside their lunch.
We're going to be focusing on wraps, which can be made healthy by using wholemeal tortillas, a variety of salad and vegetable fillings and a topping of sauce and cheese. While there might not be much technical skill involved in this simple kids' meal, there's a fun do-it-yourself element as well as the satisfaction of discovering their favourite flavour combinations themselves
Lunch wrap recipe
Time:  
15 mins preparation
Makes 2-4 wraps depending on how full you make them
Ingredients
2 carrots
Red peppers (roasted or raw)
Sweetcorn
Spinach
100-200g cheddar cheese
Tomato salsa sauce
Chicken, ham turkey pieces (optional)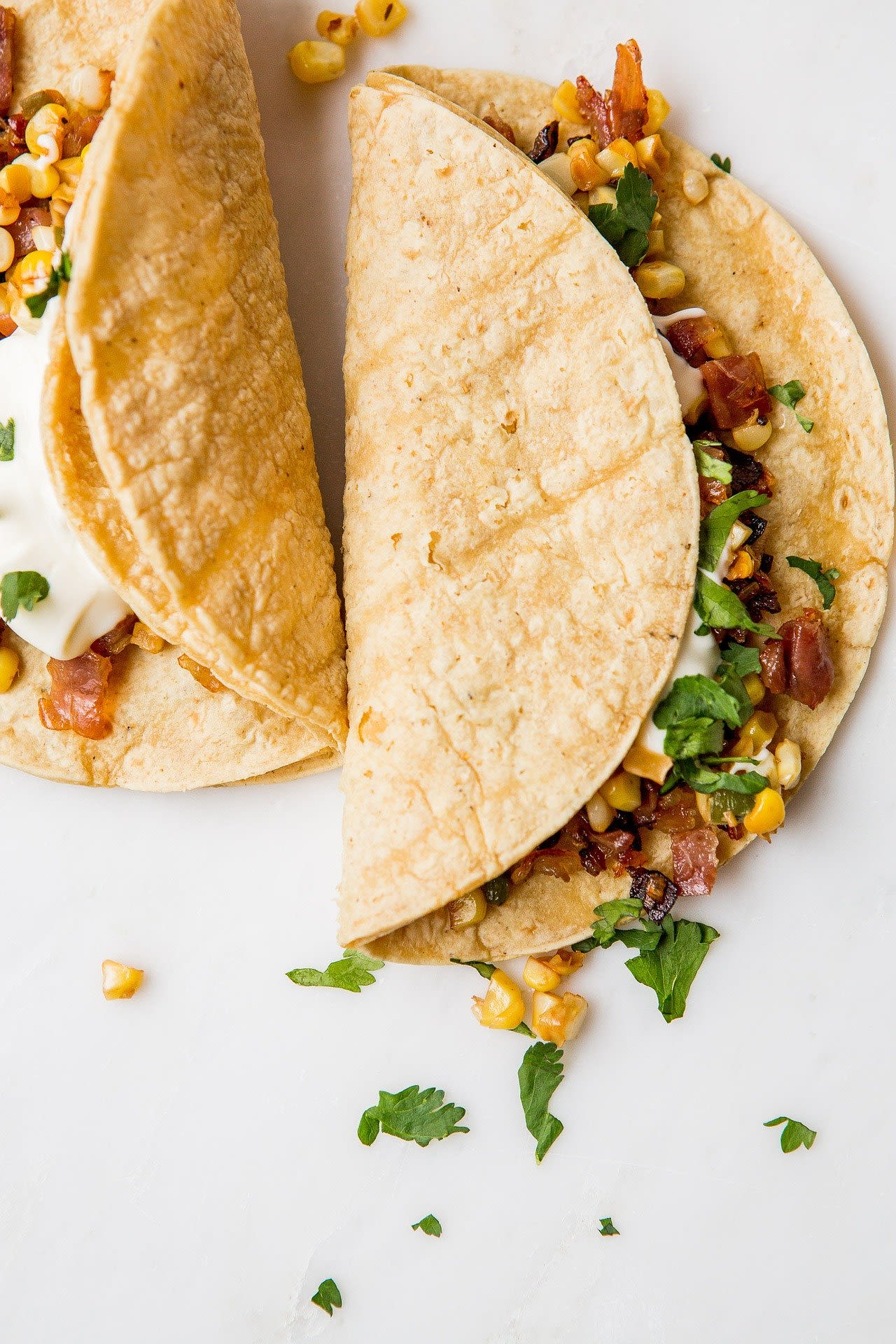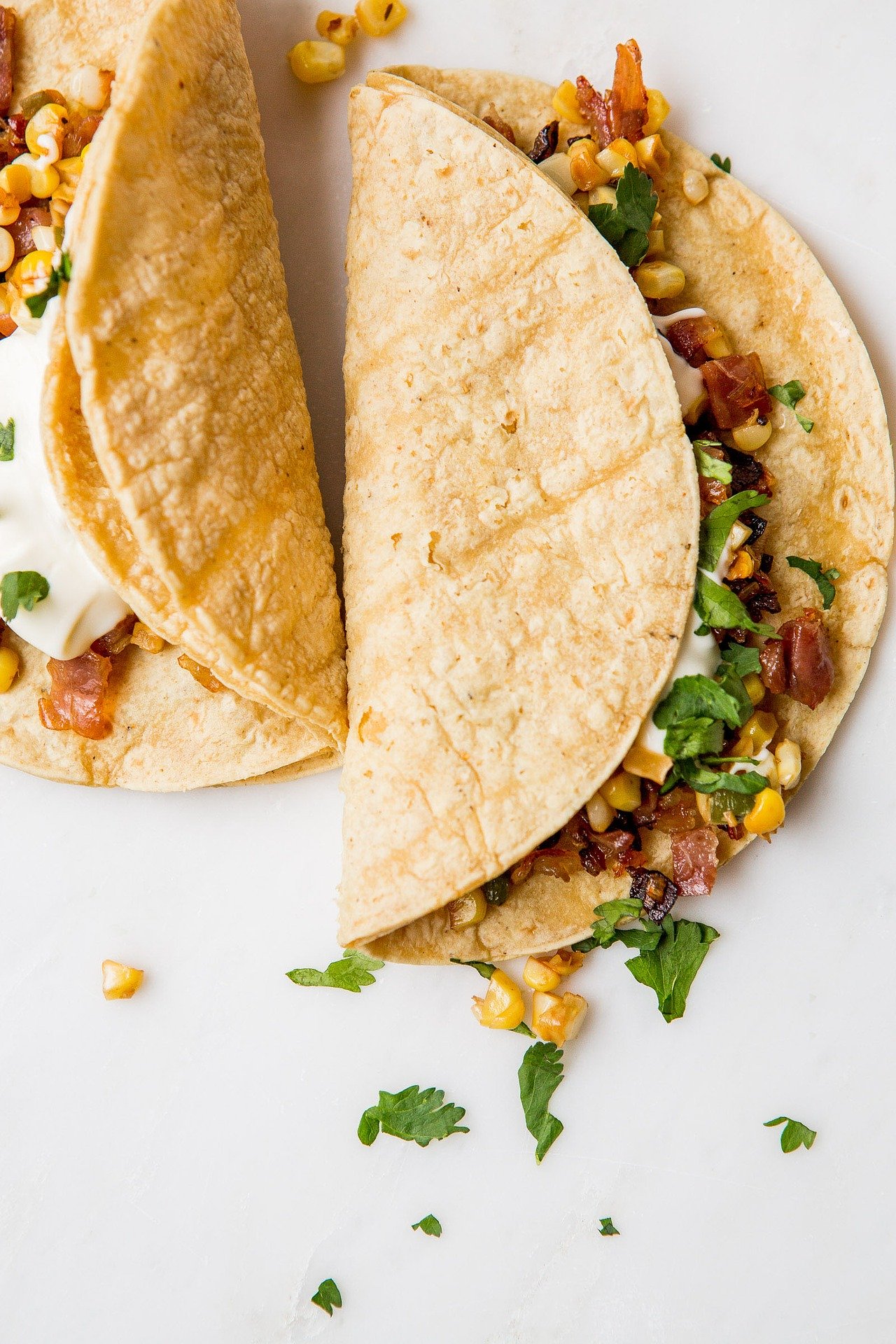 Method
Carefully shred the carrot using a grater
Drain the liquid from the sweetcorn tin
Grate the cheese
Chop the spinach and red pepper
Heat the tortillas in a pan or microwave for 15-20 seconds
Spread the tomato salsa over the warm tortilla
Sprinkle the cheese evenly over the tortilla
Add the fillings of their choice to one side
Fold the bottom of the wrap over the filling
Roll from one side to the other to form a tight wrap and cut in half
Healthy dinner ideas for kids
Whether you're looking for meal prep ideas that can be made in bulk and frozen or quick, healthy meals to make and eat on the night, we'd suggest creating a family dinner schedule for the week together so that the kids can have an input into what's going to be made and you can organise the shopping list ahead of time.
A healthy dinner meals schedule for the week could look like this:
Monday – sausage/salmon and vegetable traybake
Tuesday – cauliflower mac 'n' cheese
Wednesday – beef/chicken/vegetable tacos
Thursday – colourful veg rice
Friday – homemade pizzas
Saturday – healthy burgers
Sunday – chicken/mushroom and leek pie with mash
We're going to share how to make colourful veg rice that's full of vitamin-rich foods and is such an easy yet healthy dinner recipe for kids.
Colourful veg rice recipe
Time:  
10 mins preparation
20 mins cooking
Serves: 2-4 children depending on their age
Ingredients
200g rice – brown rice is the healthier option
3 spring onions
100g mushrooms
200g broccoli
2 garlic cloves
100g vegetable stock
50g of pine nuts or pumpkin seeds
Method
Bring a saucepan full of water to the boil and cook the rice as per the packet instructions
Chop the mushrooms, broccoli and spring onions into small chunks
Cook the broccoli in boiling water for two to three minutes
Heat oil in a pan and add the garlic, mushrooms and cook on a low heat for five minutes
Bring the heat up and add the stock little by little, then reduce down for 10 minutes
Add the spring onion, broccoli and rice and cook for a further five minutes
Add the nuts or seeds and season with salt and pepper to taste
Don't forget
Learning the art of cleaning up is just as important as the cooking! Once you're finished, be sure to set the littles ones to work helping with the washing up and wiping down the surfaces.
You may also like