Healthy eating for families
Make time for meals together 
Sitting down to a meal together with your household will help you build bonds and strengthen relationships. Of course, it may be a struggle to eat together every day but putting aside a few mealtimes a week will benefit you and your family network. 
If you're a parent with teenagers, take note. Eating with your kids can benefit their health as they consume more fruit, vegetables and dairy. According to other research, family meals can also help reduce our consumption of unhealthy food, such as fast foods, high salt/sugar snacks by around 20 percent, while increasing our intake of healthy foods by around 24 percent.
So when it comes to dinner time, take note and make it a social occasion. We've pulled together a few recipes and tips on how to make the most out of your mealtimes. 
Eat together
It's not always easy but if you schedule in meals together at regular times that everyone can make, you'll all benefit. And remember, you don't have to cook from scratch. Simply try and make healthier choices for your whole family such as adding in veg or including protein in every meal. 
Cook more often
Even if you're not the best in the kitchen, the ability to cook is a great skill to have. Not only will you know what you're eating but you'll also be able to create your own meals from scratch. Keep it simple and make healthier swaps such as replacing a takeaway or frozen pizza for a wholewheat pitta pizzas with low fat cheese and pineapple topping.
Get everyone involved
Make mealtimes about the family and take it in turns to pick a menu and prep food. Get them involved in everything around mealtimes - they'll be more likely to eat what they've helped prep and cook. By gradually introducing a ritual around mealtimes, you'll begin to make changes for the better.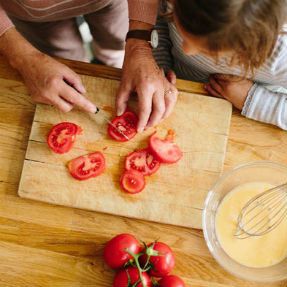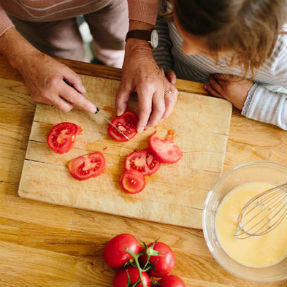 Stock up on healthier snacks
If you don't buy it, then you won't eat it. But sometimes you need a snack to get your through the day. Instead of reaching for the biscuit tin, cut up fresh fruit and vegetables and store in fridge. Go for unsalted pretzels or popcorn over crisps. And watch those portion sizes. 
Pasta with Salmon and Peas
Ingredients:
240g pasta of choice (penne, fusilli etc)
1 tbsp olive oil
1 onion
2 salmon fillets
140g low fat crème fraiche
200g frozen mixed vegetables
1 tbsp lemon
1 tbsp garlic
1 tsp pepper and chives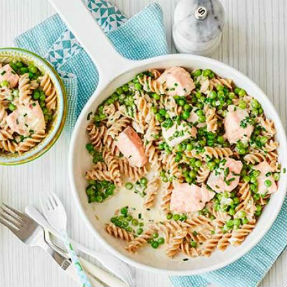 Method
Cook 240g whole wheat pasta (fusilli or penne) in pan of boiling water
Meanwhile, heat 1tbsp of olive oil with onions until soften
Add 200g mixed vegetables, 2 salmon fillets, 140g low fat cream and 50ml water.
Cook for 3-4 whilst adding chives and black pepper, squeeze of lemon and garlic to season
Drain the pasta and add to sauce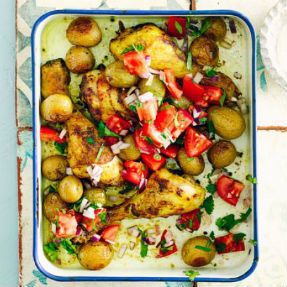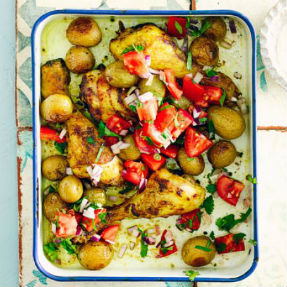 Curry Chicken and new potato bake tray
Ingredients List:
8 chicken drumsticks
3 tbsp olive oil
1tsp garlic paste
1tsp ginger paste
1 tsp turmeric
150 ml natural yoghurt
500g new potatoes
4 large tomatoes
1 red onion
2 carrots
1 courgette
Small pack coriander
Method
Place drumsticks in a large bowl with 1tbsp oil, garlic, 1tbsp lemon, ginger, garam masala, turmeric and 2 tbsp yogurt. Toss together with hands until coated and marinate for 30 minutes minimum.
Put the potatoes, carrots, courgettes in a large roasting tin with remaining oil and seasoning. Add chicken drumsticks and bake for 40-45 mins until cooked and golden.
Scatter tomatoes, peppers, onion and extra seasoning over the chicken and potatoes with remaining yoghurts served on the side
Healthier Flapjacks
Ingredients:
150g stoned date
100g low fat spread
3tbsp honey
50g apricot
3 tbsp mixed seed
1 tbsp cashew
50g raisin
150g porridge oats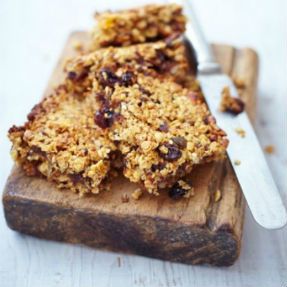 Method
Heat the oven to 190C and place dates into food processer and process until soft
Put the low-fat spread, agave syrup and dates into saucepan and heat gently. Stir until dates are blended into low fat spread
Add the dried apricots, hazelnuts, mixed seed, raison and porridge oats to the mixture
Spoon the mixture onto baking tray and bake for 15-20 min until golden brown. Remove and cut into 12 pieces when cold.
Healthy Eating Guidelines
Here's how to make some simple changes to improve your diet and health.
Limit salt intake (<6g per day) by adding different herbs and spices to your dishes. Think coriander, turmeric, lemon, etc...
Use healthy plant-based oils to help with heart health
Eat more vegetables
Add dairy foods such as yoghurt to your diet
Omega 3 fatty acids and healthy fats is important for brain development of children and overall heart health. Recommendations of two portions of oily fish per week e.g. salmon
Don't forget your gut health. Wholegrain wheat such as whole grain pasta can help
Limit sugar intake below 25g (AHA) by substituting sugar in desserts with natural sugars e.g. date, honey
Add fruit to desserts to increase your intake 
Swap sweets and chocolate for frozen fruit
You may also like