Find an Athletics Course near Me
Local athletics courses
Whatever your age or level of ability, the athletics track is open to you. From running and jumping to throwing, everyone can become an athlete, regardless of ability or age. We offer a range of athletics-based options to help you take the next step, build your confidence and give you a focus.
What are the benefits of an athletics course
Sign up for an athletics course today to benefit from the following:
Improve your health - by sticking to a routine and training regularly, you're blood pressure will improve and you may lose weight.
Meet the community - get to know new people with a similar interest as you and build your network at course near you
Support each other - not only will you meet new people but you'll also gain a support network to grow alongside
Reduce risk of injury - regular exercise means you train your body to work more efficiently, build muscle and learn techniques on how to warm up and cool down properly
Get stronger - your coach will teach you techniques that will improve your performance and make you stronger
Book a course today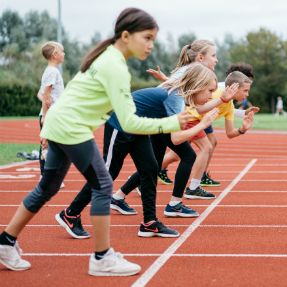 Athletics Course Structure
Designed to make your child a great all round athlete, our athletics training courses adapt the following 7 key principles; balance, co-ordination, agility, flexibility, strength, stamina and speed.  Taught in a social environment, our courses are fun and engaging. The programme is built by the following levels:
Level

Course Outline

 

Pre School

 

 • 3 – 5 year olds

• Structured play to develop balance and coordination

• Development of gross motor control and hand eye coordination

• Running, jumping and throwing games

 

Multi Skills

 • 5 – 7 year olds

• Fundamental movement skills, balance, coordination and agility

• Use of classic play ground games to develop skills and fitness

• Introduction to basic athletic concepts: run, jump and throw

 

Athletic Fundamentals

 • 7 – 9 year olds

• Development of complex movement patterns

• Key focus on agility, speed and stamina

• Introduction to athletic events

• Competitive games and tasks both individual and team based

 

Athletic Skills

 

• 9 – 11 year olds

• Complete  range of athletic events covered

• Technical training concepts introduced and practiced

• Emphasis on fitness and conditioning

 

Athletics Academy

 

• Club level training for 11+

• Focus on key event groups such as sprints, endurance, jumps and throws

• Strong element of fitness and conditioning
Book Athletics Lessons Online
Booking athletics lessons and tracking your child's progress is easy. Simply visit our Home Portal online to either book a lesson or track progress and fill the blanks with relevant information. It's easy to set up and allows you to access information and updates on the go.
Features include:
- Record of achievement - clear and regular updates on progress, including achievements and areas for improvement
- Book and pay online - pre-plan and skip the queue, allowing you to go straight to your lesson. Dates and times (subject to availability) found online
- One account for multiple children - perfect for schools and families
Book now
What to bring to an athletics training session
You'll need to bring a pair of running shoes as most events involve some form of movement. Also consider wearing free-flowing clothing that you can move easily around in. Don't forget to bring a water bottle so you can stay hydrate and perform at your optimum as you race around burning calories and having fun. 
You may also like