Why gain a qualification with Better?
GLL is a charitable social enterprise and have a team of leisure training and qualification specialists, providing apprenticeships for our staff teams as well as leisure based qualifications to our local communities. We've partnered with the Swimming Teacher Association and Royal Life Saving UK to provide professional courses for those looking to enhance or begin their career within the leisure industry.
What types of leisure courses are available at Better?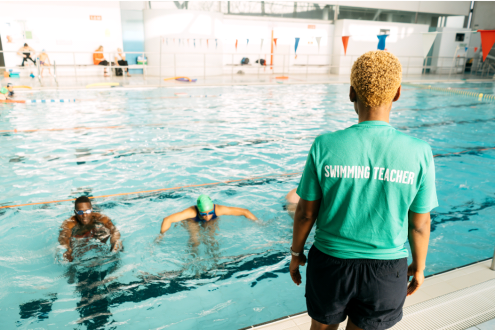 Train to be a swimming teacher with Better and learn the fundamental skills you need for a career in Aquatics.
Learn more
Train and get qualified as a lifeguard with Better for a rewarding and challenging career move.
Learn more
What are the benefits of gaining a recognised qualification?
Gaining a recognised course qualification has a plethora of benefits for your personal and long term career goals. Taking time to educate and upskill yourself not only expands your knowledge, it also:
Increases job opportunities
Supports career progression
Builds your confidence
Develops decision making and leadership skills
And more!
What career options can a leisure qualification lead to?
As the UK's largest leisure operator and charitable social enterprise, we have a range of career options available for everyone in our local communities, across England, Wales and Northern Ireland. Whether your ambitions are in leisure, sport, libraries, events & catering, culture, health & beauty, corporate support or working with children, you'll be able to find your perfect job with us. We offer professional and award-winning industry training and development programmes, such as Kickstart, Apprenticeships, Trainee Manager Programmes, qualifications and more to enable people to develop a career with us.
Browse job vacancies
Hear from our qualified swim teacher and lifeguards
The course was a great experience. I was on the course with a few colleagues I already knew, everyone else in the group were superb. Everything was all new to me so it was good to find our more about what a swim teacher does. What I did find interesting is how fun you can make the sessions by using a range of equipment. I'm a currently a Fitness Coach so having an aquatic qualification I feel has allowed me to stand out from other PT's and coaches by being experience in other areas of the sports/fitness industry.  I'd say definitely do it, it'll open doors you wouldn't think were possible. Plus teaching kids how to swim is a great feeling, especially when you make it fun for them to learn. -Daryl, Swim Teacher course.
Leisure courses and qualifications FAQs
What are the requirements to apply for a leisure qualification?
What accredited qualification will I achieve?
Once you have successfully completed any of our available courses, you will receive an industry accredited and internationally recognised qualification and certificate. This will aid your career progression and enable you to continue expanding your professional development.
How do I apply for a swimming teacher or lifeguard qualification with Better?
If I attend a course, is my swimming teacher or lifeguard qualification transferable?
You will be able to apply to any swimming teacher or lifeguard role in any of our Better leisure centres across the UK once you have completed your chosen qualification with us. RLSS lifeguard qualifications and STA qualifications are also widely recognised within the leisure industry.
How much does a swimming teacher course cost?
| | | |
| --- | --- | --- |
| Course | Length | Cost |
| STA Level 2 Award in Teaching Swimming | 5 day course | £360 |
| STA Level 2 Certificate in Teaching Swimming | 4 day course | £400 |
| STA Level 2 in Baby and Pre School Swimming | 4 day course | £350 |
Find out more about Swimming Teacher qualifications here.
You may also like
We offer careers for everyone in our local communities in leisure, sport, libraries, health & beauty, corporate support and more.
Browse vacancies
We have gyms, pools and leisure centres across 270 locations across the UK. 
Discover more