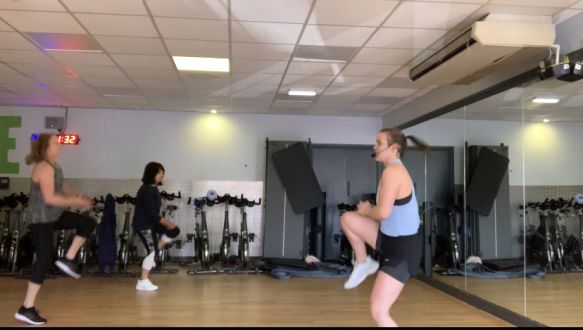 Cardio Classes
Get your heart pumping and increase your energy levels as we move together in these fast-paced, high-energy classes; here are a few you may enjoy!:
Group Cycle 
Pedal your way fit. Cycle along with the group in one of our themed classes to uplifting music, or focus on achieving your goals in one of our disciplined-based classes. Our Group Cycle classes will ensure you burn some serious calories in a lively, atmospheric, motivating environment.
Aerobics
Get fit the fun way. You'll perform a range of cardio moves, taking each at your own pace, all guided by our friendly, motivational instructors.
Step Aerobics
Step it up and get in shape, a motivational class using the platform and fast music for a high-intensity workout. It's so much fun you'll forget you're working out.
Boxfit
A class that really packs a punch! Our Boxfit class uses a mixture of boxing techniques to get your heart pumping, leaving you feeling fitter, stronger and fighting fit. This is a great workout in a non-competitive environment. Train your way to fighting fitness.
HIIT
A HIIT workout session involves you doing intervals of exercise that range from between 10 seconds to eight minutes, with you working at around 80-90% of your maximum heart rate for that period.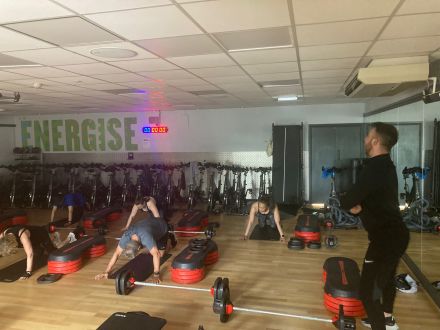 Strength & Conditioning Classes
Choose from loads of great, motivational group activities that'll help you strengthen and condition your whole body. Here are a few as follows:
Power Pump
Get your body moving to the beat with one of our motivating pump fitness classes. Fusing high-energy routines with challenging weights, our power pump training workouts are a full-body blast that will put you on the fast track to fitness.
Core Conditioning
This low-impact strength training class will help you get stronger and improve your posture while being gentle on your joints. Use a range of equipment and your own bodyweight to tone your muscles and develop a stronger core.
Body Conditioning 
Looking for a whole body workout that'll leave you feeling fantastic? These intense, exciting body conditioning classes combine cardio and toning exercises for a full-on, high-energy workout. Once you start, you won't ever want to stop.
Circuits
Feel the rush of a total body workout with our energetic circuit training classes. Mixing bodyweight drills and equipment-led exercises, work through a sequence of physical challenges designed to get you fitter and stronger.