Interactive Tour
Education, Training and Recruitment
Better Cardiff's Aquatic programme is supported and delivered by a dedicated team of ASA/UKCC Qualified Aquatic Teachers and Coaches. The Aquatic Officer works closely with the Swim Wales Education Officer to develop Workforce Training across all aquatic disciplines; ensuring that all teachers and coaches are continually upskilled and build upon their knowledge and skills.
To find out more information on how to train to become a qualified ASA/UKCC Aquatic Teacher or Coach or to find courses please follow the links to the Institute of Swimming (IOS) or the Swim Wales Education Training information pages.
http://www.swimming.org/ios/courses
http://www.swimwales.org/education,-training-jobs.aspx
To find out more information when courses are running in and around the Cardiff area please visit the Swim Wales Online website.
Please note: all ASA/UKCC training course places must be booked on line via the IOS.
http://www.swimwalesonline.com/Login.aspx
Recruitment
If you are a qualified ASA/UKCC Level 2 Aquatic Teacher or Coach and interested in working for Better Cardiff, please send a copy of your CV to your local centre or getting in touch via our Contact Us Form.
Swimming Pools and Activities
Welsh Government Free Swimming
"Enjoy the fun and swim free of charge at a swimming pool near you"
In 2003 the Welsh Government launched a Wales-wide scheme offering free swimming for the over 60s, and 16 & under (during programme sessions). Most recently a further addition to this provision has been made meaning that members of the Armed Forces and Veterans (based on certain eligibility) can now access free swimming at the Better Maindy Centre.
The Free Swimming Scheme is aimed at promoting a healthy and active lifestyle. To apply to take part in the free swimming initiative, apply online here. 
16 & Under
You can enjoy free swimming during programmed sessions; centres also run fun, structured aquatic activities such as mini polo, float fun, pool parties, snorkelling and lifesaving. Times will vary at each centre, so please check. To apply for a junior free swim card, click here. Please note: a parent/guardian signature is required and inset days are not part of the Free Swimming Initiative.
Over 60's
Over-60s are able to access free recreational swimming during programmed sessions subject to availability. Other activities include Aqua Fit and Learning to swim, for more information please contact your nearest Better leisure centre.
To apply for your free swim card, sign up online here. When applying to join the scheme you will need to provide proof of your age by providing one of the following:
bus pass
driver's licence
pension book
passport
birth certificate
marriage certificate
NB: Please check with your doctor before beginning any activity, especially if you have chronic back, joint, heart, or inner-ear problems
Armed Forces (AFFS)
Free swimming for Armed Forces and veterans is the latest initiative to be launched by the Welsh Government as part of its Package of Support for the Armed Forces Community. Members of the Armed Forces and Veterans are eligible for free swimming using their Defence Privilege Card which is available through the Ministry of Defence's Defence Discount Service.
Maindy Centre is the only pool offering the scheme in Cardiff and is on offer to Veterans and Armed Forces Personnel on leave and who reside in Wales. The scheme gives access for all 'adult recreational swimming' as timetabled at Maindy Centre. Note: Veterans over the age of 60 will automatically qualify for the Welsh Government 60+ Free Swimming initiative scheme.
To access the Armed Forces Free Swimming Scheme (AFFS) Veterans and Armed Forces Personnel MUST hold valid 'MOD Defence Privilege Card'.  On production of the MOD Privilege Card you will be asked to complete the Councils AFFS application form and you will be issued with your Better Cardiff AFFS card.
 Please note:
Only Better Cardiff AFFS cards can be used in Cardiff, cards or memberships from other Welsh Authorities are not valid, a new application form will need to be completed.
A replacement Better Cardiff AFFS card will charged at £3.00
For further information on times and activities please contact your nearest Better Centre.
Aqua Fitness
Fit-Swim
Swimfit has been developed by swimming experts at the Amateur Swimming Association (ASA), Swimfit offers a free online poolside club and gym style workout programme for the pool.
Aqua Aerobics
This pool-based cardio session gives you all the benefits of an aerobics class, with the added support and cushioning of the water. Get your body in shape, heart pumping, your fitness levels up!
Aqua Zumba
Aqua Zumba® blends the Zumba® philosophy with water resistance, for one pool party you shouldn't miss!
Stamina Swim
Stamina Swim has been developed by swimming experts at the Amateur Swimming Association (ASA), Stamina Swim offers a free online poolside club and gym style workout programme for the pool.
Stamina Swim has been developed by swimming experts at the Amateur Swimming Association (ASA), Stamina Swim offers a free online poolside club and gym style workout programme for the pool.
ENSURE YOU GET THE MOST OUT OF YOUR FITNESS SWIM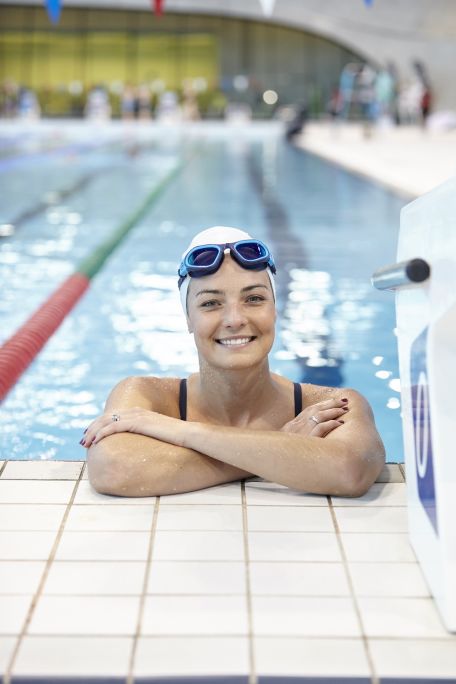 Pre Cleanse
Please help us to keep your pool clean by following our
Swim Hygiene guidelines by showering and using the toilet
facilities before you swim.
Respect
People of different standards and abilities will use the pool. Please
respect their right to enjoy their swim.
Speed
Choose your lane using the fast, medium and slow signs and by
watching those already swimming. Before pushing off at each
turn, check to see if anyone faster is approaching.
Direction
Please follow the directional signs and move across to the
appropriate side of the lane for each length.
Space
Try and leave at least 5 metres between yourself and another
swimmer and if it's possible to see a pace clock, then a 5 second
gap is just as good.
Strokes
Wide stokes such as butterfly and breaststroke should be avoided
when the lanes become busy. If you change to a slower stroke as
part of your session, think about moving lanes.
Equipment
Fitness swimming training equipment, such as fins and hand
paddles, is permitted at the discretion of the lifeguard and based
on capacity. Snorkels can be used in conjunction with conventional
swimming goggles.
Resting
Whether stopping for a rest or catching your breath after
completing your swim, please be mindful that others using the
lane will want to keep on swimming without stopping
Share
Celebrate your achievements and share your swimming stories
with us on social media using #betterswimming, we'd love to hear them!